Stat of the Week: 6.3 Percent
---
---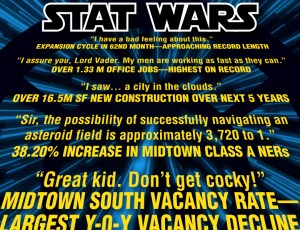 With the seventh installment of the "Star Wars" saga being released this week almost 40 years after the original, there is no better way to sum up the 2015 Manhattan office market than by a Stat of the Week based on lines from a long time ago in a galaxy far, far away. So, as The Force Awakens takes the world by storm, let's attribute quotes from the first six films to major factors in the real estate market.
5. "I have a bad feeling about this." – Six different characters said this line eight different times in "Episodes I-VI."
The Manhattan office market expansion cycle is now in its 62nd month. Since 1960, the previous four expansion cycles never surpassed 72 months. Despite this—and just like in the movies—things are never as bad as they may appear. The combination of a robust TAMI (technology, advertising, media and information services) sector, combined with growth in financial services, will sustain a healthy market throughout 2016.

4. "I assure you, Lord Vader. My men are working as fast as they can." – Imperial Officer in "Episode VI: Return of the Jedi."
Manhattan office-using employment is at an all-time high. With more than 1.3 million office workers, employment is 3.1 percent higher than previous peak levels in 2001. Expect employment to continue to grow in 2016, which will bode well for the real estate market.
3. "I saw… a city in the clouds." – Luke Skywalker in "Episode V: The Empire Strikes Back."
In this scene, Luke sees a vision of a city in the clouds and he may as well have been speaking of the future Manhattan skyline. There will be big changes over the next five years with over 16.5 million square feet of new office construction.
2. "Sir, the possibility of successfully navigating an asteroid field is approximately 3,720 to 1." – C-3-PO in "Episode V: The Empire Strikes Back."
Midtown Class A net effective rental average over the last four years grew to $67.22 per square foot, a 38.2 percent increase—close enough to the odds C-3PO gave Han Solo.
1. "Great kid. Don't get cocky!" – Han Solo in "Episode IV: A New Hope."
This sums up the Midtown South market, which continues to drive the Manhattan office market. With a 6.3 percent vacancy rate, it marks the largest decline of the three markets, down 150 basis points year-over-year.