Robert Martin is Thinking Outside the Box When it Comes to Midtown
---
---
Pop quiz time, brokers. See if you can get the following multiple-choice question correct:
You run across a tenant who has a lot of extra space and is paying too much. That lease isn't due to expire until 2026. You take the following action:
a) Nothing. It's a dead end. Go to the bar and grab another margarita.
b) Befriend the tenant now. In 11 short years, they'll know who to call.
c) Break into the landlord's office and steal the lease. (Make sure to get the landlord's hard drive, too.)
d) Look at the rest of the landlord's portfolio and arrange a swap beneficial to both sides.
Robert Martin, a vice chairman at JLL, is the kind of real estate pro who would answer d).
In November, Mr. Martin (who had remarried only a month before, and is the father of three, ages 24, 22 and 19) was the lead broker on a JLL team that closed a deal to relocate Assured Guaranty, the municipal bond insurance provider, into an 88,000-square-foot office space spanning the entire 22nd and 23rd floors of Paramount Group's 1633 Broadway. The asking rent in the 15-year deal was in the mid-$70s per square foot, and Assured Guaranty will be relocating next summer from its current offices.
From the outside, it may just look like another big deal. However, the firm was not actively looking for a new space, as it was stuck in a lease that wasn't expiring until 2026 (hence, our pop quiz). But Mr. Martin realized that Assured Guaranty was paying for much more office space than it needed. The space it is moving out of at 31 West 52nd Street, which is also owned by Paramount Group, is nearly one-fourth bigger than its new location and includes the top five floors of the property (25 through 29). Mr. Martin knew the right people to call at Paramount Group to make the deal happen.
"It was an idea that we had that sort of led to putting something together," Mr. Martin, 54, said. "It wasn't like the client called me and said, 'Hey, help me out here.' "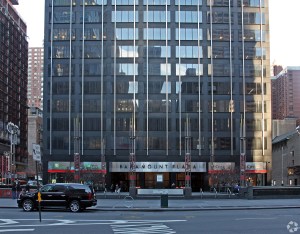 In addition to helping Assured Guaranty save money, the move freed up valuable space on the top floor of one of Paramount Group's premier addresses, where it could charge rents surpassing $100 per square foot, Mr. Martin said, rather than the $69 per square foot Assured Guaranty is paying, according to CoStar. (Paramount Group and Assured Guaranty did not return requests for comment.)
"If he thinks there is a potential opportunity, he is good at sniffing it out, so to speak," said Amanda Bokman, a managing director at JLL and a member of Mr. Martin's team. "He achieved a lot in that transaction that many people couldn't have—just being able to create the right outcome for all the parties. Everybody won in that transaction."
Throughout his more than three-decade career as a broker, Mr. Martin has experienced life at the top of every firm where he has worked.
In leasing activity, he has ranked among the top five brokers internationally at his current company for the past three years. And in the 16 years he worked for CBRE, until 2010, he ranked in the top 3 percent in all but one year. Even before that, in 1991, with just seven years in the business—working for the now-defunct Grubb & Ellis—he was recognized as the top broker among the firm's 1,200 agents.
He was responsible for about 2.6 million square feet of leasing activity over the last year. And just based on the fact that he'll surpass the 1.9 million square feet of leases he negotiated in 2014, once again Mr. Martin is expecting to be ranked among the top five brokers at JLL when the 2015 numbers are finalized.
"It's just a question of if I'm number one or number two," Mr. Martin said.
Much of the secret of his success has been in forging the kind of win-win solution that he pulled off for Assured Guaranty and Paramount Group: looking for opportunities that aren't necessarily in plain sight.
Another factor might be a creative streak: his first career dream was to be a film director and producer. After growing up in Tenafly, N.J., and attending The Calhoun School on the Upper West Side, Mr. Martin went to college at one of the great feeders of the film industry, the University of Southern California. (The film bug was in his blood; he had an aunt who worked for Warner Bros.) But following his sophomore year, Mr. Martin transferred to The Wharton School of the University of Pennsylvania after realizing that he was more interested in the business side than other aspects of moviemaking.
Following graduation and a trip to Europe, Mr. Martin didn't have a clue about what to do for work, but he knew that he didn't want a typical salaried job. It was a friend of his stepfather, who, as they walked down Lexington Avenue together one day, asked him, "Kid, what do you want to do?"
"I said, 'I want an unstructured job and I want to make money,' " Mr. Martin recalled. "'I'm willing to work hard.' What I didn't like about other jobs is that year one you make x, and year two you make x plus 5 percent, and year three you make x plus 10 percent. I didn't want to have the amount of money I make be in someone else's control. And he said, 'If you want an unstructured job and you want to make a lot of money, you should go into real estate.' "
Back then, Mr. Martin didn't know anything about real estate, but he was a quick study. He started with Grubb & Ellis in 1984, and in just a few years he represented Mitsubishi Bank in its move from the World Trade Center to a 200,000-square-foot space at Brookfield Place (then known as the World Financial Center), which he touts as his first big deal. Years later, in the mid-1990s, he was responsible for moving the Legal Aid Society into the top three floors of 90 Church Street, a nearly 150,000-square-foot space, with a lease of 20 years. At the time, the Legal Aid Society was looking to relocate from 15 Park Row, but wanted to stay in the City Hall area. And as a nonprofit, the legal assistance organization also required an affordable space (something especially difficult to find in today's market, as well). Since 90 Church Street is owned by the United States Postal Service, the landlord didn't pay real estate taxes, making the rent an affordable $21 per square foot, as The New York Times reported at that time. What's more, several floors were vacant.
"I'm very proud of that deal, because my client had an impossible need," Mr. Martin said. "There were no other options. No other buildings operationally or that had the right floor plate could make space in [the Legal Aid Society's] time frame, in their price point, or in their target area."  
As usual in the brokerage world, not all of his deals have come through without complications. Mr. Martin recently represented Foot Locker in what became a dicey situation as the global athletic wear company was preparing  to renew a roughly 163,000-square-foot lease for its headquarters on West 34th Street.
Without a right-to-renew clause, however, Foot Locker was in jeopardy of losing both its office headquarters on floors two through four, as well as its flagship store on the ground floor and basement at Empire State Realty Trust's 112 West 34th Street between Seventh Avenue and Avenue of the Americas. There it was paying "10 times less than" the market value in rent, Mr. Martin said. Foot Locker wanted to renew the 25-year lease set to expire in 2016, but ESRT planned to increase the rent, he said. For the ground-floor retail space, the asking rent is now $1,000 per square foot.
In 2013, with three years still left on Foot Locker's lease, ESRT went ahead and signed the third and fourth floors of the building to Macy's for office space, leaving Foot Locker with no choice but to move some of its operations.
"It was the landlord's right," Mr. Martin said, but added, "I think that Empire State Realty definitely sent the message to Foot Locker." (Foot Locker did not return requests for comment).
Despite the signing away of the third and fourth floors, Mr. Martin was able to salvage some of Foot Locker's space. In order to avoid the full effect of a ballooning ground-floor rent, he helped the firm sign a 15-year deal for a fraction of its original ground-floor retail space (5,500 square feet), and just under 29,000 square feet on the second floor, which previously was office space. That second floor will also become retail following the completion of its lease, helping Foot Locker retain its flagship retail presence on the West 34th Street corridor.
ERST then signed cosmetics chain Sephora to another portion of the ground floor, as the space was in high demand, according to the landlord's director of leasing, Thomas Durels.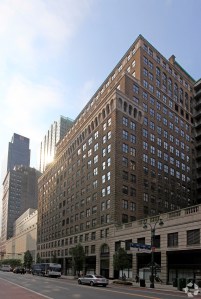 "We're thrilled to have the best location on 34th Street, directly opposite Macy's, which is so productive that Foot Locker decided to make a long-term commitment and restacked to allow us to bring in Sephora and create room for a third tenant," Mr. Durels said via a spokeswoman.
Then Mr. Martin negotiated a deal to relocate Foot Locker's offices to a property that Vornado Realty Trust had completely renovated at 330 West 34th Street between Eighth and Ninth Avenues. At 145,000 square feet, Foot Locker ended up with more space than at its former offices at 112 West 34th Street, which covered 128,000 square feet.
"It was a creative solution for them, and a way to maintain 34,000 square feet of retail space [on West 34th Street]," Mr. Martin said. "We had several good options, but at the end of the day, Vornado's 330 West 34th Street has good floor plates, some outdoor roof space, and was closer to the West Side, where tenants are moving over to the Manhattan West Hudson Yards development."
112 West 34th Street
,
15 Park Row
,
1633 Broadway
,
31 West 52nd Street
,
330 West 34th Street
,
90 Church Street
,
Amanda Bokman
,
Assured Guaranty
,
Foot Locker
,
Grubb & Ellis
,
Legal Aid Society
,
Macy's
,
Robert Martin
,
Sephora
,
The Calhoun School
,
The Wharton School of the University of Pennsylvania
,
Thomas Durels
,
United States Postal Service
,
University of Southern California
,
World Financial Center
,
CBRE
,
Empire State Realty Trust
,
JLL
,
Paramount Group
,
Vornado Realty Trust