John Lam Is No Virgin With Hotel Development and Bringing Chinese Business to the City
---
---
Chinese investors have been snapping up properties in New York City at a fast clip, and one New York hotel developer acts as if he's single-handedly stage-managing the relationship between the two countries' business interests.
John Lam, the chairman and chief executive officer of Manhattan-based Lam Group, organized a three-week trip for Félix W. Ortiz, the Assistant Speaker of the New York State Assembly; Miami Mayor Tomás Regalado; Melissa Hill, a senior international trade specialist at the U.S. Department of Commerce; and himself to go to China. They departed two weeks ago.
The purpose of the trip, Mr. Lam told Commercial Observer during a recent interview in his Chinatown office, was "to invite more Chinese owners to invest in the U.S., to open hotels, and also I want to promote New York City."
He said he was traveling to China in his capacity as the president of the American China Hotel Association, a group he formed a couple of months ago. (Don't bother looking online for information about the group—there is zero online presence.) He said there are over 100 hotel members.
"Our association wants to promote New York and make sure when they come to New York, they stay in New York," Mr. Lam said. "We're going to announce it [on] the Internet so that when people do research, [we can] make sure they're in New York not New Jersey."
That's important because when Asian tourists plan trips to New York, they are often surprised when they find their travel agents have put them up in hotels in New Jersey rather than New York City to cut costs.
Mr. Lam, who never finished high school and left China for New York at age 17, has an obvious commitment to Chinese investment in the U.S. Lam Group has a team dedicated to EB-5 visas for immigrant investors in the U.S., "to teach people how to get businesses here, different from people who just get their money and go." He has an EB-5 website in Chinese with "Lam's American Dream" in English at the top. He has another website and brochure titled "Lam NYC EB-5 Regional Center."
He is seeking 20 to 25 percent of EB-5 funding for all of his projects.
"I tend to focus on more businesspeople, not just to get a green card, but to start their own business," Mr. Lam said. And that's why he wanted to organize the China trip with elected officials—to encourage Chinese people to come to the U.S.
Interestingly, Mr. Lam has no hotels in China. "In China, a condo makes money and hotels don't make money. In America, both condos and hotels make money."
Besides seeking EB-5 funding on projects, he said he primarily relies on investments from family members. Also, he said, about a year and a half ago he created an investment association called TransAmerican Investment Association with the intention that its 200 members could invest in real estate projects. (Another association CO could not find on the Internet.)
"It's a way to get investments, instead of going to a bank," he said.
Architect Gene Kaufman, who has designed a number of hotels for Lam Group—Four Points by Sheraton Midtown at 326 West 40th Street, Fairfield Inn & Suites New York Manhattan/Times Square at 330 West 40th Street, Aloft New York Brooklyn at 216 Duffield Street and Sheraton Brooklyn New York Hotel at 228 Duffield Street—said what makes the Lam organization tick is the "family approach."
Mr. Lam has several siblings—"five or six," by his son Jeffrey Lam's count—working at his company and investing in his projects.
"There are a lot of family members involved," Mr. Kaufman said. "That's important in how they function."
Because of the overwhelming presence of his elders, Jeffrey, 33, decided to launch his own company, Lam Generation, in 2005. And he clearly took the family lesson from his father: Jeffrey's brother, Raymond Lam, 31, is the company chief operating officer, and their mother, Winnie, Mr. Lam's wife of 35 years, maintains an office there, although Jeffrey said she's "retired." Jeffrey's sister Teresa Lam, 29, is the manager of development planning at InterContinental Hotels Group. And their other brother, Jonathan, 27, works at Denihan Hospitality Group. Eventually, Jeffrey said, Jonathan and Teresa will work with him because "my father really instilled in us that siblings have to really help each other out."
But back to the elder Mr. Lam. He has long been compared to hotel developer and former partner Sam Chang of McSam Hotel Group. Neither gentleman wants to discuss why they parted ways in the 2000s. (Mr. Chang previously told CO: "It's like asking people why you got divorced.") Mr. Lam said of Mr. Chang: "He does things quick and is very smart. I have never seen a guy so smart."
As CO reported in early October, the budget hotel mavericks stand out among hospitality developers because of the sheer quantity of projects they have built and the staggering number of rooms they have in the pipeline. Mr. Lam said recently that his company has built about 28 hotels in New York City, of which it still owns 14. He said he has five hotels, amounting to 1 million square feet, still under development. The last one to open was the Aloft Manhattan Downtown at 49-53 Ann Street.
"Between me and Sam, we control over 70 percent of the new build [hotels]," Mr. Lam said.
Lam Group and Lam Generation are collaborating with the redevelopment of Harlem's Victoria Theater at 233 West 125th Street. The Aufgang Architects-designed project will include a Renaissance Hotel and 80/20 rental residences, with the theater integrated into the 300-foot, 26-story building. It will be completed in 2018. The two companies also built together Hotel Indigo Brooklyn, a 128-room, 19-story hotel, which opened in 2012.
Father and son are even more involved in each other's businesses.
Mr. Lam connected Jeffrey with Soho Properties Chairman and CEO Sharif El-Gamal regarding a Chelsea site. The senior Lam even represented his son in the deal that came out of that meeting, when Jeffrey was out of town.
Soho Properties is buying the development site at 113-117 West 24th Street between Avenue of the Americas and Seventh Avenue from Lam Generation for $60 million, Mr. El-Gamal said. The deal hasn't yet closed. Jeffrey is retaining the portion of the site at 112 West 25th Street, and will be erecting a Renaissance Hotel there.
"John is a legend in our industry," Mr. El-Gamal told CO via email. "He is unmatched in his knowledge, experience and execution within the New York City hotel space. John sets himself apart by his visionary ability to anticipate demand, assemble property and ultimately construct successful hotels. I was delighted to win his trust and to do business with him on our latest Chelsea acquisition on West 24th Street."
Mr. Lam is branching out beyond the limited-service hotel market. "I think hotels under three stars are overbuilt now," he said.
His current biggest project is a Virgin hotel at 1227 Broadway between West 29th and West 30th Streets, which is expected to open in 2018. He broke ground on the 39-story, 500,000-square-foot, 465-key hotel at the end of September. Mr. Lam bought the sites across from the trendy Ace Hotel for $88 million in 2011 and 2012, as CO previously reported.
Thomas McConnell, the head of Cushman & Wakefield global hospitality, noted that Mr. Lam is "changing it up" from his typical "relatively compact, 120- to 190-room, usually mid-block, affiliate franchise with a brand like Hilton Garden Inn or Marriott or Holiday Inn" with "the only true full-service hotel he's built."
Virgin Hotels CEO Raul Leal said he partnered with the Lam Group by way of his friend Hung Luk, the COO at the Lam Group.
"He said to me, 'Our group is looking to do a lifestyle hotel in New York City and we have a location; would you like to take a look at it?' " Mr. Leal told CO. "It was fairly opportunistic. We were looking to establish the brand in New York."
Bradley Burwell, a first vice president at CBRE who works within the firm's hotel investment sales team handling deals throughout North America, noted: "John is building the first Virgin new build in the city. Virgin has a design that hasn't been experimented with before. They have progressive requirements that are pushing the boundaries of the developers."
Mr. Leal said: "We could not have asked for better partners. They are a very smart team. They know what they are doing on the hotel and real estate side. They're prudent, deliberate, they know what they don't know and they know what it takes to be successful, especially in New York."
Mr. Lam grew up south of Guangzhou and when he was 10 moved to Hong Kong before he and his family immigrated to the U.S.
"When I came here, I started a ladies apparel garment factory, and became the president of the garment association," Mr. Lam said. "I employed about 3,000 employees and controlled about 35,000 workers in New York City. Then I figured out I own so many factories already, I need my own real estate [company]. So I bought a building and I kept buying buildings. After 20 years, I had over 15 buildings already in the Garment District. The garment industry started shrinking and I converted factories to office condos. So then when the market [was] down, I bought a lot of real estate at foreclosure from the bank. They had some hotels in there. I [saw that] hotels [could] be a business so I started the business."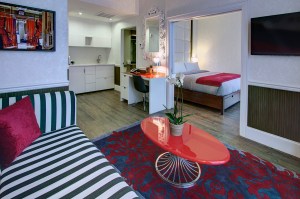 Today, there 30 to 35 people working at Lam Group on the development side and more than 1,400 in hotel management. Lam Group manages over 60 hotels, with the majority of them in New York.
He said his company opened an office in Los Angeles less than a year ago with fewer than 10 employees. The company manages four or five hotels locally.
Mr. Lam has been successful, Jeffrey said, because "he has great timing. He keeps an eye on the market. He has a lot of strong connections, strong family. He's just really in tune with how operations work. He started with operations in the garment industry."
Empty-nesters, Mr. Lam and his wife are planning to pack up their house in Pinebrook, N.J., and move to a penthouse in a Tribeca building he is converting near Chambers and Church Streets. He and Jeffrey are turning a landmarked office building into a five-story residential building. The apartments will all be 7,000 or 8,000 square feet apiece, with two units per floor. The project has been underway for about two years and Jeffrey said it should be done in February.
According to Jeffrey, his parents are already "buying furniture" for the big move.
This is not the first residential project for Mr. Lam.
"I've built about a couple hundred apartments, some in Queens, some in Manhattan, like 221 Centre Street," he said.
As for what he's buying now, he said the prices are too high in the city.
"For this price to do a hotel [the market] is overpriced," Mr. Lam said. "I'm not buying until the price is right."
112 West 25th Street
,
113-117 West 24th Street
,
1227 Broadway
,
216 Duffield Street
,
221 Centre Street
,
228 Duffield Street
,
233 West 125th Street
,
326 West 40th Street
,
330 West 40th Street
,
49-53 Ann Street
,
ACE HOTEL
,
Aloft Manhattan Downtown at
,
Aloft New York Brooklyn
,
Bradley Burwell
,
Denihan Hospitality Group
,
Fairfield Inn & Suites New York Manhattan/Times Square
,
Four Points by Sheraton Midtown
,
Gene Kaufman
,
Harlem's Victoria Theater
,
Hotel Indigo Brooklyn
,
Hung Luk
,
InterContinental Hotels Group
,
Jeffrey Lam
,
John Lam
,
Lam Generation
,
Lam Group
,
McSam Hotel Group
,
Raul Leal
,
Raymond Lam
,
Sam Chang
,
Sharif El-Gamal
,
Sheraton Brooklyn New York Hotel
,
SoHo Properties
,
Teresa Lam
,
Virgin
,
CBRE
,
Cushman & Wakefield