Up in the Air: The Quest for Quality Air Rights
---
---
Asthmatics like this reporter will tell you that good air is one of the most precious commodities in the world.
In New York City, the air above buildings is a serious money game and as available street space gets filled in, developers look to the sky for answers.
Air hugging up next to Central Park has been traded for $30 million and has made the row of soaring skyscrapers along 57th Street possible. The 1.5 million square feet of air above the James A. Farley Post Office Building is estimated to be worth between $450 million and $500 million. And the prices are only getting dizzier.
The way air rights work, owners can essentially buy the air that sits above a property, tack it on to the zoning of another site, and build higher. A landmark might only be two stories tall, but could be zoned to build up to six stories. Because the site is protected and can't be expanded, the landmark's owner can sell those unused four stories to a project being built next door (in special districts, it's expanded to a property across the street or a few blocks away). For the buyer of the air rights, this allows him to add on those four stories to his or her own project.
Air rights are by no means a new phenomenon in development. But incorporating the ability to build higher than zoning allows has become more prominent in the last five years. Accumulating these rights was what fueled Extell Development's One57. Further south, they're affording developers the ability to make the Far West Side a city unto itself. By gathering the ability to build, typically with development rights from neighboring buildings, builders have been able to drive down construction costs, according to brokers, attorneys and developers. For the most part, when it comes to air rights deals, it's also a buyer's market.
As the city becomes as dense as ever and land runs out, air rights are leading the debate on how to rezone the city. There's the question of letting the owners of landmarked properties sell their never-to-be-used rights further than across the street, which could be a windfall to institutions in need of cash. A Midtown East rezoning steering committee is due out with a report imminently that's set to propose a district—likely running from the mid-East 30th Streets to the upper East 50th Streets—in which the proprietors of landmarks in that area could sell their air rights to anyone in that zone. Others have taken that concept further and are advocating for a citywide policy.
No matter the outcome, amassing air rights has become common practice to provide tenants with the best views and the biggest bang for a developer's buck. Experts that broker air rights transactions agree the interest comes down to simple supply and demand economics. For the most part, they said, the price of the untapped square footage is less than the property a developer is building on.
The return on building higher with these air rights is normally expected to be higher than the cost of land that gets developed. That's because the development rights will usually be reserved for higher floors that offer better views. A developer can turn around and sell these floors—which are usually luxury condominiums—because they offer breathtaking views, whether that's of Central Park, Midtown or just about anywhere else in the city these days, said Scott Latham, a vice chairman of JLL in charge of the brokerage's capital markets division.
"That in effect becomes the most valuable space in your buildings," Mr. Latham said. "It's going to be the most valuable space because it's at the top of the building and it's going to be the best views."
Mr. Latham and several others pointed to One57 as the turning point for using air rights in a project—no matter the size. Indeed, Extell developer Gary Barnett (who declined to comment for this story) famously spent 15 years assembling the parcels to build the 1,004-foot One57 at 157 West 57th Street. Duplexes in the building are reported to have sold for about $90 million.
The value of a floor that's higher than the existing Midtown buildings—giving a clear view of the park—can be anywhere from 10 to 20 percent more valuable than lower floors, said Jonathan Miller, the president and chief executive officer of real estate appraiser Miller Samuel. That value can increase by 1 or 2 percent based on what level the floor is on, he added. And in a bustling area like Midtown, being able to go as high as possible is key.
"If you're in a market area in a neighborhood such as Midtown, where it's full of tall buildings, in order to have any sort of views, you've got to be a lot taller," Mr. Miller said. "That's the driver of this. Better views translate into higher housing prices. Air rights are a big part of the equation."
It's tough to track what air rights trade for per square foot in every case, but some numbers out there put the per square foot price anywhere from $110 to $430 per square foot. The average cost citywide is $225 per square foot, according to a February survey by the Department of City Planning that cited news reports. In one Chelsea district—hugging the Hudson River from West 15th Street to West 30th Street—transferable air rights have gone for $200 to $400 per square foot. That's a major jump from the cost of air rights sold near the South Street Sea Port between 2007 and 2008, which cost a mere $110 to $150 per square foot.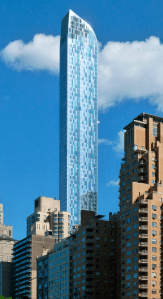 Post-recession some figures paid for air rights are simply jaw dropping. Take the case of the Zeckendorf brothers' project at 520 Park Avenue. The developers paid a record $600 per square foot of development rights from the Christ Church at East 60th Street and Park Avenue for a planned 51-story residential tower. At a total of $40 million for the 70,000 square feet worth of development rights, the transaction broke the previous record of $500 per square foot for air rights, The New York Times reported in February 2013.
Condo usage has been the strongest designation for air rights because it guarantees the highest price, several industry sources told Commercial Observer. Office space is the second-most important use, followed by hotel development and lastly for rental apartment buildings, which normally net the smallest return.
And while it goes without saying that the big developments have been most interested in air rights, accruing air rights has become typical for even smaller projects in New York City, said Frank Chaney, an attorney with Rosenberg & Estis who specializes in these transactions. Developers are looking at "even where you can just get a little bit more" in places such as the Bedford-Stuyvesant section of Brooklyn, where Mr. Chaney said he's currently working on a transaction. The cost per square foot is particularly lower, and Mr. Chaney said the development rights in the Bed-Stuy project are selling for $50 per square foot—a significant drop from the Manhattan costs.
"You're seeing it now far outside of Midtown," he said. "Because everybody knows about it now."
That's not to say no one has ever known about transferring air rights; it's been possible to transfer air rights since the city's 1961 rezoning, according to the February report on development rights by the Department of City Planning—but buying them wasn't the norm. But slowly developers made use of these rights. Donald Trump (the father-in-law of CO publisher Jared Kushner) assembled practically the entire remaining density of a block to build the 70-story Trump World Tower at 845 United Nations Plaza, which was completed in 2001.
And since luxury high-rises started popping up at a frantic pace along the southern border of Central Park, it's become practically common practice. Robert Ivanhoe, a partner and chair of global real estate practice at the law firm Greenberg Traurig, told CO in an interview last month that his 200-lawyer team has seen more and more air rights transactions—even making it difficult to pinpoint specific, eye-catching deals.
The process normally begins with the particular parcel that's being developed, and figuring how the maximum amount that zoning allows for, they said. A developer then has to figure out how much he or she wants to build, and target either adjacent or properties within the same block if he wants to enlarge the site beyond what the floor area ratio, or FAR, calls for. Those could sometimes be bundled into one and transferred from building to building, depending on the zoning rules.
"We're always asked when somebody is looking at a development site: look at every property in the surrounding block and find out where there are excess air rights," Mr. Ivanhoe previously said. "So you have to do an analysis of exactly what everybody has, what's unused and then the client will start going around and trying to assemble all those air rights."
Developers routinely get creative on how they can accrue the rights from several properties on a block, Mr. Latham said. A project developer can arrange for his neighbor to buy the rights over a building two doors down, bundle them together and buy the combined air rights without any specific zoning changes, he said. It's even got an added benefit for the middleman.
"With each zoning lock merger, some money is getting left behind through the guy who's transferring them," Mr. Latham said.
Bruce Eichner, the founder and president of Continuum Company, didn't return requests for comment for this story, but recounted to CO earlier this year his uphill battle to assemble the rights for 45 East 22nd Street, which will overlook Madison Square Park. Comparing it to Game of Thrones, Mr. Eichner said it took him 14 months to assemble all of the rights—often bartering with surrounding landlords. In one instance he worked out an agreement with a barefoot landlord on a legal pad in a dimly lit hallway.
While most of the air rights talk has been about existing buildings, a striking number of development potential has been coming from over train terminals and other government agency properties. The eastern rail yards, which are now almost covered up by development on the Far West Side, have been a major source of development bonus in the Hudson Yards.
In total, the rail yards have a whopping 4.5 million square feet of development rights sitting above them. While most air rights cost whatever the market deems them to be, the MTA controls the rights above the eastern rail yards, according to the DCP report. Instead, the price of air rights transferred is determined by a ratio that's calculated at 65 percent of what the property under development is appraised. The Moinian Group has applied for 240,156 square feet of development rights over rail yards that will go toward 3 Hudson Boulevard. The DCP expects that transaction to cost $350 per square foot.
Moynihan Station, the under-construction Amtrak extension at the old James A. Farley Post Office Building, is also included in that district. The MTA owns those rights and, in July 2014, tapped then-Massey Knakal Real Estate Services (now Cushman & Wakefield) to market those to developers. Robert Knakal, C&W's chairman of New York Investment and who's marketing the rights, declined to discuss the specifics of the air rights above the 103-year-old building adjacent to Madison Square Garden. But there's an estimated 1.5 million square feet of developable space at that site, which is worth anywhere from $450 million to $500 million, The Real Deal reported in July 2014.
Where a seller does have the upper hand are the special air rights markets throughout the city, where more developers have the option to buy. Sometimes just a few blocks, or in other cases a full-blown district, will allow landmarked property owners to sell air rights either across the street or a few plots over—instead of the normally rigorous rule of selling to adjacent properties.
The Theatre District has been one of those city zones where it's a bit more of a seller's market, Mr. Knakal said. Running from West 57th Street to West 40th Street, the district has seen roughly 470,000 square feet transferred since it was established in 1998, according to DCP. In this case a seller might have 10 suitors for a receiving site as opposed to a once-in-a-lifetime opportunity.
Co-ops have become one of the main types of buildings interested in selling air rights. Mr. Chaney, the Rosenberg & Estis attorney, said he's worked with several co-ops on the Upper East Side interested in selling some of the square feet above their buildings—especially with increasing demand as the Second Avenue subway construction is expected to spur development.
"It also is potentially a windfall for the seller," Mr. Knakal said. "There are a lot of folks selling their air rights for more than they paid for their own building."
Likewise, Broadway might be raking in a bigger payday than Phantom of the Opera during tourist season. But houses of worship are praying that the city comes up with some solution that would allow it to sell the air rights over properties such as Saint Bartholomew's Episcopal Church, Saint Patrick's Cathedral and the Central Synagogue.
This could change in just a few months if new proposals are ever made in the much-heated Midtown East rezoning. Residents and local officials were concerned that Mayor Michael Bloomberg's 2013 plan didn't allow enough community input, allowing for overbuilding and not enough public investment.
Under the new proposal, landmarks such as St. Patrick's and the Central Synagogue could sell currently untapped air rights to projects throughout the set Midtown East district, Councilman Dan Garodnick told CO. A percentage of each transaction would also be taken out by the city and dedicated to public improvements in the area, typically bound by East 34th Street up to East 59th Street. Mr. Garodnick said the recommendations will provide a percentage range on how much money would be earmarked for the city.
"These institutions are completely locked in without any opportunity to sell their air rights today," said Mr. Garodnick, who is leading the steering committee with Manhattan Borough President Gale Brewer. "We want to give them a limited opportunity to do so while also protecting the public interest." Representatives for both officials did not provide a concrete date for when the report will come out.
The alternative to that would be a model similarly used to build SL Green Realty Corp.'s 1 Vanderbilt. Mr. Garodnick said a development looking to build larger than zoning permits might be allowed to do so if it sits near a transportation-sensitive area. In return for committing to capital improvements (SL Green doled out $220 million for upgrades to Grand Central Terminal and the Lexington Avenue line), the developer could receive an up-zoning.
"The amount of density that you can potentially take on your site will be determined by the characteristics of your site," Mr. Garodnick said. "If you're next to Grand Central or you're next to a subway station or you're on a wide avenue, your opportunity to grow might be different than if you're in the middle of a block."
Mr. Garodnick said that the rezoning would ensure that these air rights transactions would be strictly reserved for office development—shutting the door to free-for-all condo development.
A former member of the City Council is supporting a plan that would take this idea a little further, however. Kenneth K. Fisher, a former councilman and currently a Cozen O'Connor attorney and a lobbyist, is part of a group backing a citywide approach to selling the air over a landmark. Dubbed Landrex, the plan could theoretically allow a church on Flatbush Avenue in Brooklyn to sell its unused rights to a development in Midtown Manhattan, Mr. Fisher said. The rights would fetch the market value of the development, or the receiving site, he added.
"For most of these there is no market for their development rights where they are located either because there's not an appropriate receiving site or because there's simply no market at all," Mr. Fisher said. "The solution to that would be a program that would allow them to more freely flow their development rights into high-value neighborhoods where the city encourages growth."
Update: This story was edited to reflect the status of The Moinian Group's application for air rights over the Eastern Rail Yard. The developer has applied, and money has not changed hands.