The Plan: Year Up at 85 Broad Street
---
---
Despite all the talk of new office designs and fancy schmancy layouts, there's still a place for that good old corporate look.
Take the new offices for Year Up, a nonprofit that does job training for low-income young adults (think 18 to 25 years old), which has consolidated its New York offices to 38,407 square feet at 85 Broad Street. The office was designed to give these young adults the experience of a corporate office to learn the skills of one day working in something similar. The 32-story building between Pearl and South William Streets also happens to be the former Goldman Sachs headquarters.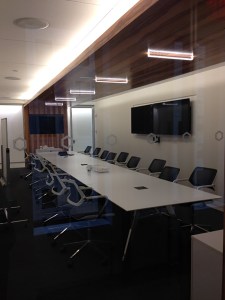 Year Up was looking for a column-free space that could bring together its training exercises, as well as its New York-focused and national-focused employees. In total, the movable layout can hold 120 trainees and 75 staffers, according to Jon Haseltine, the senior director of operations and strategic planning for Year Up. The organization also has plans to grow (it signed a 15-year lease at the building earlier this year), but in the meantime, Year Up subleased 8,000 square feet to Opportunity Network, another nonprofit.
The resulting space, which takes up the whole floor, was the brainchild of Year Up, Cresa New York (which also represented the nonprofit in its lease) and architecture firm Environetics.
Part of the planning for the office was to best figure out how Year Up could use the space. Kent Holliday, Cresa's principal for consulting services, looked at where and when the group held its training exercises. Mr. Holliday said he helped Year Up shrink its original desired size by about 20 to 25 percent.
The trio also worked on the ability to change the space with movable walls and an open huddle area, where the young adults can meet one-on-one with counselors. Instead of having a pathway through the middle of the offices, the design has a five-foot-wide perimeter that allows Year Uppers to walk around the entire office.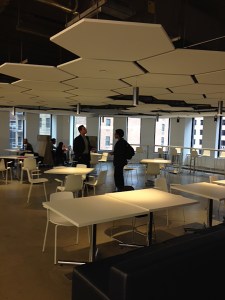 A big part of that interaction includes the ability to convert part of the office into an open, 4,000-square-foot space to facilitate town hall meetings for staff and graduation ceremonies that occur every six months, and also to allow other nonprofits to use the space.
"The space lends toward flexibility and adaptability," Mr. Haseltine said. "We're going to even be able to lend out the space or lease out the space for other nonprofits to do meetings."
Ed Wartels of Cresa New York, who represented Year Up with Mark Jaccom, said the idea was to give the entire office a corporate look for the young adults. That included the "experience from the moment they walked in the door from the street level of the building to the moment they sat in the seat in the space occupied by Year Up."