The Backlash Against Glass Buildings in New York City
---
---
Any time master architect Michael Graves walked past an all-glass building, he would put his hands up to block his eyes.
Graves, whose eponymous firm has offices in New York City and Princeton, N.J., wasn't blanching from the sun's reflection on the shiny surfaces. Rather, the late Graves, who died in March at the age of 80, simply couldn't look at something he despised so virulently.
"Oh, he hated them," Thomas Rowe, a principal at Michael Graves Architecture & Design, told Commercial Observer. "Quite frankly, I think he tried to ignore them."
Graves no doubt had to work very hard to ignore them in this city. Today, 50 West Street, 53 West 53rd Street, the multiple towers planned at Hudson Yards, 1 Manhattan West, and the World Trade Center towers are some of the mega-glass projects under construction around the city. And Graves isn't the only architect that dislikes them.
"I find that glass buildings are cold, shallow; and the glass is quite flat," said architect, preservationist and author Peter Pennoyer, who specializes in traditional architecture and has designed various New York City Art Deco and Beaux-Arts townhouses and apartments like the 17-story, 14-unit condominium at 151 East 78th Street. "There is no texture and scale to them. They are kind of character-less. It's a problem for people like me who think that architecture should reflect the character of a place."
Mr. Rowe said, "My personal opinion is some of them are quite nice and some are very plain and boxy. Personally, I think they are boring and I wouldn't want to live in them. I think a little glass goes a long way."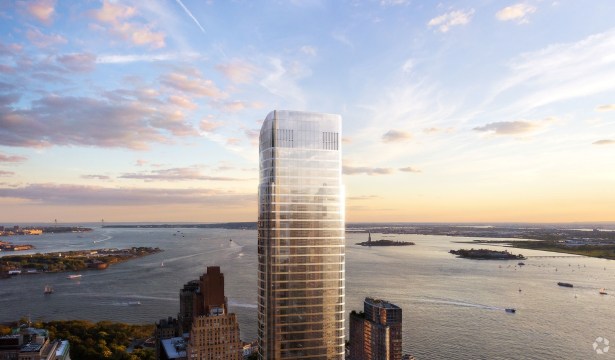 Part of the reason glass towers have been popping up around the city is because the material has become less costly; glass can be glazed and fabricated in factories and brought on-site for installation, whereas traditional buildings, such as brick, require labor by hand on site.
While it should be noted that glass buildings aren't necessarily cheaper to construct than traditional brick buildings, the cost to produce glass has become much less expensive over time, which in turn drives down the entire cost of a project.
And there is, indeed, a case to be made for glass. For one thing, all-glass structures create more space. Since the frames of all-glass buildings are steel, it removes the need for walls and columns throughout floor plates, which allows for more square footage. Also, unlike masonry buildings, glass walls are flat so there is more space on the perimeter of each floor, which adds up to more usable square feet in the buildings.
"When you walk into a room that has thinner walls, the rooms can be small but it gives the appearance of a much larger space," said Stephen Jacobs, the founder of architecture firm Stephen B. Jacobs Group. His firm designed 325 Fifth Avenue, a 41-story luxury glassy condo that was completed in 2005.
Mr. Jacobs added: "Views are important to people, especially in New York. Naturally, the more glass you have, you will have better views."
A lot of architects say that clients want glass because it offers more natural sunlight, which they believe improves working conditions.
But critics can counter that all-glass buildings eat up energy and raise heating and cooling costs.
"You get all these architects talking about being green [and] building all-glass buildings, which I believe is the opposite of green," Stephen Byrns, a partner at BKSK Architects, said. "I think you will see a lot of hypocrites in the architecture world nowadays, because it's very fashionable to build all-glass buildings."
While the glass panels allow more natural light, which can replace electric bulbs, that same light heats up rooms during the summer, requiring more cooling. And the window walls are poorly insulated; during the winter they cause inflated heating bills. This all leads to further energy consumption, as spelled out in a report last year by the Urban Green Council, the New York chapter of the U.S. Green Building Council (the LEED-certifying guys).
The prized sunlight itself could be devastating, Mr. Byrns said. An influx of sunlight is difficult on the eyes, and will destroy fabric, artwork and wood floors among other things with prolonged exposure.
"The weirdest irony is the people who are in all-glass buildings are the ones who block them up [with curtains]," Mr. Byrns said.
"Do you know what the most important thing in a glass building is?" asked Francis Greenburger, the founder of Time Equities. "Shades!"
Mr. Greenburger is currently constructing his own 780-foot glass condo designed by Helmut Jahn at 50 West Street, which topped out this summer.
"I just think it's a different experience. I don't think it's right or wrong," Mr. Greenburger said. "The fact is that architecture changes and clearly there has been a progression from decorative architecture to plain-Jane 1950s and now we have these glass towers, which are another experience."
Glass buildings in New York City date back to the middle of the last century in office towers, when the 24-story Lever House and 38-story Seagram Building were erected and inspired legions of imitators.
"A window should be scaled more to the size of a person."—Thomas Rowe.
But architects like Graves—who was among the New York Five group of modern architects in the 1970s, but eventually became a postmodernist—defied the all-glass trend. Graves designed RFR Realty's 54-story residential and office tower at 425 Fifth Avenue, which was completed in 2003, to be contextual with the surrounding neighborhood. The building features six levels of retail at the base and more than 170 condo units above. It sports a Beaux-Arts limestone and brick design. Adding to the design are columns of white glazed brick that stretch down the façade. Large windows were used in the project but weren't blown out to floor-to-ceiling size.
He believed "a window should be scaled more to the size of a person," Mr. Rowe said.  
And there was an obvious glass backlash with the ascendance of another architect who believed in traditional masonry over glass, in the form of Robert A.M. Stern.
Mr. Stern's limestone masterpiece, 15 Central Park West, changed the name of the game for architects when it opened in 2008, offering a Rosario Candela-like throwback to the traditional apartment buildings of yore. And the developers and early buyers in the building were handsomely rewarded for it. (An apartment at the building broke a New York City record when it traded for $88 million back in 2011.) 
Even in Mr. Stern's more large-scale recent residential projects, like the 65-story 220 Central Park Place, 926-foot-tall 30 Park Place or 54-floor 520 Park Avenue—three skyscrapers in the works—he has eschewed the concept of all-glass.
Mr. Stern declined to comment, but speaking about the 82-story 30 Park Place, which will have 157 residences, he told The New Yorker magazine: "We're transposing a 1930s language to Lower Manhattan, which has gotten overrun with glass and abstraction."  
With some architects, which are artists by trade, their problem with glass buildings is that there aren't as many variables that give the building character; for the most part there is the type of glass and the color of the metal for the frame.
Whereas buildings made of traditional materials have various layers. Other than just the type of material, brick, limestone or concrete, for example, there has to be a decision about the texture of that material. And then there is the style of the cornices, facades, ironwork and windowsills. With some traditional buildings different types of stones could be used for the base, like granite. To many architects, the flat surface of glass provides no perception of depth. They've compared it to working with a 2-D material (in glass) and a 3-D one (with masonry).
Since many older city buildings have these features that all-glass buildings can't reproduce, it doesn't represent New York architecture, Mr. Pennoyer said.
"I think the buildings that have the character that people associate with New York are being chipped away bit by bit," Mr. Pennoyer said. "Glass boxes totally ignore these concepts, so you get a line of strangers next to each other."