Stat of the Week: 8.8 Percent
---
---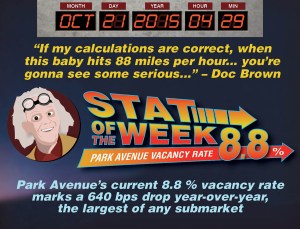 In Back to the Future II, Marty McFly and Doc Brown use their time machine made out of a Delorean to travel 30 years into the future to Wednesday, Oct. 21, 2015. As in, the day this is published. Although flying cars and hoverboards are not the norm in 2015, what better way to pay homage to this monumental day than by writing about some Back to the Future-based statistics on the Manhattan real estate market? Like Marty McFly would say, "Whoa. This is heavy."
5. "The justice system works swiftly in the future now that they've abolished all lawyers."—Doc Brown
This is not the case in real-world 2015, but legal services remain the only sector within the professional services industry to not surpass previous peak employment levels from July 2008. With 75,500 jobs through September, this sector is still 12,100 jobs shy of its previous high in July 2008.
4. "Yes. Yes. I'm George. George McFly. I'm your density. I mean, your destiny."—George McFly
Densification continues throughout the Manhattan office market, with tenants occupying an estimated 24 percent less than in the mid-1990s. Despite record-high office employment, vacancy remains above levels from previous employment peaks.   
3. "Well, there are plenty worse places to be than the Old West."—Doc Brown
This is not necessarily the case in 2015, as only the Madison/Fifth submarket has a higher vacancy rate (12.4 percent) than the West Side submarket in Midtown (10.8 percent).
2. "Marty, I'm sorry, but the only power source capable of generating 1.21 gigawatts of electricity is a bolt of lightning."—Doc Brown
Five buildings traded north of $1 billion this year, and 230 Park Avenue gets the spotlight for being sold for $1.21 billion. All of these large investments have brought the total office volume to over $20.2 billion through third- quarter 2015.   
1. "If my calculations are correct, when this baby hits 88 miles per hour… you're gonna see some serious…"
—Doc Brown
Park Avenue's current 8.8 percent vacancy rate marks a 640 basis point drop year-over-year, the largest of any submarket.
Richard Perischetti is vice president of research & marketing at Cushman & Wakefield.