JRT Realty Group's Jodi Pulice Is Marketing the Port Authority and Selling LIC
---
---
When Jodi Pulice started out as a broker more than 30 years ago, she would go to meetings and be asked to get the coffee—even if she was the one who brought the deal in.
It was a pitfall of being one of few women in an industry dominated by men.
But on the eve of celebrating 20 years of running her own firm, the JRT Realty Group founder said she gets her own coffee now, and she leads the meetings.
The meetings are frequent and Ms. Pulice and her company have plenty of reason to keep caffeinated. They are currently shopping around about 150,000 square feet of retail space at the Port Authority Bus Terminal as the long-plagued depot is primed for an upgrade.
"I like what we're doing," she said in her Third Avenue office last week, referring to the bus terminal's retail, as well as expanding to the outer boroughs. "I like [to go] where no one that's a New York City-centric broker wants to go."
The 65-year-old bus terminal is certainly a project not too many brokers have wanted to venture into for a very long time. But earlier this year, the Port Authority of New York & New Jersey announced a $90 million overhaul that includes the retail part of the depot (which predates last week's announcement of a broader, multibillion dollar overhaul. She and Cushman & Wakefield, with whom JRT has a strategic partnership, entered the bidding process to market the retail spaces, which are now occupied by smaller bagel shops and Auntie Anne's pretzels.
Indeed, Ms. Pulice was intrigued by the 250,000 people who walk through the terminal every day—passing a slew of storefronts on their way to and from work.
"What area do you know that's trafficked like that?" she said. "Of course, you have to think of how you are going to make this a little bit better for those people who are commuting. The way that you do it is you have to brighten it up."
Instead of the drabness of the current storefronts, Ms. Pulice said the new retail would be adorned with smoked white glass, healthier food options and national retailers. The bus line ticket offices are going to get moved off of the ground floor—opening up retail space as soon as you walk into the bus terminal from Eighth Avenue.
"We're giving people more of a choice, more of a variety of different foods," she said. "It's like a grab-and-go type of place. So you want them to grab-and-go with something a little bit more formidable than a pretzel or a bag of potato chips." 
Peter Braus, the managing principal at retail-focused brokerage Lee & Associates NYC, said many New Yorkers have come to avoid going to the terminal unless it's to get on a bus. He added that it would be an uphill battle for anyone trying to revitalize the retail, which will involve turning around the depot's reputation.
"It's a obviously notoriously bad retail there," said Mr. Braus, who isn't involved in the marketing. "There are a couple of serious challenges to making the Port Authority with good, productive retail."
But Ms. Pulice doesn't shy away from a challenge.
JRT has also exported tenants out of Midtown, notably to Long Island City, where the firm worked on Jamestown's Falchi Building, as well as the Vanbarton Group's Studio Square and Zipper Building. That started about 15 years ago, when the United Nations Federal Credit Union, the U.N.'s bank, was looking for an off-site location following 9/11. Ms. Pulice found a development site across from Citibank's tower at One Court Square.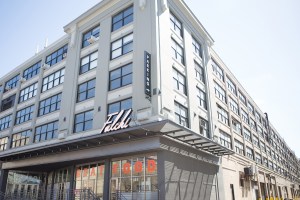 The Falchi Building, which is nearly completely leased, has ride-share companies such as Lyft and Uber—the latter of which recently signed a 22,000-square-foot deal at the building.
But getting people to the building and into Queens took catching companies' and brokers' eyes. Ms. Pulice said she brought food trucks to set up stands inside the retail portion of the building, drawing in the building's tenants, as well as students from LaGuardia Community College across the street.
Her JRT team was also part of WeWork's deal for the coworking giant's first Queens location at Studio Square in LIC. While she couldn't discuss the specifics of the deal, she said it made sense to bring the shared space provider to a building with open spaces and a neighborhood with its own burgeoning tech scene.
"You have a community of people that want to work, live and play in the area," she said. "And there was no place really for them to go."
Vanbarton, which owns Studio Square, decided to work with JRT because it was one of the earlier brokerages to start working in LIC, according to Seble Tareke-Williams, the managing director for the Vanbarton's interborough fund.
"We originally reached out to the JRT team because, similar to our firm, JRT has had a longstanding experience in the outer boroughs," Ms. Tareke-Williams said. "We've had a clear, shared thinking that these markets have unrealized potential."
Part of that potential is turning around the Zipper Building at 47-16 Austell Place, which sits on the south side of the Sunnyside rail yards in LIC. Ms. Tareke-Williams said Vanbarton is renovating and repositioning the building, which used to be a zipper factory. She added that Vanbarton and JRT have weekly calls on leasing, and Ms. Pulice's team has been offering advice on what upgrades might make the building marketable to tenants.
"That's a characteristic that we value in a broker: to have a good pulse on a market that's evolving," Ms. Tareke-Williams said. "They are really strong canvassers, door knockers. I know that approach comes from the top, and we value that."
LIC has been drawing corporate clients like Citibank and JetBlue, as well as the creative and tech companies that are filling up converted warehouses. But those old industrial buildings could soon be home to biotech companies working in pharmaceuticals, Ms. Pulice said. The properties have already drawn interest among some companies, and have the strong infrastructure that these potential tenants need, she added. Plus, many employees live in the area and want a shorter commute.
Her journey to the top started about 30 years ago, when she was working for Northwestern Airlines and a friend introduced her to the real estate business. The Staten Island native started out only on commission, while juggling a weekend job and making side money coaching basketball and softball teams. (She now lives in Manhattan and has a son and a daughter.)
After working at a handful of companies, she ventured out on her own in February 1996 when she started JRT. C&W formed a strategic partnership with her company 12 years ago to support the certified minority and women-owned business.
"Together, our firms have been tremendously successful, working on some of the most exciting real estate projects and developments in the industry," said Ron Lo Russo, C&W's president of the New York tristate region, in a statement. "Jodi is a true leader and brings a high level of expertise and dedication to each assignment. While both firms have benefited from this partnership, it has served in our client's best interests, which is what we are always striving to achieve."
Among the Yankees memorabilia in her office (she's a devout fan, with old Yankee Stadium seats in the lobby) is a quote from the 2014 State of the Union: "When women succeed, America succeeds." All but one of the company's six executives, including Ms. Pulice, are women.
'I would like to see just being hired on our merits and our intelligence. I'm a real estate broker for over 25 years. I think I know my business. The greatest day will be when we don't have to be certified anymore. And that's the day that I would love to see.'—Jodi Pulice, JRT Realty Group
Ms. Tareke-Williams said Ms. Pulice has become a role model for women leading the way in the industry. That includes finding female brokers who want to join the firm.
"Many of her brokers on the ground are also women," Ms. Tareke-Williams said. "They are just as hungry, just as aggressive, just as smart as any male broker we've worked with. She makes very clear she wants to be a gateway for other women in the industry."
The gender gap is closing slowly, but surely. As CO reported earlier this year, women make up 42 percent of the Real Estate Board of New York's 16,441 members. In 2008, only 16 percent of REBNY's 12,082 members were female.
Ms. Pulice said the minority and women-owned certification has helped her business. But the ideal future path is when her company and others don't necessarily need a gender-based stamp of approval to win over clients.
"I would like to see just being hired on our merits and our intelligence," she said. "I'm a real estate broker for over 25 years. I think I know my business. The greatest day will be when we don't have to be certified anymore. And that's the day that I would love to see."