Atlantic City May Finally Win Its Get Out of Jail Free Card
---
---
"This city needs a cleaning," Shaikh Amin, a taxicab driver in Atlantic City, N.J., said from the front seat of his cab as he drove away from the boardwalk. He refused to drive through the side streets of the resort city because neighborhood kids would throw rocks at his car.
In 1996, Mr. Amin moved from New York City to Atlantic City, where he worked as a dealer at Trump Plaza until the hotel and casino closed in September 2014. Now he says he is lucky to rake in $50 for an eight-hour shift driving a taxi in the once-vibrant beachfront city. 
"I used to make more than that in two hours," he said.
It's not news that Atlantic City has stumbled quite a bit since its days as a bustling beach destination in the late 1800s to the times it held the monopoly on the East Coast's gambling from the 1970s to the 1990s. Recessions aside, the local economy still relies heavily on the casino and entertainment business, which saw a nearly 50 percent dip from $5.2 billion in 2006 to $2.7 billion in 2014 in Atlantic City as gaming competitors opened in neighboring states, according to the Center for Gaming Research at University of Nevada, Las Vegas.
In August 2014, the iconic Showboat Casino Hotel closed its doors as a means to curtail competition. Just a few days later, the $2.4 billion Revel Casino Hotel—reportedly the most expensive private construction project in the history of New Jersey—closed, and now sits empty, as the most recent failure of the city. Real estate developer Glenn Straub purchased the glass structure, which is distinguished by the massive golf ball that its roof dons, for a low bid of $82 million at a foreclosure auction this April.
But while bankruptcies and foreclosures have characterized the city for the last decade, a turnaround effort is already underway.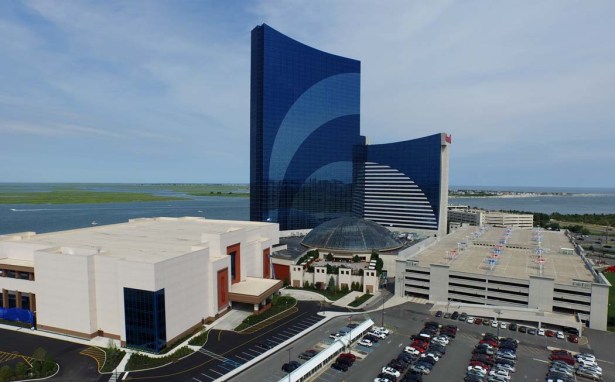 Several dozen journalists gathered under a massive, outdoor archway in mid-September, cameras and notepads in hand, documenting the ribbon cutting ceremony of Caesars Entertainment Corporation's Harrah's Waterfront Conference Center—a 100,000-square-foot facility tucked behind the entertainment company's existing hotel and casino.
"This is something that enhances the gaming product we have with non-gaming opportunities—the opportunity for us to be one of the big boys in the United States in terms of conventions and conferences," Atlantic City Mayor Don Guardian said to the crowd that Thursday afternoon. "This is what we hope is all over the city. This is the future of our city."
The new conference center at Harrah's was completed in August and opened for business on Sept. 17.
Michael Massari, the senior vice president for national meetings and events at Caesars, told Commercial Observer that for the entertainment giant, making a return on the investment capital was not the priority. Instead, he emphasized that making Atlantic City a destination for a business traveler would play a key role in the diversification of the economy.
"For roughly $25 million you could purchase Showboat—a giant hotel, a big casino, restaurants, acres of beachfront property and parking garages. For $100 million you could purchase the Revel, a $2.4 billion property," he said. "And for $125.8 million, you could build two boxes, where you don't get nearly as much out of your investment. So why do that? Because of business travel."
Caesars' business argument seems strong: the meetings industry generates $280 billion on a national scale, $16 billion of which is in the Northeast, and $350 million of which comes through Caesars. The 50,000-square-foot ballroom now open at Harrah's is nearly double the size of the biggest ballrooms in other hotels in the Northeast, and the entire facility is now the largest conference-hotel complex from Baltimore to Boston, according to Caesars.
"Our expectations were quite low pre-opening," Mr. Massari said. Between the company's capital structure, the Caesars Entertainment Operating Company's bankruptcy, and the general environment in Atlantic City, a customer could be hesitant to book an event at the center before seeing its track record, he said. But construction did not run late, the facility opened on time, and there are currently 97 confirmed meetings through November 2019, most of which will take place in the next two years and generate more than $32 million in revenue.
The city's constituents and Caesars are taking a gamble as to how much of an economic impact the new conference center will really have. Atlantic City, which is sinking in bond debt, has seen so many recent foreclosures on both commercial and residential properties—as well as so many job losses—that the prospect of business travelers using their company credit cards to rescue a crumbling economy seems relatively optimistic.   
  Whether or not the new conference center will be a game-changer for Atlantic City remains to be seen. Real estate players, including banks, investors, brokers and hotel operators, only have the past to inform their decisions of whether or not to do business in the city now.
Massachusetts Mutual Life Insurance Company, fast food company KFC and international franchise Rita's Italian Ice are among some of the businesses that booked company meetings at Harrah's. While the names and numbers may indicate promise, others have their doubts.
"There are not so many conferences that you could expect the numbers of visitors to attend or visit Atlantic City to replace all of the lost gamblers," one industry expert told CO on the condition of anonymity. "While the conference center industry is somewhat profitable, it is nowhere near as profitable as the casino and gambling business has been for Atlantic City, and while it represents one spoke for what a diversified Atlantic City is like, it's nothing we can pin our hopes to."
Whether investing in a conference center or casino, Atlantic City's already hurting economy is deterring investors and lenders alike.
"On a macro-level, some people see investing in Atlantic City as catching a falling knife," said Tal Bar-Or, a managing director at Meridian Capital Group. "I don't think anyone is sure as to whether or not we've hit the floor yet as to what's going to happen in Atlantic City."
Mr. Bar-Or, along with every other industry expert CO spoke to for this article, said that the city desperately needs to reinvent itself, but the driver of that redevelopment remains unclear.
The most recent initiative to give the city's economy a boost is the Casino Property Tax Stabilization Act, one piece of a five-bill aid package, which passed this June.
The act requires any "casino gaming property" to make quarterly payments in lieu of taxes (PILOT) to the city starting in 2015 and continuing for the next 14 years, Observer Media's NJ Politicker reported. This year, in order to receive a tax exemption, casino owners would have to pay quarterly payments totaling $120 million to the city.
"Part of the downward trajectory of Atlantic City was due to a number of petitions from the casinos arguing that their property taxes were too high in comparison with the economic values of the casinos themselves," said Sean Hennessey, the founder and chief executive officer of consulting agency Lodging Advisors and an assistant professor at New York University's Tisch Center for Hospitality and Tourism. 
The PILOT program is a means to stabilize the city's tax base, he said.
While the bill awaits Gov. Chris Christie's approval, the state of New Jersey adopted Atlantic City's fiscal 2015 budget in Sept., closing a $101 million deficit, and therefore eliminating the city's immediate financial crisis, according to Moody's Investors Service. 
The state provided $14 million in grant revenue, $13 million in transitional aid and $33.5 million in casino-redirected-anticipated payments, and the city's local finance board allowed for the deferral of $38.9 million in pension and health benefit contributions.
Without continued state support and budget reform, the city will face fiscal challenges in 2016, according to a report from Moody's, potentially facing a budget deficit of $90 million.
Atlantic City's population is just under 40,000, while Atlantic County's population is just over 275,000. The median household income in the city itself is $29,200, compared to New Jersey's average of $71,629, according to the U.S. Census Bureau. Just over 34 percent of Atlantic City's population lives below the poverty line, compared to the state's 10.4 percent. The city has a 9.1 percent unemployment rate as of July 2015, down from 9.6 percent in July 2014. Roughly 44,300 people work in the leisure and hospitality industry, followed by 22,000 who work in government and 21,800 who work in the trade, transportation and utilities industries.
"We knew a long time ago that we had to diversify the business," Mr. Massari said. "But Atlantic City grew for nearly 30 straight years, and it was hard to pull the trigger on a new customer segment when doing so well."
Caesars owns and operates three of the city's eight remaining casinos—Harrah's Resort Atlantic City, Caesars Atlantic City and Bally's Atlantic City. The company closed Showboat, which called the boardwalk home for over 25 years, last August.
Mr. Massari directly oversaw the development of the conference center, which he says really took off in 2009 and 2010, when the recession started to make waves. The firm teamed up with New Jersey's Casino Reinvestment Development Authority (CRDA) to create what they felt would be a catalyst for improvement to Atlantic City's ever-waning economy.
He said that when it comes to fixing Atlantic City altogether, he thinks of the phrase "it takes a village."
"For things to change, you really have to have everybody—all the constituents that are involved—aligned," Mr. Massari said. "I think everyone understands what the problems are. Our company's view is that [change] has to happen in conjunction with the expansion of the types of customers that are coming to Atlantic City."
The total development cost of Harrah's new conference center was $126 million—none of which was debt. CRDA provided a $45 million portion of the financing, and Caesars provided the remaining equity.
Caesars, which is owned by Apollo Global Management and TPG Capital, filed for Chapter 11 bankruptcy this January, and is currently in a $2 billion deadlock with its creditors, according to a recent article from Bloomberg.
Mr. Massari has said in previous interviews that Harrah's, which is the site of the new conference center, was not a part of the bankruptcy. However, Mr. Bar-Or noted that given the corporation's bankruptcy and the new conference center's location in Atlantic City, lenders may be hesitant to provide debt on Harrah's and other casino resorts in the area.
"Atlantic City has a great beach, it's close to a major metropolitan area, Philadelphia, but there is still no clear path forward for Atlantic City," Mr. Bar-Or said. "That's the issue that could make capital hesitant to invest there, unless you have someone extremely pioneering."
The prospect of lending in Atlantic City would only appeal to a few because of the high level of risk, he said, and even then, the options are limited.
Opportunistic investors see the city as a chance to acquire assets at a low rate, but what can you do with those properties, Mr. Bar-Or asked.
"Without a clear path to an exit you need a business plan, unless there is someone who has deep-pocked, patient capital that allows you to buy now and figure the rest out later," he said.
Mr. Bar-Or's notion of a deep-pocketed investor with patient capital sounds much like the Revel's new owner, Mr. Straub, who has suggested turning the former resort into an actual ivory tower. The Floridian developer, who owns the Palm Beach Polo Golf and Country Club in Wellington, Fla., reportedly wanted to bring scientists and academics together at the former casino hotel to solve the world's problems. While that plan has not been revisited, the Revel remains empty. (More than seven other lenders and debt brokers declined to comment on the record for this story.)
"While Atlantic City was once an island of casinos, there is now a much more built-out, competitive environment," an executive of the gaming division at one of the country's largest banks told CO on the condition of anonymity. "If you look at casino-style gaming from the late 1980s to 2010, it is mostly a supply-driven industry."
That executive pointed to casinos opening in Delaware, Pennsylvania, Maryland and New York in recent years feeding the supply side of the equation, with more in the works. The $1.2 billion MGM National Harbor resort and casino is slated to open in Maryland in the second half of 2016, shortly after the Horseshoe Casino Baltimore opened in 2014. Those openings are to be followed by a $425 million Live! Hotel & Casino Philadelphia project, which is slated for completion within the next four years.
All of these openings create a cannibalizing effect that drives up competition without sufficient demand, industry players agreed, and for Atlantic City, less may very well be more.
Caesars chose to close Showboat last year for that very reason. Gary Loveman, the chairman and CEO of Caesars at the time, explained the company's reasoning in a press release dated June 27, 2014: "Since 2006, revenue in Atlantic City has declined by more than $3 billion and competition in the city has increased. The dynamic in Atlantic City has led us to the difficult but necessary decision to close Showboat in an effort to help stabilize our business there and support the viability of our remaining operations in the vicinity."
From September 2014 to August 2015, gaming revenue in the city declined by 10 percent, in part because of the closure of four casinos: the Atlantic Club Casino Hotel, Trump Plaza, Showboat and Revel.
Of the casinos that remain open, revenue has increased about 5 percent over the same period, but Trump Taj Mahal, Caesars and Bally's are continuing to struggle, according to Moody's.
Beyond seeing a drop in gaming revenue if more casinos were to close or scale down operations, the city would lose much-needed property tax revenue. In 2014, property taxes from casinos accounted for roughly 50 percent of the city's total budget.
"While there are still challenging competitive dynamics influencing the city, the closure of some properties has left the remaining ones in a better place from an operational standpoint," the bank executive said. "There are signs of stability through the first seven months of this year, and the existing properties may be standing on firmer footing than they have for a number of years."
Many have slighted Atlantic City for not reinventing itself in the same ways Las Vegas has, but it will take the efforts of both the city and state governments and the city's proprietors to bring it back to life, Mr. Massari said. All doubts cast aside, opening the new conference center at Harrah's is a way to bring in business, attract a different type of customer and diversify an economy that has been too singular for too many years.
As Caesars executives, CRDA members and Atlantic City's mayor spoke to the crowd before cutting the ribbon to signify the conference center's opening, a sense of pride and a sense of hopefulness emanated. The conference center, they agreed, would be key to Atlantic City's revitalization.
Caesars will continue to work on restaurants, hotels and meeting spaces, Mr. Massari told CO after the event came to a close.
"I can tell you that Caesars is not done with Atlantic City," he said. "It's an important market for us and we will continue to heavily invest there."
Caesars Entertainment Corporation
,
Casino Reinvestment Development Authority
,
Chris Christie
,
Don Guardian
,
Glenn Straub
,
Harrah's Waterfront Conference Center
,
Michael Massari
,
Revel Casino Hotel
,
Showboat Casino and Hotel
,
Tal Bar-Or
,
Meridian Capital Group