Brooklyn's Sunset Park Is About Much More Than Just Industry City
---
---
If a visitor to Brooklyn didn't know any better, he might think that the words "Industry City" and "Sunset Park" are interchangeable.
Yes, Industry City and its 6 million square feet of commercial space are inarguably the reasons people are talking about Sunset Park. Nobody denies it. But beyond that sprawling complex, the history of buildings like Liberty View Industrial Plaza and the Brooklyn Army Terminal have led to their own resurgence. Once the epicenters of industry and production, a new wave of manufacturing is coming in and saving these factories, which in Williamsburg and Dumbo might have been converted to residential.
"The rebirth of buildings like Liberty View and Industry City is in large part due to the logistics and demographics of the new maker economy," said Timothy King, the co-founder and managing partner of Brooklyn-based CPEX Real Estate. "People needed high ceilings and big space to swing around I-beams. Those spaces that were 100 years ago ideal for the guy with the hammer and tongs are today ideal for the guy with the mouse and keyboard."
While Industry City, with its incentives and shared community, has been reeling in companies, there are neighboring buildings on the north and south that anywhere else could be considered goliaths. Liberty View, for instance, has nearly 1 million square feet of commercial space, which has been dedicated mostly to light and specialty manufacturing. The Brooklyn Army Terminal, a former troop layover station (that once housed Private Elvis Presley) is stacked with city-sponsored incubators for companies in need of cheap space and amenities to boost business. The old can factory at 4312 Second Avenue has almost 200,000 square feet on the market.
These structures, some of which stretch several avenues from the Gowanus Expressway to the waterfront, have for the most part been restored to their Prohibition-era façades, while the insides have a 21st century feel. That these buildings have large windows with natural light, an industrial look and open floors that are drawing people away from the traditional drop-in ceilings and comparatively small windows. And the best bet for these non-Industry City buildings might be to go big when it comes to tenants to fill these giant floors.
"I think it's going to be a little easier to compete with one larger tenant," said Andrew Sasson, a broker with Eastern Consolidated who specializes in Sunset Park and neighboring Gowanus. "I think that's the best route for [these buildings]. The floor plates and the general characteristics of the buildings where you have the exposed brick, that's already there. You don't have to build up from the ground."
New Life for Old Buildings
Manufacturing is by no means what it used to be in New York City, and hasn't been since at least the end of World War II. Today, the industry that was once the lifeblood of the Big Apple, based primarily in Sunset Park, makes up 2 percent of all New York City jobs. But the traditional steel molders and riveters are giving way for specialty manufacturers working in science, fashion and food production—making that number a lot higher.
They've been in need of big, open spaces and have been on the search for lower rents. Liberty View, once a naval supply depot, has dedicated 85 percent of its commercial space to manufacturing, according to Mr. King, who represents the landlord in the mammoth building's retail section.
Manufacturers of different shapes and sizes are drinking Liberty View's Kool-Aid. Koppers Specialty Chocolate announced earlier this year it was leaving its longtime Greenwich Village home for a 50,000-square-foot Liberty View space. The New York City Economic Development Corporation has a full-floor incubator for emerging fashion firms. Companies specializing in the trade can collaborate on design, production and marketing in the fashion industry. 
Retail tenants such as Bed Bath & Beyond and buybuy BABY—both due to open at Liberty View in January—will pay rents that essentially will subsidize the lower rents on above floors being paid by these manufacturers, Mr. King said. Giving a whole new definition to vertical integration, the next step is to have these retailers sell the products designed, manufactured and packaged upstairs.
"That's still early on the process, but I think you'll see some of that for sure," Mr. King said. 
Plus there are the tax incentives, which offer a $3,000 credit per worker relocated over a 12-year period for companies that move to Liberty View. Not to mention a slew of other tax breaks that have brought down the rent to jaw-dropping low levels for tenants at the 95-year-old building.
Rents in the area are already some of the lowest along the waterfront before you even factor in tax breaks. A June JLL report on the Brooklyn waterfront broke down the strip into six submarkets. The South Brooklyn Waterfront—Sunset Park being the bulk of that submarket—has an average asking rent of $ 23.20 per square foot, with 11.4 million square feet of inventory. The only market with a larger inventory was Downtown Brooklyn with close to 12 million square feet and an average asking rent of $45.96 per square foot. Just northwest of that, the average asking rent in Dumbo is $62.42. 
'Fourth Avenue poses its own problems in that it's a wide boulevard, although it does have subway access. It's going to take a lot to see that transition.'
—Geoff Bailey, SCG Retail
Rents have been especially low at incubator-heavy areas, particularly the 3.1-million-square-foot Brooklyn Army Terminal, which is owned by the City of New York. Two miles south of Industry City, the complex has literally become a place where science meets art. There's the BioBAT incubator with 500,000 square feet for commercial biotech companies, according to the EDC, which manages the Brooklyn Army Terminal. There's even something for those who work in the abstract: the 50,000 square foot Charisma Artist Studios, which offers low rents and open spaces for up to 95 artists, according to the EDC. High-end chocolatier Jacques Torres is one of the Army Terminal's more established tenants.
Whale Square at 53rd Street and 1st Avenue is the next building that will come online with 302,000 square feet. Madison Realty Capital closed on the building two months ago for $82.5 million and Commercial Observer has learned that Newmark Grubb Knight Frank has been tapped to market it. What makes this building so interesting? A column-free, 80,000-square-foot third floor that the NGKF team hopes to lease to a single user. The rest of the seven-story building will be split up for small- and mid-sized tenants to keep up with Industry City, per the NGKF team.
Eric Cagner, an NGKF broker on the marketing team, said while it's early in the process, the team is looking to fill the massive third floor with an established technology company or a film production studio.
"The building has really a very special floor to it unlike anything we've seen either in Manhattan, Brooklyn or the other boroughs," Mr. Cagner said. "We believe that there are tenants out there who need 60,000 to 80,000 to 100,000 square feet. The efficiency of it just puts that tenant at such an advantage."
Interest in 4312 Second Avenue is high but filling the space might become problematic, according to its brokers. The yellow building with red trim has 100,000 square feet on the ground floor—not to mention 85,000 square feet in the basement—which Pinnacle Realty of New York has been marketing for a single user, ideally in the technology or media realms. But it's been tough to find one company that's looking for something that large, said Steve Nadel, a member of the team showing the building.
"We have found that the market is really in the mid-size to small-size range," he said, adding that for "somebody [who] needs a large floor plate, this is unique."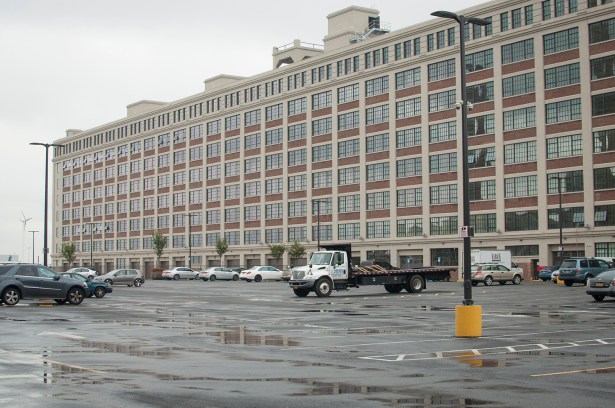 Live, Work and Play, It's the Brooklyn Way
As the chocolatiers and neo-production companies rub elbows with the existing auto body shops, there's a strikingly different neighborhood east of the Gowanus Expressway. The tree-lined side streets are filled with a mix of brownstones and multifamily buildings that are occupied by Hispanic and Asian enclaves. Game Stop, New York & Company and Duane Reade make up some of the national existing brands on Fifth Avenue. One block over, there's McDonalds, Burger King and TD Bank on Fourth Avenue.
Retail will continue to be strong on Fifth Avenue especially between roughly 45th to 55th Streets, said Geoff Bailey of SCG Retail. Currently the asking rents are in the low- to mid-$70s per square foot. "You have real bones, so to speak, for a good, thriving retail corridor," he said. "It has all the characteristics of a good, neighborhood retail area."
As more companies relocate to or become established in Sunset Park, the question is where the wave of new employees will live, work and play.
Demand for housing will increase in the coming years, and already brokers told CO they've seen blossoming interest in Sunset Park—not Williamsburg-level appreciation, but still high. They expect some conversions of rent-stabilized apartments and a touch of development, but nothing that would force out the existing middle-class community.
Interest in investment sales has significantly increased in the 10 years that TerraCRG Founder Ofer Cohen has been working the neighborhood. Density has increased between 30th and 39th Streets, Mr. Cohen said, which run parallel to the industrial buildings on the other side of the neighborhood. While many don't expect a full-scale development blowout like in other parts of Brooklyn, Mr. Cohen and other Brooklyn experts said Fourth Avenue would see a moderate amount of building for the new workforce relocating to Sunset Park.
"We think it's still a relatively untapped market, given the fact that Fourth Avenue was rezoned in that section," said Mr. Cohen, who started working in the neighborhood as a broker with then-Massey Knakal Realty Services. "There's a natural evolution of Fourth Avenue going down. That's really the only place you're going to see large-scale residential development."
Erik Yankelovich, a Brooklyn-based broker with GFI Realty Services, said conversions and upgrades to existing multifamily buildings in the coming years. Already Mr. Yankelovich said he's seen increases. Some properties have doubled in price just since 2012, he said, with sales prices averaging in the mid- to high-$200s per square foot.
"We're definitely seeing the price per unit, the price per foot, the cap rate change significantly in the last couple of years," Mr. Yankelovich said. "A lot of the larger investors prefer to buy in bulk. That's basically what we're seeing happening now."
The old 68th Precinct at 4302 Second Avenue might be one of the biggest sales for conversion potential to happen this year. Long an abandoned, dilapidated former station house, it sold for $6 million this July, in a deal brokered by Mr. Cohen's TerraCRG team. While the red brick exterior (looking something like a mini castle) is landmarked and can't be modified, the building has 35,000 square feet of development potential that could become residential.
Fourth Avenue will be the area prime for any development coming in, brokers told CO, whether that's residential or commercial. While some multifamily developments might start popping up, it could be a while before Fourth Avenue sees a strong retail market. Mr. Bailey said because the thoroughfare is so wide—three lanes on each side—it's been difficult to attract the foot traffic that other areas have. What it lacks in walkability, it makes up for with access to mass transportation with the D, N and R train stops.
"Fourth Avenue poses its own problems in that it's a wide boulevard, although it does have subway access," Mr. Bailey said. "It's going to take a lot to see that transition."