Avery Hall Investments is Building to Protect Brownstone Brooklyn
---
---
When Avery Hall Investments—led by partners Brian Ezra, Avi Fisher and Jesse Wark (ages 34, 34 and 37 respectively)—proposed building a four-story mixed-use project at 112 Atlantic Avenue (a.k.a., 325 Henry Street) last year they walked into machine gun fire.
"Lacks rhythm of neighbors around," was a comment from the community board's recommendation to disapprove the future Cobble Hill project. "Windows just too large, especially corner," was another one. "Destroys gateway entrance to Cobble Hill," said a third.
It should be noted that the existing site was a gas station.
One would be forgiven for expecting Messrs. Ezra, Fisher and Wark to have been discouraged. Or at least willing to return a little fire against the community board members. But that doesn't seem like the case. They almost seem as if they're agreeing with the board.
"Everyone is coming to these neighborhoods, because they love what's already there," Mr. Wark, who oversees the design and construction activity of the team's projects, told Commercial Observer. "We are really looking to just continue those neighborhoods and stitch our buildings into that landscape."
Stephen Byrns, a partner at BKSK Architects, which designed the Cobble Hill project said, "You think of some developers as brash, pushy, rude and cruel, but I would say they are intellectual and thoughtful. They are like these local guys that are trying to do something good for the neighborhood and something good for themselves."
That Cobble Hill project will have eight residences on upper floors and retail on the ground floor. Avery Hall is developing it with OTL Enterprises. The area surrounding the site features red brick Italianate-style brownstones and apartments with punch wall windows, edgy cornices and retail on the ground floor that dates back to the 1860s, and Avery Hall tried to mimic the older architecture—even if the community board didn't think they went far enough.
The project then went to the city's Landmarks Preservation Commission, which tends to borrow a lot of the community board's rhetoric when they disapprove a project. LPC members thought it was a good attempt, but agreed about the window sizes and were uncomfortable with a large glass door garage on Henry Street. Also, they were very concerned with mechanical equipment on the roof, which could be visible from the sidewalk, and which did not match the red brick row houses.
Avery Hall went back to the drawing board, but nobody complained.
"It was really a great process of neighborhood engagement," Mr. Ezra said. "By and large they were very, very happy that we were developing the site and doing so in a responsible manner."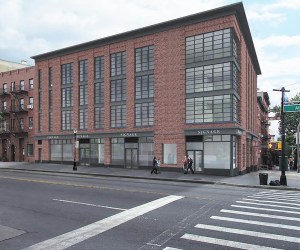 With BKSK, the group made changes to the façade adding another layer of brick and reducing some of the window sizes. The mechanical equipment on top the building, which allowed the elevator to open on the roof for added convenience for residents, was removed (the elevator now stops at the fourth floor). And the excess glass used around the garage entry on Henry Street was filled in with more brick to more closely approximate the 19th-century style homes adjacent to it.
In a return trip to the LPC with rejiggered plans, the project passed. But this is a historic district, and unless it looks perfect, there will always be critics.
"They did do a good job, in terms of they could have made it even more modern," Community Board 6 Landmarks Committee Chair Robert Levine told CO. "But I think there could have been even more brick in it. They have still given it floor-to-ceiling windows on every floor. To me this doesn't match the neighborhood."
It's not easy working as developers in historic districts. Mr. Ezra's team knew that coming in.
He is the team's sole born-and-bred Brooklynite, having been raised in the Park Slope Historic District.
While studying for a master's in real estate development at Columbia University Graduate School of Architecture, Planning and Preservation (with classes in Avery Hall, hence the name of the company) roughly a decade ago, Mr. Ezra befriended Mr. Wark, who was already an architect.
"I had no background in zoning or architecture from a formal training perspective," Mr. Ezra said. "I remember coming to Jesse with some zoning issue saying, 'Can you explain to me how zoning actually works?' And he had already been a practicing architect for several years. He was just able to break it down for me."
The two bonded playing basketball. (To this day, they even continue to have Tuesday night games at a local school court in Brooklyn.)
Mr. Ezra then met Mr. Fisher, who was in the class behind his colleagues at Columbia. Their affinity developed over biking instead of basketball. The pair would bike around the streets of Brooklyn, talking about possible opportunities. They worked at separate companies for a few years following Columbia, but came together to found the firm in 2013, with its sensitive mission. Mr. Wark, who has lived in Brooklyn for more than a decade, joined the firm shortly thereafter.
Although Brooklyn's residential market has been booming, most of that change is occurring in underdeveloped parts of the borough, where huge mixed-use projects with massive residential components can fit, such as City Point in Downtown Brooklyn or the Domino Sugar Refinery conversion in Williamsburg.
Spaces for huge developments in Brownstone Brooklyn are scarce and in historic designated districts there will be fights ahead.
"I think that every single new project, no matter how well intended, is up against a lot of pushback," said Aleksandra Scepanovic, the managing director of Ideal Properties, a real estate company that specializes in brownstone neighborhoods. "There is a quality aspect for people who live in historic districts that prevents them from embracing the new. They want the old, that's why they are there."
About Avery Hall's plans Ms. Scepanovic added, "It's an interesting endeavor and I think it may take a little bit longer and it will affect more of their bottom line, but it's commendable."
Labor costs, masonry projects and the purchase of traditional materials make Avery Hall's projects pricier than modern glassy buildings.
"It takes a long time to get the right brick and the right border and make sure that everything that we use, all those materials really fit in with what's adjacent and what appears in the larger neighborhood," Mr. Wark said. "We spent a lot of time and a lot of money on design materials and it certainly increases our construction costs."
But another problem is time, which as in everything else, equals money. For many projects they will have to deal with special requirements and odd zoning rules.
Even with LPC approval, they had to wait to begin working on 112 Atlantic Avenue because the site was zoned for residential and not retail—and they are planning on having 8,000 feet of retail space on the ground floor. (It hardly seems fair; ground floor retail is featured in many properties in the area.) They have received a variance from the Board of Standards and Appeals to clear the retail space and will begin remediation of the site followed by construction by the end of the year.
But investors are behind them, as they see the demand to live in Brooklyn brownstone areas climbing.
"Given what's important to buyers, renters and people who want to live and work here, they really appreciate the kind of design that we are delivering," Mr. Fisher, who primarily works with the teams investors and raises funds, said. "And our partners and our investors really appreciate that sensitivity and recognize that people pay for this type of contextual modern design."
The group's current largest active project at 465 Pacific Street is literally one block outside the Boerum Hill Historic District, but they are aiming to construct a brick-based apartment building with window slits on the site to match its neighbors. It is an as-of-right project, which means Avery Hall could have built anything on the site so long as it was within zoning rules.
The Morris Admji Architects-designed six-story development will replace a laundromat and parking lot with 30 modern luxury condos in an amenity-laced building. It will be taller that most buildings on the block, a feat accomplished by purchasing air rights from neighbors in the immediate area. And it has setbacks starting at the fourth floor to help match the top of adjacent homes and provide outdoor terrace spaces. They are working in partnership with ARIA Development on the project.
"We definitely see it as an extension of this townhome living, where it's townhome living, plus we are able to provide amenities and parking and everything that you typically can't get in your regular brownstone," Mr. Wark said.
Amenities in the building include a gym, rooftop common space with private cabanas, resident lounge, children's playroom, parking, attended lobby and bike storage. There will also be 15,000 square feet of retail on the base of the project on the Atlantic Avenue side, which fits the commercial corridor. Demand for ground-up modern condo buildings like this is very high in Brooklyn, the group says.
"If you look at the pipeline of what's being developed in Brooklyn, it's tens of thousands of units. But the vast majority of that housing being developed is rental housing," Mr. Ezra said. "And we look at demand for condos, and we think that it's pretty strong."
That isn't to say that they won't construct rental projects; the team is working on elevator rental buildings (that are too early in development to discuss).
Because of the scarcity of land in the neighborhoods in which Avery Hall is working, the firm is targeting gaps where something doesn't fit, much like the gas station in the Cobble Hill Historic District. But the team is dedicated to only beginning projects that can improve the neighborhood's contextual design and not take away from it. Rather than seeing the Antichrist at these board meetings (which a lot of their developers might snipe), the trio sees the rules of historical districts as commandments that, if followed appropriately, will lead to successful outcomes.
"We would not go into a project with a business plan that was to demolish a contributing building in a historic district," Mr. Ezra said. "It's bad business. You're not going to get your plans approved. We don't want to set ourselves up to fail."