Virtual Doorman App Hits New York City Luxury Buildings
---
---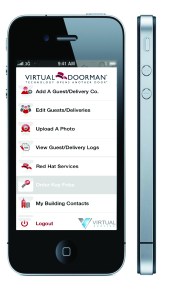 Residents in luxury buildings across New York City are putting doorman services in their pocket.
A new smartphone application created by Virtual Doorman, a provider of remote doorman and security services, allows residents to take luxury doorman services on the go. Virtual Doorman gives people without a doorman services delivered right to their doorstep. The app is designed for use by those with a real doorman, who may not always be available.
Virtual Doorman is currently being used by more than 200 properties across New York City.
Residents can download the app for Android and iOS phones and devices. As a part of the technology, residents can remotely give visitors and guests access to their apartments, receive packages and deliveries and view visitor logs.
Virtual Doorman has also teamed up with Abigail Michaels Concierge to offer additional luxury building services.
Virtual Doorman has also set up a command center where users can contact the company with questions, technical support and help with navigating the app for customized use.
Colin Foster, president of security solutions provider Virtual Service, the parent company of Virtual Doorman, said that Virtual Doorman helps increase the value of the property. "The launch of this app comes following a significant investment of time, money and energy and reflects our commitment to constantly adding services and convenience for our Virtual Doorman clients," Mr. Foster said. "We'll continue to increase our suite of services and look forward to developing new ways to make amenities associated with modern, urban living available to more people."
In addition to New York City, the app will be made available at properties in San Francisco and Philadelphia.