Under Construction: Inside Brooklyn Friends School's new upper school
---
---
Few elements stand out very clearly throughout the Brooklyn Friends School's new upper school in Forest City Ratner Companies' 1 MetroTech Center in Downtown Brooklyn like the use of wood.
The material makes up lockers in the hallways, walls throughout the building and desks. (We imagine the writing implements, too.) It is used—as are the pure white lights in the building—to accentuate Quaker values of nature, simplicity and sustainability.
"[The architects] spent a lot of time with us on trying to blend their architecture with our needs as a Quaker school," David Kleiser, the chief financial officer of the 150-year-old Brooklyn Friends School, told Commercial Observer while recently touring the uncompleted new space.
The design of the institution's new 44,000-square-foot upper school, which will serve 195 enrolled students (but can support up to 240), was done by FXFOWLE—architects of various school projects, including the Hunter's Point Campus in Long Island City and Columbia University School of Nursing.
After nearly a decade of searching for a new space for the upper school, Brooklyn Friends School found it not far from its headquarters, around the corner at 375 Pearl Street. The school signed a 49-year lease in 2013 and construction began in August of last year.
The school has 7,700 square feet on the ground floor with its own dedicated entrance and an address of 116 Lawrence Street. It also occupies 11,500 square feet on the first floor and 25,000 square feet on third floor—skipping the second floor, which is leased by National Grid. (To work around this, the school created a completely new elevator bank and staircase that bypasses the second floor.)
The ground floor, which is slightly below street level, has administrative offices, a small conference room and a library that is connected to a 90-seat cafeteria, which can fit nearly 300 people for standing-only events. A wall connecting the library and cafeteria can be opened for multi-use opportunities.
"Oftentimes libraries are like, 'Shh be quiet,'" Kleiser said. "But we wanted it to be more open and useable at times."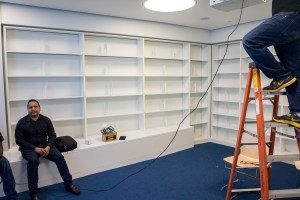 The first floor has a few classrooms, but it truly shines with the showcasing of the art wing, complete with a black box theater, a dance studio, three music studios and a 1,000-square-foot fitness center, which will remain open beyond school hours until 7 p.m. for the school community to use.
The third floor has about a dozen classrooms, including some science labs. There are also three art studios, a photography classroom with a darkroom, a large common area that could be used for an art gallery and a faculty area.
In total, the new upper school, which is expected to open on Sept. 10 (there will be a ribbon cutting Sept. 8), is more than double the size of its old location, which was located at 47-55 Willoughby Street, also in Downtown Brooklyn.
The wood finish on lockers complements the natural materials prized in the design throughout the school. (Photo: Jake Naughton).
Men working on finishing details in the library (Photo: Jake Naughton).
Chairs piled and stacks to be filled in the library at the new Upper School of Brooklyn Friends, slated to open this fall (Photo: Jake Naughton).
A man puts finishing touches on a doorframe in a meeting room off the cafeteria (Photo: Jake Naughton).
A view of one of the new upper school classrooms (Photo: Jake Naughton).
The chamber ensemble room, complete with storage lockers and acoustic tiles (Photo: Jake Naughton).
David Kleiser, chief financial officer of Brooklyn Friends, and Joan Martin, director of communications, look at details in the upper school's new black box theater, used for small-scale performances of all kinds (Photo: Jake Naughton).
Men assemble workout equipment in the school's new fitness room (Photo: Jake Naughton).
The dance room at Brooklyn Friends (Photo: Jake Naughton).
Students at Brooklyn Friends requested that some bathrooms be designated as gender neutral in the new building, and administrators were happy to oblige (Photo: Jake Naughton).
A hallway on the school's third floor (Photo: Jake Naughton).
One of the science labs waits to be unpacked (Photo: Jake Naughton).
David Kleiser gestures towards the blue walls in the stairwell, part of the school's official colors of blue and gray (Photo: Jake Naughton).
The exterior of the building as seen from Lawrence Street. The school occupies the ground, first and third floors (Photo: Jake Naughton).