The Secrets of Getting Your First Bar or Restaurant Space in Manhattan
---
---
When Ben Sandler and Jennifer Lim began seeking space for their second venture, Wassail, a bar devoted to cider, they considered Hell's Kitchen, Flatiron, West Village, the Bowery and the Lower East Side. This was last spring, though the couple (in business and life) had cider in mind for years. The Queens Kickshaw, their bustling coffee/grilled cheese/craft beer spot in Astoria, opened in 2011 with three ciders on offer. As the fermented fruit drink surged in availability and popularity, their list of ciders grew and then cider propelled every vacation, every trip and everywhere they went for any reason.
An early but unrealized courtship with an interested investor ignited the dream of operating in Manhattan. At the end of 2013, Ms. Lim and Mr. Sandler partnered with Sabine Hrechdakian, one of the organizers of Cider Week NY. And the hunt for real estate across the East River was on.
"We were looking for spaces that were already built out as restaurants," Mr. Sandler said. "We were willing to pay up to $250,000 in key money but only if the place had really good bones, in a really good location, with a full liquor license."
Venting was vital. And no egress issues. Repeatedly they found spaces without a certificate of occupancy permitting the current use or their intended use. "We didn't want to have to get creative in building extra staircases to the basement, or enclosed hallways to second street exits," Mr. Sandler said. They passed on a few "beautiful spaces in amazing locations" to avoid what they anticipated could be a Department of Buildings rejection or delays for necessary work.
They'd been through this before. They knew to look up past property taxes to gauge what contributions landlords sought; knew to find out if a space had unresolved violations; knew wider spaces allow more freedom to add functionality (The Queens Kickshaw is 10 feet wide) and knew to ask a lot of questions. But Queens and Manhattan are not alike. "We were new to the higher rents, key money as well as the intense community board process," Mr. Sandler said.
Eventually they limited their search, placing bids on spaces in Union Square and on Orchard Street. "We liked the connection [between apples and Orchard Street]," said Mr. Sandler with a wink. (Side note: you've heard of the cherry orchard but did you know the area's larger farm was confiscated by the city from James De Lancey during the Revolutionary War because he was a Loyalist? Fun fact.)
Back to 2014, a landlord raised his asking rent after Mr. Sandler and Ms. Lim met his original price. They passed, and were rewarded: first look at 162 Orchard Street, courtesy of Misrahi Realty.
"The most important plus was that the building had a brand-spanking-new certificate of occupancy that allowed us to use the basement as we saw fit without having to get creative," Mr. Sandler said. Another plus: the existing liquor license; it would help with community board endorsement.
The layout worked too: good frontage, 1,400 square feet and about 1,000 square feet of basement. They'd have to wash dishes downstairs, the HVAC was old and the ceilings were low but, Mr. Sandler said, these were mere quibbles. Asking rent: $16,000.
Their offer was accepted. A 10-year lease with a five-year option was in the works. Suddenly two other parties were interested; one was Mission Chinese. Was it a bluff? "If it was true, there was no way we could compete," said Mr. Sandler, heart sunk. "As it turned out, [Mission Chinese owner] Danny Bowien, indeed, was gunning for the same spot. I didn't think I had it in me to play that kind of hardball. Our offer was maxed out."
'We were willing to pay up to $250,000 in key money but only if the place had really good bones, in a really good location, with a full liquor license.'—Ben Sandler
Mr. Bowien, who had closed Mission Chinese Food NYC at 154 Orchard Street in 2013, declined to comment.
Mr. Sandler and Ms. Lim were under pressure to quickly sign a lease that was barely negotiated. They raced to have their lawyers comment and be considered by the landlord. "We did our absolute best in a desperate attempt to feel like we were signing a document that we had a hand in," said Mr. Sandler. Ultimately—despite the fact that they heard their offer was the lowest—the space was again theirs.
Finally another fun task could begin. Huge fans of the design of Maysville, at 17 West 26th Street, the couple reached out to Berman Horn, a Hamilton Heights-based firm specializing in high-end residences, restaurants and post-production facilities.
"We immediately began an exciting conversation about cider, which is a topic we were quite passionate about as we have been in the process of planning and planting a small apple orchard," said Bradley Horn, a Berman Horn partner, recalling the initial meeting. "We draw tremendous inspiration from our clients. When they are inspired, we are inspired."
Mr. Horn and partner Maria Berman first entered 162 Orchard Street in August. "It had many existing infrastructural elements and a wonderful storefront and skylight with great light," Mr. Horn said. "It was also quite wide by New York City standards."
The designers and the owners toured a handful of bars and restaurants, including Attaboy at 134 Eldridge and Blenheim at 283 West 12th Street, to consider atmosphere and space.
"We didn't want to rely on clichés one might associate with a cider bar," said Ms. Lim, naming the color red, apple motifs and that rustic, barn-y sensation. "We were interested in a collision of the historic and the modern cider revival."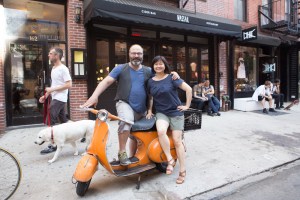 Ultimately Wassail was divided into three zones—the bar, the main restaurant and the private-event area — separated by wood columns and beams. The zones are painted black (a nod to the neighborhood's punk past), in sync with the restaurant's black-gray-white palette, which links to the city (concrete, metal, glass) and an orchard in winter (black branches, white snow, gray sky).
"There were quite a few ducts and existing building piping that we couldn't eliminate," Mr. Horn said, "so we created an active ceiling plane that further delineated individual zones within the restaurant."
The wassail itself—an ancient winter ritual of singing and throwing cider on an apple tree to encourage a good harvest in the spring—is referenced by the colors. A pop of yellow in the private space is the hope of spring amidst the muted grays and silver leaf-backed bar. But it's perhaps best illustrated by the alluring custom chandelier, a surprise gift, made of laser-cut leather and meant to evoke historic wood cuts of the ritual. "The light within spills out, casting shadows of revelry on the walls," Mr. Horn said.
"Brad and Maria were really inspired by the concept of a wassail," said Ms. Lim, with great appreciation. "People are always really wowed by the chandelier."
One of many wow factors. Since opening at the end of March, Wassail has hardly seen a slow moment, attracting epicureans from all parts of the city with, yes, cider, as well as sumptuous vegetarian fare.
"We never expected to have to fight as hard and exhaustively to get this space," Mr. Sandler said. And now their quick thinking, quick typing and willingness to take calculated risks is bearing fruit.