Stat of the Week: 13.1 Percent
---
---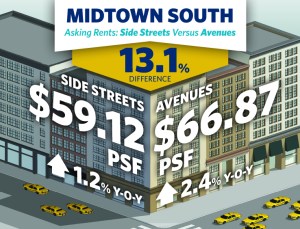 For many people, the number 13 is an unlucky one, but not for me. It was the number I wore on my hockey jersey, and I've hit it many times on the roulette wheel. However, this week, 13.1 percent is the difference between overall asking rents for Midtown South avenue space and side street space north of 14th Street. Examining asking rents, buildings on the avenues average $66.87 per square foot while side street buildings average only $59.12 per square foot. Both had minimal growth year-over-year as avenue asking rents are up 2.4 percent and side street asking rents are up 1.2 percent.
To analyze the avenue buildings, they were divided into three sets: east of Fifth Avenue, Fifth Avenue and west of Fifth Avenue. Buildings on the avenues east of Fifth are the most expensive with an overall average asking rent of $71.49 per square foot due to higher rents on Park Avenue South and Madison Avenue. Properties on Fifth Avenue average 6.3 percent less at $66.98 per square foot. Buildings west of Fifth Avenue have the most attractive average asking rents for tenants at $52.65 per square foot and the lowest availability rate of the three groups at 4.7 percent, compared to 6.4 percent on Fifth Avenue and 9.6 percent east of Fifth Avenue.
Three sets were created for side street buildings as well: 14th to 22nd Streets, 23rd to 26th Streets and 27th to 37th Streets. While the 14th to 22nd side street set has the lowest availability rate at 3.1 percent, it also has the lowest average asking rent at $50.66 per square foot. The 27th to 37th side street set availability rate is 7.1 percent with an average asking rent of $51.41 per square foot. The 23rd to 26th side street set contains the least number of streets, but has the most office space of the three sets. Despite having the highest availability rate of the side streets sets at 11 percent, together, these streets have the highest average asking rent at $63.02 per square foot.
Richard Perischetti is vice president of research & marketing at DTZ.