Farewell, Smith Street: In Memoriam of Brooklyn's Restaurant Row
---
---
For Brooklynites of a certain age who have watched approvingly as Brooklyn has taken its first steps from infancy to full-blown gentrification, the last few weeks have been nothing short of a waking nightmare.
The Grocery, the most iconic of the restaurants along Smith Street, aka Restaurant Row, was closing. A farewell note was affixed to the window:
"It's been a great run," the note began, "but The Grocery's final dinner service will be Saturday, June 27." (The owners did not return Commercial Observer's calls by press time, and emails bounced back.)
The Grocery arrived at 288 Smith Street in the 1990s when the strip was still rundown and dumpy (the prison on Atlantic Avenue didn't help) but this artisanal, 30-seat eatery run by husband-and-wife alums of Savoy and Gotham Bar & Grill established a beachhead. Somehow, The Grocery elbowed its way to the seventh-highest ranked restaurant in New York City in the 2004 Zagat's guide after only Le Bernadin, Daniel, Peter Luger, Nobu, Bouley and Jean Georges. In the next few years, restaurants galore started sprouting in the nearby soil of Smith Street running from Downtown Brooklyn through Cobble Hill and Carroll Gardens. No other block in Brooklyn, save, perhaps, Fifth Avenue in Park Slope or Bedford Avenue in Williamsburg, seemed a better symbol of the borough's desirability—and The Grocery was its progenitor.
Now it's gone. Mostly. Charles Kiely and Sharon Pachter said in their farewell note that after the summer they will be hosting private events in the space.
If that slug to the gut didn't stun, the next bit of information certainly did: Char No. 4 was closing shop as well.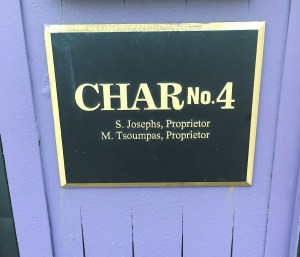 In its own way, this was an even greater shock. Char No. 4 at 196 Smith Street was a little more in tune with the spirit of hipster Brooklyn by 2015. New York magazine's critic Adam Platt gushed over its bourbon menu and named it one of the 101 best restaurants in the city in 2012. (He left The Grocery off that list altogether.) Diners raved about its brunch and lamb pastrami. Waits were oftentimes an hour for a table.
Char No. 4 had its final service on Sunday.
Looking around Smith Street now, it's a shadow of its former self.
Burger on Smith at 209 Smith Street is closed. (Prospective tenants should call Glenn Vogel from Thor Equities, whose contact info is papered in the windows.) The Irish pub Ceol at 191 Smith Street is now closed. Savoia at 277 Smith Street is closed.
Even places that didn't necessarily die at the hand of a rent hike or low foot traffic or a building sale or whatever else causes a business to fail, left for a better situation, like Saul, the Michelin-starred restaurant at 140 Smith Street, which pulled up stakes for a new home at the Brooklyn Museum back in 2013.
Of course, it's not only restaurants that have given Smith Street the air of a graveyard—other food businesses have closed, too. The Nut Box, a dry goods store, which offers gourmet coffee, marzipan and dried fruit (oh, yeah, and nuts), just opened a branch on Broadway between West 104th and West 105th Streets in Manhattan about a month ago, and has another location at Chelsea Market, but it closed its 163 Smith Street location last year. (Its signage is still up.) The Met supermarket is being demolished to make way for bigger, splashier, more expensive two-story retail. According to The Real Deal, Jackson Group, Aurora Capital and ACHS Management bought the site at 205 Smith Street for $18.5 million last year.
What happened, exactly?
There are several things occurring at once. Certainly, a good part of it has to do with rising rents.
According to Ofer Cohen, the president of TerraCRG, rents on Smith Street have climbed to the $90- to $130-per-square-foot range.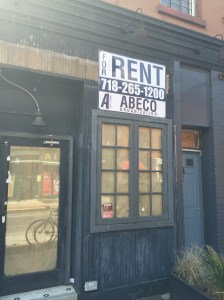 Rent "more than doubled since we first opened in 2004," said Lexy Funk, the chief executive officer and founder of Brooklyn Industries, the apparel shop at the corner of Smith Street and Atlantic Avenue, who lived above her Smith Street location for a number of years before moving to the Rockaways. "It's been such a rapid expansion of rent, it becomes very difficult" to keep up, Ms. Funk said.
Doubling the rent is apparently not even that bad. "What you have is restaurateurs would take a 10-year lease…and now that the lease is [expired], they have to pay triple, not double the rent," Mr. Cohen said.
"If you are a sushi place and you can move three blocks further out and pay 50 percent less in rent and be close enough [to where you were], you're going to move further down," Mr. Cohen continued.
But it's not simply rising rents that are killing the establishments of yore. In the last few years Smith Street became a destination for national brands. Retailers like Lucky Brand opened at 135 Smith Street; Intermix took the space abandoned by Saul at 140 Smith Street. The luxury eyeglass store Anne & Valentin has outlets in Paris, Soho and at 200 Smith Street. The next phase of gentrification (the national brands starting their invasion) is apparently upon us.
"Today, more people are signing apparel deals—it's lululemons," said Ryan Condren, a managing director of retail leasing for CPEX. "It's not as many bars and restaurants. …It's more retail than restaurant."
Which is not to say that no restaurants are coming, or there won't be some sort of afterlife for Restaurant Row.
"You have restaurants that are currently in Williamsburg at double the [rent] of what Smith is" that are looking at Smith Street, said Joey Terzi of TerraCRG. "A lot of those guys are looking into Park Slope and Cobble Hill because Smith is similar to Bedford [Avenue in Williamsburg] in [its] footprints."
To be sure, there are still interesting dining options on Smith Smith—from ramen joints like Dassara, to fine dining like Battersby, to old-school Italian restaurants like Vinny's, to celeb chef outposts like David Chang's Milk Bar. But the other part of the story is that Smith Street has become a victim of its own success; it is suffering from an oversaturation in restaurants.
"I think there's far more competition than there used to be when we first opened," said Sean Josephs, one of the co-owners of Char No. 4. "The Brooklyn dining scene has expanded so much—and to other parts of Brooklyn, from the area around Barclays, to Downtown Brooklyn, to Fort Greene to Bushwick."
Back in 2012, Char No. 4's business was going gangbusters. But starting in 2013, Mr. Josephs said there has been a slow but steady decline.
"We were the same restaurant," Mr. Josephs said, "but we became less consistently busy. I think the demographics have changed a lot—a lot of people who were here were pushed out not by higher commercial rent but by higher residential rent." The Met supermarket across the street "generated a lot of foot traffic" from locals, he noted. And while Char No. 4 got its share of destination diners, locals were the backbone of his business. With many more options (and a much higher income) locals didn't feel the need to eat at his restaurant as much.
Another nail in Smith Street's coffin has been how much more desirable Court Street, a block away, has become—for both restaurateurs and retailers.
"It's tough for [clothing store] Rag and Bone to be on Smith" given the smaller available floor plates, said Mr. Terzi. "That's why they're on Court. A J. Crew is going to Court. Jacadi Paris is going to Court—and they're paying $150 per foot." Apparently, they're willing to suffer higher rents to be on the more desirable block.
"Barneys [at 194 Atlantic Avenue, just off of Court Street] became such an anchor [for the neighborhood's retail] and Trader Joe's [at 130 Court Street] became an anchor" for other stores, Mr. Cohen said. "It took a few years, but if you're a high-end boutique you want to be near Court Street."
Mr. Josephs largely agreed.
"Five years ago if Chipotle wanted to come into this neighborhood they would go to Smith," said Mr. Josephs. "Now they're on Court near Trader Joe's. Five Guys, same thing. I think that represents a shift."
Mr. Josephs reported that most of his customers were stunned to learn that he was closing his place. Since the announcement his dining room has been packed with his best customers, who were reminiscing on the good of times for Char No. 4.
To a certain extent, this story of rise and fall is the same for most New York City corridors. Smith Street will doubtless take on another incarnation in the future. But to the establishments that gave this street its mojo and that seemed to personify so much of the Brooklyn renaissance, one has to shed a tear. We'd raise a glass of whiskey to their memory but Char No. 4 is no more. To try one of Mr. Josephs' selections, you will now have to go to Maysville—his bourbon-focused restaurant in Manhattan's Flatiron District. That area is doing very well.