"It's like in The Hitchhikers Guide to the Galaxy," said Bjarke Ingels, scrolling through images of gorgeous, multi-masted wooden sailboats on his phone, about to agree with Larry Silverstein who'd just extolled the fjords of Norway.
"Come here," said Mr. Silverstein, gently interrupting, reaching out his arm, guiding Mr. Ingels away from the reception area and into his office at 7 World Trade Center.
"Can we come?" asked those who remained: a reporter, a photographer and two publicists (one each for Messers. Silverstein and Ingels).
"No," said Mr. Silverstein. This was to be a private moment for the city's newest power couple: developer and architect, honeymooning after their engagement was announced.
Last week BIG, the Bjarke Ingels Group, a New York-based design firm birthed in Copenhagen, unveiled its design for a (probably) 80-story, 1,340-foot building at 200 Greenwich Street, the fourth and final skyscraper at the 16-acre World Trade Center site. That's 2 World Trade Center, the one that was maybe to open in 2016, the one where construction was halted at street level in 2010. The Liberty Bonds and insurance money funding 3 and 4 World Trade Center was not enough for building 2, too. It's also the one that was originally designed by Lord Norman Foster in 2005.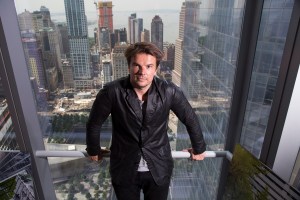 Earlier this month Silverstein Properties, developer and master leaseholder, signed a non-binding agreement with 21st Century Fox and News Corp., non-officially starting their relationship as landlord and tenant at 2 World Trade Center. If the agreement stands, 21st Century Fox and News Corp.—separate companies since 2013—will move Downtown in 2020 when their leases at 1211 and 1185 Avenue of the Americas expire. The combined headquarters will fill more than 1.3 million square feet on the lower floors of the 2.8-million-square-foot building. Silverstein will lease the upper floors to other tenants.
"While no final decisions have been made, we look forward to continuing to work with SPI [Silverstein Properties] on the design of the new headquarters and terms of our lease arrangement," 21st Century Fox and News Corp. said in a prepared joint statement.
Significant not only because this (likely) move augments the neighborhood's growing "media capital" status but also because it was James Murdoch, CEO of 20th Century Fox, who approached Mr. Ingels last summer—via CBRE's powerbroker, Mary Ann Tighe—in a search for an architect who would help seek out an appropriate headquarters.
"He already had a vision," said Mr. Ingels of Mr. Murdoch, who hired him shortly after meeting. "I really sensed there was a great care and concern for their future workspace. The last thing he wanted to do was to build a giant skyscraper, so we kind of failed on that parameter," he added, laughing.
BIG sketched out the possible workspace for each of the few locations considered. "If you're looking for 1.5 million square feet of workspace it narrows the search down," said Mr. Ingels, noting a veritable cemetery of abandoned headquarters mockups in his office.
Each space came with possibilities and limitations. Four months in it was clear 2 World Trade Center had the most merits. This January the official design phase began. By then, Mr. Ingels said, his firm was well-educated in the needs and dreams of Fox and News Corp. so his firm could take elements of previously presented designs and hit the ground running.
Of course at that point they were a party of three: Mr. Silverstein was at the table, too, because while the lower floors will be specifically tailored for TV studios, newsrooms and the like, the upper floors need to be desirable to any variety of potential tenants. 
The floors here are located within seven pods, so to speak, seven spaces that can and will operate individually, layered like an upwards staircase, each with ample amenities spaces—including anything from cafeterias to basketball courts—natural light and easily accessible terraces. This is what Mr. Ingels refers to as a "vertical village" which is immediately clear when standing next to him looking at a model of the site and the surrounding neighborhoods. Each level of the tower mimics the scale of nearby Tribeca buildings.
The backside—the flat, western side of the building—faces 1776-foot 1 World Trade Center. Depending on your viewing angle the buildings are aligned in parallel, horizontal unison. It's stirring; a subtle, clear homage.
"Even though they are not twins, they are not identical, they have a sibling relationship going on," said Mr. Ingels, who was born in Copenhagen 18 months after the World Trade Center's grand opening in 1973. He moved to New York City in 2010. Overseeing the Durst residential project at 625 West 57th Street began in 2011. To give you a sense of his style, this is the building alternately referred to as pyramid, tetrahedron and "courtscraper" (Mr. Ingel's word: courtyard meets skyscraper).
Mr. Ingels is also half of team Googleplex 2.0 (the other is Thomas Heatherwick, another lauded, exciting, foreign-born 40-something designer), he's involved with New York City's Dryline project  (Lower Manhattan flood protection barrier) and he's sought after internationally. But mega-office towers are pretty new for his group.
"I was a little bit intimidated that we were going to design one of our biggest projects ever on one of the most important sites, like, period. And it was so full of constraints," he said, mentioning things like the Master Plan, the existing footprint, set back requirements, structure loads, the heritage, the anchor tenant and, yes, Mr. Silverstein.
The creation of 2 World Trade Center was not their first meeting. In 2011 BIG was considered for another Silverstein site. In the end, Mr. Ingels said, "they went with someone, as Larry said, 'More his age'." Though the meeting had ended with Mr. Silverstein, as portrayed by Mr. Ingels, saying, "Is it exciting? Yes! Would it be great to work together? Yes!"
An alluring tease. Four years later they were reintroduced.
"When [Mr. Ingels] showed me how beautifully his design served the programmatic needs of the Murdoch interests, I said, 'This is interesting; this is worth looking at seriously'," Mr. Silverstein said. Then, seeing how the needs of other tenants—those who will occupy the upper floors—would also be met, he was convinced. "He ended up serving two masters, Murdoch requirements and our requirements, which is not an easy thing to do."
"I concur," Mr. Ingels said, good naturedly.
Yet Mr. Silverstein was still not ready to say 'I do'.
Mr. Silverstein has a preference for symmetry and buildings that get smaller towards the top, two characteristics this future-feat-of-engineering will not have. And, perhaps more importantly, he wanted 2 World Trade Center to fit in. "The other buildings are very conventionally designed, typical office buildings," Mr. Silverstein said. "Would it fit? This building is the language of tomorrow. The others are 10 years ago, a different decade," Mr. Silverstein said. "We gave it such a huge amount of time, effort, energy, so many people involved—governors, mayors, directors, people invested in it. There was such a sensitivity, such a concern we weren't violating any covenants with ourselves or anyone else."
So Mr. Ingels suggested consulting with the other architects who had worked on the World Trade Center site. He had not then met any of them.
David Childs, who worked with Silverstein in the area since the rebuilding of 7 World Trade Center (not technically on the site), which began in April 2002, was called in first. That was March. Mr. Silverstein said Mr. Childs hesitated to play this game of does-this-fit out of respect for other architects. His approval, said Mr. Silverstein, resulted in a huge sigh of relief.
"Oh. My. God. Ohmygod," said Mr. Ingels. "When everyone left we were all hugging. Thomas [his partner] has tears in his eyes. I was pretty confident that this was the right thing to do and in my mind's imagination could see that everyone else would love it but there was a pretty handsome risk that that was not the case."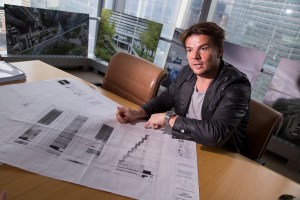 Daniel Libeskind, master plan architect, also approved. "I couldn't be more thrilled to see the master plan come closer to completion with the design of 2 World Trade Center," he said via email. "The Bjarke Ingels Group tower brings an exciting new spirit to the site, while honoring the foundations of the original master plan."
In the end, Mr. Silverstein said, all agreed that this design would fit "beautifully."
But bringing in Mr. Ingels meant letting Lord Foster go. "We had a very good conversation. He understood. I fully expect we'll do another building together. He's responsible for lots of first-class projects," Mr. Silverstein said. "Modification would have been impossible, to fit the programmatic needs."
This week, as the previous design model is donated to the Skyscraper Museum (39 Battery Place), BIG moves in to 7 World Trade Center. Everyone working on the project will be there too, a system Mr. Silverstein has seen work in the past: collaboration and minding the same countdown clock. "We're definitely going to see a lot of each other," he said. "When you work with people you like, respect, admire, it's not hard. He's a terrific guy."
"Who would have thought?" said Mr. Ingels.
"He's half my age, has accomplished some extraordinary things. I find working with young people an absolute pleasure," said Mr. Silverstein, 84. "They come at it with a different perspective, different concepts. The flexibility of thought is just a pleasure. We get fixed in our ways, fixed in our thoughts, unwilling to change. That's a sign of old age. I have conferences with myself on a regular basis: get with the program; go with the flow!"
Speaking of conference, when they emerged from their tête-à-tête, minutes after leaving the group, Mr. Ingels was telling Mr. Silverstein that he was "working on it" but did not currently have a significant other. (Or, at least not one worthy of joining him in what appeared to be an invitation. A sailing trip, perhaps? They've got that in common along with a fondness for iced coffee.)
"You know the part when the protagonist meets God?" said Mr. Ingels, referring again to The Hitchhikers Guide to the Galaxy. "They're talking about earth and God says he won an award for the fjords of Norway."
He was emphasizing the area's beauty—motivation for Mr. Ingels' upcoming sailing trip back there—but it's hard to separate from the notion of remarkable design, a passion for which this duo clearly shares.