The Plan: High 5 Games at 1 World Trade Center
---
---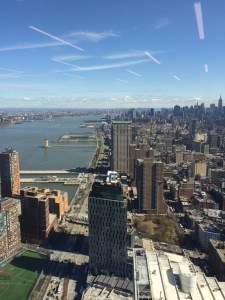 It definitely got the "high" part down when this company signed a lease on an upper floor at the World Trade Center.
High 5 Games, the New York-based casino gaming company, opened its new headquarters on the 58th and 59th floors of 1 World Trade Center on April 27, and the company wanted the inside of its new office to reflect its business. It is simultaneously a serious, corporate environment in a maximum-security building and a creative space rooted in recreation. The firm, which has created more than 300 games that are played on six continents, previously occupied a 58,000-square-foot space at 770 Broadway, but wanted a location with more cachet for its 250 employees working out of New York (the company also has offices in Mahwah, N.J. where it was started and Kansas City, Kan.).
"We wanted to be able to have access to the best talent," said Thom Ang, vice president of creative at High 5 Games. "We felt that this location is a great place to get that type of talent."
Today, the company has roughly 88,000 square feet at the iconic skyscraper. The 58th floor is home to the official reception area and has desks for many of the company's executives and administrative personnel. The 59th floor is devoted to production of the casino games.
Unlike at its old space, which was a traditional office with a floor plan segmented into different quadrants, Michael Ahn, the director of High 5, was looking for more collaboration between teams. Brian Berry, a principal at Gensler in charge of configuring the office, was tasked with High 5's need for an open, collaborative space. No one has an office.
"We wanted cross-pollination," Mr. Ang said. "We wanted engineers to be talking to artists to be talking to marketing."
The new space allows for more fluid interactions between these different groups.
However, Mr. Ang did stress that the ability to control the amount of light entering the office was important.
"I didn't want to create a space where everyone was pulling the blinds down," he said. The inner walls of the space were painted a dark matte gray designed to cut down on light glare.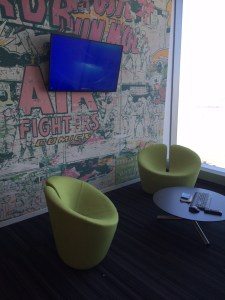 Mr. Berry explained, "When you're in the core of the space, [it] can be very dark and enclosing," while moving outward toward the perimeter, light enters the office.
"This allowed us to go from one extreme to another," said Mr. Berry.
The office space features a film studio that allows High 5 Games to create its own filming and production, as well as a sound and editing suite. There is a large, open pantry that supplies provisions to hungry content creators. (It turns out creators aren't so different from the end-users.) There is also a "casino room," which includes cabinet after cabinet of the games the company has completed, allowing them to be tested before they hit the market.
"What we had as a finished product was something that was very intentional," said Mr. Ang. "Everything that we designed was for a functional use."