Sterling Town Equities Pays $6M for Lots to Build Condos
---
---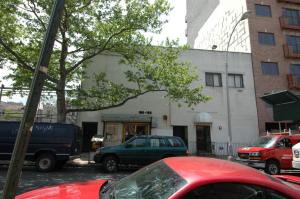 Two lots a few blocks from Greenwood Cemetery in Greenwood Heights (aka Sunset Park, Windsor Terrace and South Slope) have sold for $6 million, CPEX Real Estate announced.
Built in 1931, the two-story building on site, 186-190 21st Street, has been used as offices. The buyer, Sterling Town Equities, intends to demolish the building to make way for a condominium project. The 10,017 square foot property is between the active Fourth and Fifth Avenues.
In 2009 the Brooklyn Borough President's Office began creating a "Spark Fourth Avenue Vision plan" to jump start the development of the then-newly rezoned area. The plan was to turn the truck route running from the Williamsburgh Savings Bank Tower (at the intersection of Flatbush Avenue, Ashland Place and Hanson Place, downtown Brooklyn) to the Verrazano Bridge into a grand "Brooklyn Boulevard".
Residential developers came, and street activity went. So in 2011 the city approved an amendment to the rezoning, requiring "a broad range of engaging, pedestrian-friendly commercial and community facility uses on the ground floor of buildings fronting on Fourth Avenue".
Development has not ceased.
"We continue to see demand for development sites along the 4th Avenue corridor," said Sean R. Kelly, Esq. of CPEX, in a prepared statement.
Mr. Kelly and colleagues James O'Neill and Sean Sears represented the seller, 186-190 St. LLC (the LLC is represented by Edward B. Saffran, Esq.). CPEX also procured the buyer, who was not represented by a broker, in the all-cash transaction.
"With a lack of condominium inventory in Brooklyn and an abundance of luxury condominiums priced above $2,000 per square foot coming to market in Manhattan, developers have regained confidence in the Brooklyn condo market," added Mr. Kelly.
The building is zoned for a maximum floor area ratio of 2.0, allowing for a total of approximately 20,034 buildable square feet.