Stat of the Week: 34.9 Percent
---
---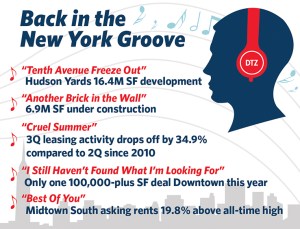 I cannot do yoga. I tried once a week for five months, but it is just not for me. So how do I deal with the stress of everyday work and life? I put my headphones on and listen to some of my favorite tunes, and I have certainly been doing that a lot lately. Like most things that inspire me—be it music or real estate—sometimes they intertwine. So on a recent commute home, there were some songs that reminded me of Manhattan real estate. Like Ace Frehley of Kiss sang in his solo debut in 1978, the office market is "back in the New York groove."
The first song up on this playlist, "Tenth Avenue Freeze Out" by Bruce Springsteen, made me think of 10th Avenue (duh!), which has been dormant for my 16-plus year career. But with the Hudson Yards project in full force, 10th Avenue will soon be "…lined with the light of the living." The potential 16.4-million-square-foot development project will surely change the face of the Far West Side.
This ties us into the next song on my playlist, "Another Brick in the Wall," by Pink Floyd. A classic song, an obvious cliché, and, despite this song having nothing to do with actual bricks that are no longer used to build office buildings, it still made me think of the 6.9 million square feet currently under construction. Of this, only a mere 792,000 square feet will be delivered by the end of 2015.
As my iPhone shuffles into the '80s, "Cruel Summer" by Bananarama reminds me of the statistic that since the summer of 2010, third quarter leasing activity drops off by 34.9 percent compared to the second quarter.
U2's "I Still Haven't Found What I'm Looking For" made me think of the large tenants looking for space Downtown. Only one 100,000-plus-square-foot deal has been completed as we approach mid-year, compared to the six similar deals completed in 2014.
The final song on my playlist, "Best of You" by the Foo Fighters, made me think of Midtown South. Tenants have gotten the best out of Midtown South during this expansion cycle and landlords achieved the best rents of all time at $65.50 per square foot, 19.8 percent higher than the previous record.