Star Cinema Building Hits Sales Market for Redevelopment
---
---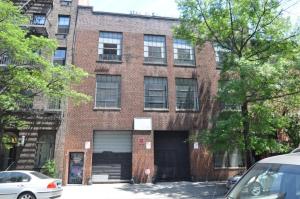 A partially vacant building in Chelsea is on the sales market for redevelopment or repurposing, Commercial Observer has learned.
Dubbed the "Star Cinema Building," 217-219 West 21st Street is being shopped around, although an asking price isn't available at this time. The 13,040-square-foot building is zoned so that it can increase in size by roughly one-third to 19,700 square feet.
The building, between Seventh and Eighth Avenues, also has air rights that could allow a new buyer to construct a new development, according to Cushman & Wakefield (CWK), which is exclusively marketing the building. Because of its zoning, high ceilings and two garage bays, the property could either become a townhouse, a new building altogether or an art gallery, said Brock Emmetsberger of C&W, who's marketing the property with Bob Knakal.
"This property can lend itself to all three uses," Mr. Emmetsberger told CO. "Because of that, we have had all three buyer groups. It'll be interesting to see who it sells to."
Prices in Chelsea span from $1,000 per buildable square foot, he added, while gallery space goes for $2,000 per square foot and finished townhouse space for $3,000 per square foot.
When looking at the buildable potential for this building, it could go for about $19.7 million.
But anyone looking to reshape the 95-year-old structure will likely have to wait until current leases expire in two years. While the basement, ground floor and part of the second floor are vacant, there are tenants on the remaining part of the second floor and entire third floor, according to C&W. Those leases expire December 31, 2017.