Stanford University Nabs Flatiron District Space for First NYC Program
---
---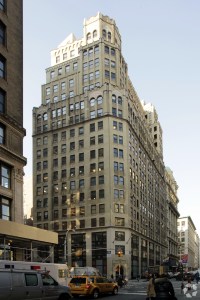 Stanford, Calif.-based private research university Stanford University has signed a lease for 6,000 square feet at 915 Broadway at East 21st Street, Commercial Observer has learned. The school's 18th-floor space will serve as the headquarters of the "Stanford in New York" pilot program, marking Stanford's first New York City-based academic program.
"Stanford's continued commitment to transformative off-campus learning experiences for undergraduate students is evident with the opening of this program, and what better place to provide this than in one of the world's greatest cities," Rosina Miller, the founding director of the program, said in prepared remarks. "Intentionally small, this program's focus on intensive study, reflective practice and dynamic internship opportunities will allow students to hone their intellectual skills and capacities, develop their abilities as adaptive learners and expand their creative confidence."
The pilot program is slated to kickoff this fall with 20 undergraduate juniors and seniors studying the arts, architecture, design and urban studies for a quarter. The school will expand the curriculum in future quarters.
"At 915 Broadway, the university will have faculty offices, conference rooms and ample space for students to work, relax and network," said Jay Caseley, a managing partner at ABS Partners Real Estate, in a release. "The location is easily accessible for students, who will be living at the St. George Clark Residence in Brooklyn Heights."
Mr. Caseley, Carol Sacks and Alex Kaskel of ABS Partners represented the landlord, ABS Partners and a group of investors, in the transaction. Aaron Maltz of Newmark Grubb Knight Frank represented the tenant, officially known as the Board of Trustees of Leland Stanford Junior University. Mr. Maltz didn't immediately respond to a request for comment.
The landlords, using the name 915 Broadway Associates LLC, have owned the 20-story, 250,000-square-foot building since 2012. Stanford's asking rent was $80 per square foot and the lease is for seven years. Other tenants in the building include tech, business and design educator General Assembly and science and mathematics education nonprofit Math for America.