South Street Seaport Designated an Endangered Historic Place
---
---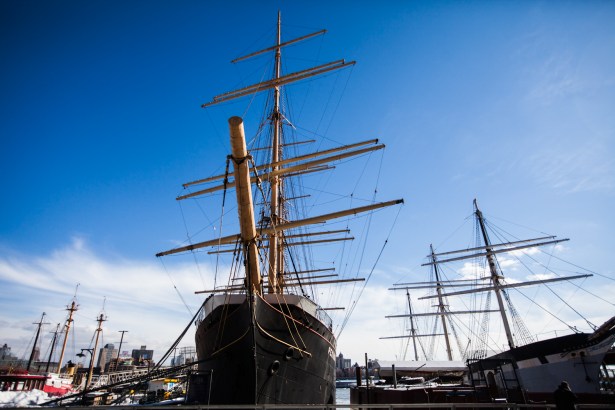 With development on the horizon, the South Street Seaport was named to the 2015 list of the 11 most endangered historic places in the country last night by the National Trust for Historic Preservation.
"While the seaport is a locally designated historic district, and is separately listed on the National Register of Historic Places, it is currently under threat due to a series of development proposals that would disrupt the look, feel and low-scale historic character of the seaport," the privately funded non-profit organization says on its website.
As Commercial Observer reported in a feature on the seaport, Dallas-based Howard Hughes Corporation, which holds long-term leases from the city for a number of properties in the historic district, has put forth comprehensive plans for a mixed-use development project it says would restore the vitality of the nearly 400-year-old neighborhood. Though many community members say that improvements are necessary, they are concerned about a plan that would bring a luxury high-rise to the enclave and potentially overshadow the area's cultural significance.
"In response to community concerns, we are exploring a significant reduction to the height of the proposed building on the New Market site," Chris Curry, a senior executive vice president of development for Howard Hughes, said in prepared remarks. "As we've stated from the beginning of this process, our long-term vision for the seaport celebrates the area's rich history by creating a vibrant Seaport District while also preserving its historic fabric and architecture, puts the South Street Seaport Museum on sound financial footing and reestablishes New York's cherished connection to the working waterfront."
Manhattan Borough President Gale Brewer was pleased with the designation and the fact that Howard Hughes is rejiggering its plans.
"The National Trust's designation only confirms what we in Manhattan already know: the seaport area is at risk—and very much worth preserving," Ms. Brewer said. "To dominate the area with a tower is the wrong choice, and I'm glad that the Howard Hughes Corporation is drafting a new proposal."
Howard Hughes Chief Executive Officer David Weinreb previously told CO: "We have taken a lot of energy and paid a lot of attention to what the community wants and to ensure that the authentic parts of the seaport not only remain intact, but actually anchor the experience [in the area]. We say that the South Street Seaport is the greatest, oldest-newest neighborhood in New York. We believe that the neighborhood can be preserved while also looking into the future. These two priorities can exist together."
Other sites on the endangered list include the Grand Canyon, New York's Chautauqua Amphitheater and the A.G. Gatson Motel in Birmingham, Ala., which once played host to Martin Luther King Jr. and served as a "war room" for leaders of the civil rights movement.