Smoke Shop Heading Around the Corner in Lower Manhattan
---
---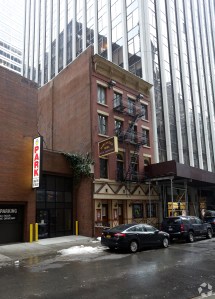 Barclay Rex, New York City-based seller of cigars, pipes and humidors since 1910, will relocate its 90 Water Street shop (always meant to be temporary) and expand greatly just around the block to 126 Pearl Street early next year.
Located on the east side of the Financial District, 126 Pearl Street was built in 1920. The building consists of 3,300 square feet of ground-floor and lower-level space, a 350 square foot loft and three 1,400 square foot upper-level floors. The tobacconist will lease all four floors, using the ground and second floors for a retail shop and lounge.
Mark Tergesen and Dean Valentino of ABS Partners represented the landlord, Longford Realty, in the 20-year deal. "126 Pearl Street is a classic New York building that provides the timeless look and feel the shop wanted for its new space," said Mr. Tergesen, senior managing director, in a prepared statement.
Victor Menkin of Menkin Realty Services represented the tenant.
"Barclay Rex will create a unique and inviting environment for its well-established clientele to include a large showroom and humidor for the many beautiful and one-of-a-kind tobacco products and accessory items the company is known for," said Mr. Menkin in a prepared statement.
Asking rent for the 7,850-square-foot space was over $38 per square foot. Barclay Rex will maintain its other shop at 70 East 42nd Street. The third generation-owned business got its name from its original location on Barclay Street, and from the founder's Great Dane, Rex, who was a frequent visitor there.