New App Helps With Commercial Real Estate Site Selection
---
---
A new data gathering platform is making it easy for landlords and tenants to gauge the best commercial real estate plays.
Placemeter, which became available to the public this week, is a computer vision startup that can take video feeds of a fixed space and counts people, cars and bicyclists as they move through a space, as well as make observations about behavior (such as if they turn, stop, etc.). Its inventor, Alexander Winter, told Commercial Observer that the system can make accurate counts in all kinds of weather and that the team is proud of the simplicity of its set up for users.
While the technology is now available to anyone that wants to use it, it has been in private beta with a number of users, including those in real estate. Florent Peyre, the company's co-founder, gave CO three examples of how its data has already been used in making decisions about commercial real estate.
Dylan's Candy Bar had to choose between two potential locations around Union Square. It settled on 33 Union Square West between East 16th and East 17th Streets, using data from Placemeter, Mr. Peyre said. By making foot traffic counts at each site using Placemeter, it was able to find that while the more expensive lease had stronger traffic overall, the less expensive site had better counts at the store's most profitable times of day.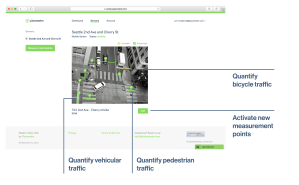 Rockfeld Group has a retail property at 20 East 23rd Street between Park and Madison Avenues, according to Mr. Peyre. Prospective tenants believe that there is less foot traffic on the street than on the two avenues, so Rockfeld used Placemeter to quantify that the street location has comparable traffic, Mr. Peyre said.
Rockfeld Group also used Placemeter to assess a commercial building that it had been considering purchasing. Once the Placemeter traffic revealed that that traffic did not square with what the company needed for its business plan for the site, it decided to pass on the purchase.
Dylan's Candy Bar and Rockfeld didn't respond to a request for comment.
Placemeter has a page on its site dedicated to ways its data could be used in real estate. All it takes to set up the app is an Internet-enabled camera (old cell phones work well) and an account with the company. One month of data for one point costs $149. The price drops to $99 per month if the customer pays for a year at once. A "point" is one space for counts. So, for example, if a camera could see two sidewalks, counting everyone going down one and everyone going down the other would be two points. You could make the whole street a "point," but then it wouldn't be clear which sidewalk the people were walking on.
The company also has its own $99 (pre-order price) sensor that's been specially designed for street-level retail spaces.
Placemeter is a startup located at 425 Broadway in Soho which believes this sort of technology will only become more important as more people try to live in cities together at greater density.
"We are really playing on the fact that in the next 30 years, cities will double in size," Mr. Winter said. "Sometimes people forget that to optimize, you need to measure."