Need a Hotel or Restaurant Retooling? Call Steven Kamali
---
---
Steven Kamali is a matchmaker in the world of hospitality and his deals resemble a complex puzzle.
As the founder of Steven Kamali Hospitality, a collective of hospitality-focused service providers, his job entails helping iron out issues like who would be the best food operator, how many kitchens a hotel actually needs, where the entrance goes, what the space should look like, how much a restaurant could actually rake in, and should there be a licensing deal, lease or a management contract?
"Anything that has to do with food, restaurants, bars, entertainment, I contact him," Aby Rosen, the co-founder and principal at RFR, told Commercial Observer. Mr. Kamali is helping RFR with sourcing a food operator for an unannounced restaurant at RFR's condominium development at 100 East 53rd Street. He has worked with RFR repositioning the Paramount Hotel's food and beverage and entertainment spaces as well as a food and beverage plan on the roof of the Gramercy Park Hotel. Mr. Kamali, Mr. Rosen noted, is "very in tune with what's going on. He gets the trends in the restaurant business."
Mr. Kamali offers a one-stop shop, with a focus on the bottom line. As an example, he pointed to a kitchen consolidation and labor reduction he did at a five-star hotel in Toronto in which he was able to save the company $600,000 per year. (He declined to name the hotel.)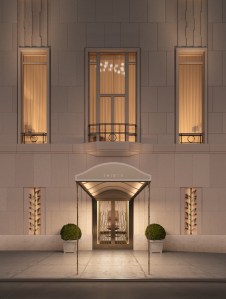 "I'd say that we are… financially minded," Mr. Kamali said during a recent interview in his New York City office at RFR's 275 Madison Avenue at East 40th Street. "We probably think more about everything from capital improvement costs to underwriting the actual project. Execution is naturally very important to us. But we think a game is won and lost at the financial level."
A competitor, restaurant developer Andrew Moger, said Mr. Kamali's strength lies in the hotel business.
"With hoteliers, he seems to have developed some critical mass," Mr. Moger said.
Marty Burger, the CEO of Silverstein Properties, brought Mr. Kamali on board to assist with finding a great restaurant at the base of Four Seasons at 30 Park Place. Mr. Kamali "has a lot of great talent," Mr. Burger said. CO has heard rumors that the eatery will be a steakhouse, but Mr. Kamali was mum on the topic and Mr. Burger would only say there would be an "international name" associated with it.
Mr. Kamali, Mr. Burger said, helps from the selection side, to the design side, to the deal structuring side.
"Steven helps us think through which restaurants prefer which structure and which are best for us," Mr. Burger said. "I'd do it myself but he's better at it than me."
As CO previously reported, the Roslyn, N.Y.-native, from a family of Persian Jews, dropped out of the University of Indiana in his junior year, at the age of 21, to pursue a real estate career. He moved to New York City to work with Morris Moinian and the Dylan Hotel in Midtown. Mr. Moinian was looking for a new restaurant concept at the hotel after Britney Spears' Nyla restaurant failed. It became the Benjamin Steakhouse.
"I sent him a letter seeking employment," Mr. Kamali said of how he landed the job with Mr. Moinian.
Mr. Moinian took a chance on Mr. Kamali because, as he told CO, "He was born as a deal-maker. He has that DNA." So while Mr. Kamali began with little real estate acumen, "in a short period of time he really picked up very aggressively and very well," said Mr. Moinian, who has hired Mr. Kamali as a consultant since.
'I'd do it myself but he's better at it than me.'—Marty Burger, the CEO of Silverstein Properties
After just nine months, Mr. Kamali set out on his own with restaurant brokerage firm Stevens & Company. Five years later, in 2001, he created holding company Steven Kamali Hospitality. "Our core business was centered around real estate brokerage, geared towards restaurateurs and chefs," Mr. Kamali said. "The affiliate companies came in later."
Those affiliate companies—The Chef Agency, SKH Realty, Hospitality House and Hamptons Hotel Group—provide staffing, leasing and advisory services as well as ownership. Consulting platform Hospitality House is the largest revenue driver for SKH, comprising more than 60 percent of the company's annual revenues. Mr. Kamali said it handles 25 to 30 projects a year with services like spatial planning and programming, feasibility studies, financial analysis, underwriting, concept development and staff training.
"In 2007, we started working with hotel owners, helping them identify restaurant owners and partners for their projects," Mr. Kamali said. "What that led us to understand was that hotel investors didn't necessarily understand how to develop a hotel with food and beverage outlets in an efficient way. What we were able to do was, we created a niche, and I started to look for professionals with operational experience."
The landlord rep is working closely with Lightstone Group on the food and drink side of three Moxy hotels in Manhattan. "He's working with us in helping us determine who the appropriate restaurant, bar and other food and beverage partners should be in each of those expected developments," said Mitchell Hochberg, the president and chief executive officer of Lightstone Group. While Mr. Kamali had acted as a consultant for Lightstone before, this is the first time "he's involved materially in every aspect of it and working with the design firm to help develop the spaces."
Upscale gym company Equinox Holdings, which is owned by Related Companies, is planning to open a hotel at Related's Hudson Yards development. Mr. Kamali is consulting on the food and beverage strategy. He said he is also working with W hotels on a number of food and beverage programs in its hotels across the country.
He is consulting for Stanford Hotels' hotel development at 120 West 41st Street and Meadow Partners on its first hospitality project at the Bedford Hotel at 118 East 40th Street.
Not that far away, Mr. Kamali, personally, and Flintlock Construction Services are in the process of buying the former youth hostel at 206 West 41st Street between Seventh and Eighth Avenues, which had an asking price of $16 million. They plan to turn a 47-room youth hostel into a 47-room hotel designed by architect Mapos. Mr. Kamali said he welcomed the challenge, in part because he's "a little bored." Now that he's helped others so much, he's ready to help himself a bit.
"We're gonna look to create a very localized concept," Mr. Kamali said. "The idea is to appeal to the Theater District… think about Times Square in the 1960s, 1970s. What we're looking to really tie back to is the feeling that it evoked in the 1960s."
The new owners plan to redo the façade including a 1960s movie theater-style marquee. They will redevelop the ground-floor restaurant and lobby bar and add a new hospitality suite with indoor and outdoor space. Rooms will be in the $250 to $275 range.
Mr. Kamali has been involved in hotel ownership through his Hamptons Hotel Group, what he called "my hotel vehicle for owning." He was one of the owners of Montauk's trendy Surf Lodge and Southampton's Capri hotel. He still has an interest in Ruschmeyer's hotel in Montauk.
In the last few years, Mr. Kamali has tried to distance himself from his old reputation as a nightlife guru, even declining to cite any of his nightclub deals by name. (He did assist Mr. Rosen recently in resurrecting the Diamond Horseshoe at the Paramount Hotel at 235 West 46th Street, a 6,000-square-foot dinner theater and club. And he had a hand in the launch of the now-closed Cain Luxe Nightclub and with the opening of GoldBar, as CO previously reported.)
"We were involved with the sale and acquisition of nightclubs when I first started my business 14 years ago," Mr. Kamali said. "I'm 34 now. The focus was really on nightlife because I was 21 years old. That's what I was drawn to and what was exciting and interesting. Outside of a lobby bar or a lounge within a hotel, that's as close as I'm getting to the nightclub business today."
He said he rises at 5:30 a.m. "and not by choice." He and his wife, interior decorator Michele, have two young daughters: Juliette, 4, and Anabelle, 1. They have homes in Carnegie Hill and Southampton. "So my bedtime changed; my priorities have changed."
But old reputations die hard.
"You know, till this day, when people meet me they're like, 'Oh, you're the nightclub guy.' I'm like, 'No, I'm the food guy! I'm the hotel guy! I'm not the nightclub guy!' "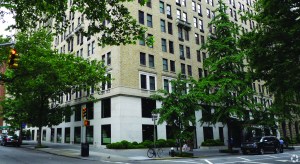 Even though he has 21 employees, Mr. Kamali is still only one guy, and—according to Mr. Hochberg—he's always tardy. "It'd be nice if he'd show up on time for once for a meeting," Mr. Hochberg said, we assume only somewhat in jest. (Mr. Kamali was late to an interview with this reporter).
His clients said he's a straight shooter and has a good personality. Mr. Rosen likened him to actor Joe Pesci. "That's how funny I think he is," Mr. Rosen added.
Like many others, Andrew Rigie, the executive director of trade group NYC Hospitality Alliance, gave props to Mr. Kamali for being so plugged into his niche.
"He's really tied into the hospitality culture in the city," Mr. Rigie said. "He came up in the city when it was evolving. He built a lot of strong relationships, both personally and professionally. He built a boutique company. He evolved as the industry evolved and positioned himself in a way that touches different parts of the industry."
Mr. Rigie noted that Mr. Kamali and his competitors will need to continue to change with the times—as restaurateurs look to branch out with multiple locations—while not spreading themselves too thin.
"You need to continue to nurture those longtime relationships and learn and grow with restaurant companies as they grow," said Mr. Rigie. "Steven and others will have to adjust to changes in the industry."