Mitchell Hochberg Is Giving New York a Lightstone Touch
---
---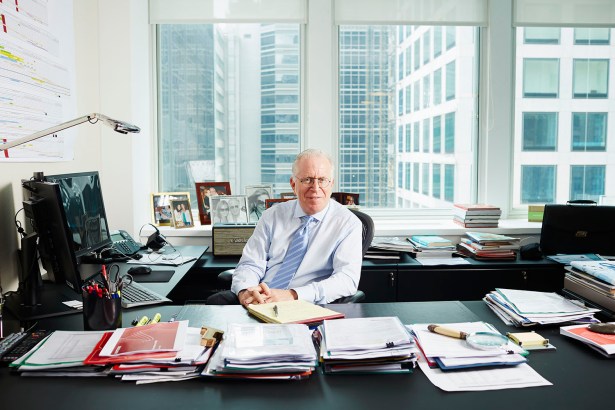 It takes moxie for any developer to strike out in New York's cutthroat real estate market. Fortunately, one can never say that Mitchell Hochberg's Lightstone Group lacks Moxy—at least if we're talking about the micro-lodging hotel brand in which Lightstone is investing $2 billion.
It's true that before Mr. Hochberg, 62, joined the 27-year-old real estate company in 2012, the company had no presence in New York City and its core development business was building outlet malls nationwide. Since then, Lightstone has nine projects valued at over $1.7 billion under development scattered throughout Manhattan, Queens and Brooklyn. These include residential projects in Gowanus and Long Island City and a collaboration with Marriott International to build micro-lodging in Manhattan.
"The company never developed in New York City until I got here," said Mr. Hochberg, the president and chief operating officer of the company. Indeed, Lightstone was primarily an investment company that developed outlet malls. Now, it is both an investment company and dominant developer.
Mr. Hochberg saw the merit of underwriting projects in New York City, the company's "home base."
"It's our backyard, so we're always much more comfortable doing something in New York," he stressed. "We love New York and New York is still probably the best city in the world. As long as you're not overpaying for land or overindulging yourself in development, you'll always make money."
In a wide-ranging interview that took place in Lightstone's eclectic 460 Park Avenue office, Mr. Hochberg told Commercial Observer about the many projects in the firm's pipeline and its strategy moving forward.
Commercial Observer: You went to law school and practiced as an attorney. How did you end up in real estate development?
Mr. Hochberg: Mine is an interesting case study. One of the things I tell my children is not to be so focused on trying to plan your career at an early age. Some of the most interesting things happen that you would never think that would happen, as long as you like what you're doing. So follow your heart. Do what you love and you'll excel. I went to New York University undergraduate and Columbia Law School. After I graduated, I practiced law for three years at a medium-sized firm at the time. I did almost exclusively real estate development when I was there. I loved real estate development and hated practicing law. Just hated it. I left and my father had an accounting firm at the time and I joined my father's accounting firm because I thought getting my CPA license would help me. I was there for two years and started a practice that was representing most of the big Wall Street firms in getting into real estate investment. My biggest client was PaineWebber [the firm was acquired by UBS in 2000]. I then went to work for PaineWebber at the time to set up their non-traditional investment department. I was there for 18 months. Our biggest sponsor was a company called VMS Realty that did real estate investments. I joined VMS and helped grow VMS over the seven years that I was there to become the largest private placement syndicator in the country. I loved it. And then I started my own residential and hospitality development company [called Spectrum Communities]. I ran that business from 1987 when I started it to 1995 when I sold it to Skanska, which is one of the largest construction companies in the world. I ran it for Skanska from 1995 to 2003. During that period it became one of the larger residential development companies on the East Coast. I bought it back from Skanska in 2003.
Why did you buy it back?
Skanska had a change in management of their business. They decided that they wanted to divest all of their non-core businesses. Since primarily their businesses are infrastructure and heavy construction, we weren't a core business of theirs. So they decided to sell the company and put it up for sale. I said, "I'd love to buy it back." I bought it back, and within a year of buying it back I sold it again. I sold it to WCI, which was one of the high-flying public homebuilders at the time. After I sold it the second time, I did some investing, particularly in hotels and residential. Ian [Schrager] and I got together. We had worked on The Delano [in Miami] together. I was with Ian for less than a year and did a couple of projects with him, including The Edition brand, which I worked on with Ian and Marriott. And then I left. I continued to invest. And then David [Lichtenstein, the chairman and CEO of The Lightstone Group] and I got together.
Outlet malls were long the central tenet of Lightstone's development strategy. Do you feel that the outlet mall business is now over-saturated across the country?
Most cities can only accommodate one, sometimes two outlet malls. That's the nature of the business. It's getting to the point where there aren't as many opportunities in the outlet mall business—far fewer there than there may have been five years ago.
I know Lightstone was supposed to build an outlet mall in the Bronx. What happened there?
We started getting offers that we couldn't refuse for that location. We would entertain doing one again, but right now we have a number of people that are bidding on it. It's probably something that we'll end up selling and have a considerable profit on the land. Although we're primarily a developer, nothing's for sale but everything's for sale. And if somebody comes up with an offer that we think is appealing, we'll always consider the offer.
'There's a cleanup plan that's going to be starting imminently and will be done within the next 24 months. We have timelines from the EPA … a lot of people didn't feel Gowanus was ready for condos … we felt confident.'—Mitchell Hochberg
I think that's just smart business.
It is, and it also gives you the ability to redeploy capital. So we're open-minded about it.
Has that land appreciated?
Yes, significantly, [due to] a number of things. One is time. The evolution of the Bronx has been really fantastic. There's a lot going on now. It's becoming the next ["hot"] borough. Brooklyn is almost saturated and matured. It is as strong, if not stronger, than Manhattan. People are now gravitating to the Bronx because the real estate values are very appealing there. You're going to start seeing more residential development there. You're going to see more retail development there. The borough president has done a fantastic job. He has a very strong economic development organization there. It's a good area.
You are working on a massive residential complex on Bond Street in Gowanus. Are you worried about Gowanus' polluted past and the stigma the neighborhood once had with its Superfund site?
No. I think there was more noise than fact with all of the contamination. The canal is clearly contaminated but it's contained. There's a cleanup plan that's going to be starting imminently and will be done within the next 24 months. We have timelines from the [Environmental Protection Agency] for the cleanup. A lot of people didn't feel that Gowanus was ready for condominiums because they didn't know how being on the site would impact the value of their condo. On the other hand, we felt from a rental perspective that we were confident long term, the location was only going to get better and better and that the tenant in a rental wouldn't be as sensitive to it. The rents are going to range from $2,500 a month up to $5,500 a month. They are studios, ones and twos.
What is the update on your Long Island City project in the Queens Plaza North neighborhood?
We just broke ground this month on a rental project that's 428 units and has 11 stories on a full square block. That's going to be a very heavily amenitized project. We're going to be building a big courtyard so it has a very bucolic feeling. Half of the units actually face onto the courtyard. It's going to have 20,000 square feet of amenities. Fitness. Yoga. Spin room. Half-court basketball court. An outdoor pool. So we're trying to make sure we create an environment there that if the neighborhood doesn't deliver everything, we can give it as much [as we can]. It's right at the subway stop, which is phenomenal.
How did you get involved in Moxy, Marriott's micro-lodging hotel brand?
David [Lichtenstein] and I, before we even got together, were talking about our common interest in investing in hotels both in and outside of New York. We both talked about how difficult it was to develop hotels in New York City because of the high cost of land. There are only two ways you can ameliorate it. One is to go very high end, like building a Four Seasons and just hope that you get the highest rates. Another way is value engineering it and getting the cost down. One obvious way to do this is doing smaller rooms. We were very intrigued by it. We started to do some research and read articles about micro-hotels and pod-hotels in Japan. We spent two years doing research and we visited seven countries. Japan, Germany, The Netherlands, France.
So we went around and we looked at a number of brands and tried to see who we thought was best in class. And we saw a lot of very interesting product, but nobody was doing anything [in the States]. We were concerned about being able to transport the operational oversight that people may have in Europe or Japan into the United States and in particular New York, which is a very distinct market in terms of how you operate.
While we were there, we also saw that Marriott was launching Moxy with Ikea in Europe. We were intrigued by that. But when we looked at it, it seemed somewhat interesting but not really sophisticated enough for the New York market. We spoke to the Marriott people and we asked them about it, and they were contemplating bringing the brand to the United States. We thought that Marriott would be a phenomenal partner to do it with. We know the Marriott people very well. We own a lot of Marriott hotels. We thought that the Moxy concept, which is to have smaller rooms and very activated public spaces, was great. The idea would be to take a room and to design it like either a cabin on a ship or a cabin on an old train so that it was very efficient yet small.
Are you going after the same target demographic that stays in hostels?
It's not just young people. A lot of people keep focusing on millennials. I think that's part of the market. [But we want] a businessman my age or a couple on vacation, whether they're in their 30s or 50s, to be as comfortable staying there as someone in their 20s.
What's the price point?
The hotels we're looking at are opening up between $250 and $300 a night for the average rate. But we have rooms from $129 a night. It's at the low end of the spectrum. You're competing with select-service hotels, like a Marriott Courtyard or a Hilton Garden Inn.
What differentiates a Moxy hotel from a Hilton Garden Inn?
For us, the most important thing is to have a great shower and a great bed. Everybody in New York is going to want to be out of their room anyway, either visiting the city or more importantly, in the public spaces in the hotel.
The flagship for the brand is on Seventh Avenue and West 36th Street, which has 618 rooms. It's big. That was actually an interesting property, too. That was an office building that was built in 1907. It was later converted into a hotel in the 1950s and then into an office building in the 1980s. The office building was put on the market. We were looking at it because we thought it could be a redevelopment opportunity because it was able to be delivered fairly vacant. When we looked at it originally as an office, we saw that it had two atriums, which we thought was unique. When we looked into the history of the building, we thought, "Wow, this was a hotel, and it would make a great hotel." So we bought the building and we're repurposing the building now back into a hotel.
The other one we have is on West 28th Street between Sixth and Seventh Avenues, which is 342 keys. That would be on the same schedule. They're both starting this summer. And Chinatown is probably about two months behind.
What will distinguish the Chinatown hotel from the other two?
The size of all of them will be a little bit different [from each other], so the public spaces will be different. I think Chinatown, by the nature of its location, will be a much grittier product. It will be a little bit more "Downtown" in terms of the design of the building, but the rooms will be very, very similar.