Jams Redux: Jonathan Waxman's JAMS is Reborn at 1 Hotel Central Park
---
---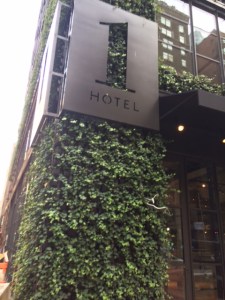 For some it will be a trip down memory lane; for others a new journey entirely. Jonathan Waxman, the chef who introduced California cuisine to New York, is reviving his seminal 1980s restaurant JAMS on the Upper East Side as Jams by Jonathan Waxman in the 229-room 1 Hotel Central Park slated to open in July at 1414 Avenue of the Americas at 58th Street in Manhattan.
"The hotel wanted a farm-to-table concept," said Mr. Waxman, currently the chef/owner of Barbuto as well as restaurants in Toronto and Nashville. "Since JAMS was the first of its type in New York, they were anxious to have the tie in."
It's a tie-in that resonates with the hotel's eco-chic branding expressed by reclaimed wood and live plants everywhere, plus constant references on their website to being "close to nature" in nearby Central Park.
The 1 Hotel Central Park, which will house Jams by Jonathan Waxman, will be the second hotel in the new ecological lifestyle brand dreamed up by private equity firm Starwood (STWD) Capital Group's Barry Sternlicht. The 1 Hotel South Beach, where Tom Colicchio helms the restaurants, opened earlier this year in Miami. Before year's end, 1 Hotel Brooklyn Bridge Park is slated to open with Seamus Mullen at the stoves.
Mr. Sternlicht, famous as the man who invented the W Hotel chain when he was chief executive officer of Starwood Hotels & Resorts Worldwide until 2005, marked his return to hotel operations with the debut of an ultra-luxury hotel brand on West 53rd Street earlier this year. He named it the Baccarat for the legendary French glassmaking firm, which he had also recently acquired. Oddly, Mr. Sternlicht's two disparate realms—one of reclaimed wood and the other of French crystal chandeliers—are less than a mile apart.
The original JAMS was opened by Mr. Waxman and his wine expert partner Melvyn Master in 1984 on the Upper East Side. Mr. Waxman, who earned his culinary credentials at the very epicenter of California cuisine, first at Chez Panisse in Berkeley and then at Michael's in Santa Monica, brought the winds of culinary revolution to the East Coast. The name JAMS (which comes from combining Jonathan and Melvyn's names) came to Mr. Master on a bus ride down to the city from his farm in Connecticut. "There's an expression in French, La vie est dure sans confiture. Jams are all the good things in life and, of course, our names," Mr. Master recalled.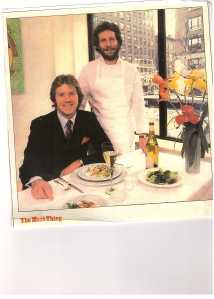 Mr. Master said he has no involvement in the new project whatsoever. "I told Jonathan, 'You have my blessing but don't ask me to come out of retirement to run the front.' " He does have fond memories of those heady days however, when they scrambled for investors, maxed out their credit cards and relied on their ingenuity to make everything come together. He recalled restaurant critic Gael Greene coming to do a story for New York Magazine and saying she needed a picture. "My wife Janie rushed next door to Rosedale fish market, bought some scallops and painted grill marks on them with her eyebrow pencil."
They reveled in all their firsts. "It was without a doubt the first truly California cuisine in New York," Mr. Master said, "the first open kitchen, lots of baby vegetables and pretty salads, very L.A. glamorous, beautiful waiters. It was an incredibly refreshing style of restaurant service and food that New York hadn't seen before."
Questions continue to arise about similarities and differences between the original JAMS and the new 110-seat iteration. Many of the details are still being worked out.
Mr. Waxman promises signatures such as the chicken and red pepper pancakes. As for the AvroKO-designed restaurant in conjunction with his input, Mr. Waxman said, "Not much is similar other than the semi-open kitchen. There will be some elements of the past, like good art and wonderful tableware. But the location is better, has more light, and will be more comfortable. I think there are many folks who went to JAMS or heard about it from their parents that are excited to try it."
Of course, there will also be a wood-burning oven, open shelving and a studied use of simple raw materials such as terracotta, white oak and even concrete to carry forth the environmentally conscious aesthetic established in the hotel.
Ms. Greene herself said she is "excited to think that Jonathan will deliver a Jams for our times. Perhaps he will merely resurrect dishes that surprised us then. The aristocratic salads Waxman brought from California have become part of our food culture. Homemade pasta with goat cheese and asparagus will no longer stun anyone." Nor will "the nut oils, the sherry vinegar, the ubiquitous goat cheese—all part of the American chef's repertoire," she added. "If anything, getting back to Jonathan's simplification at the new Jams would be good. He has a great following: his Barbuto fans, and the devotion of younger chefs. Millennials who think they know all about food will want to be there early."
Former New York Times restaurant critic Bryan Miller is equally enthusiastic.
"It's hard to imagine now but JAMS was almost revolutionary when it opened in French-dominated Manhattan," he said. "I liked everything about it, the bright, casual setting, the friendly but professional staff and the colorful, light and brightly seasoned food." Paying it the highest compliment of all, he recalls "going there when I wasn't working, just for pleasure."
It also had a reputation for being expensive.
"When you think back to those times," Mr. Master said, "rent was fairly high but not even remotely what it is today. What we charged for the chicken is about the same as the chicken at Barbuto today." The chicken on Barbuto's menu is $23. Bryan Miller's 1986 review of JAMS in the Times noted that "though some customers grumble about paying $23 for a grilled chicken with French fries they continue to pay up—you won't find a meatier, tastier grilled chicken anywhere and the haystack of thin, brittle French fries is the best in town." And they probably won't grumble whatever the price when the chicken hits the new tables—bare of cloths as is the current conceit—in New York City's very pricey Midtown.
Hotel guests and restaurant customers alike will be well aware they're paying their share of prime Manhattan rent. The hotel's eco friendly website obviously wants to conjure Central Park when it urges guests "to venture out into one of the finest pieces of real estate in the entire world." But who are we kidding? Nature is not the first thing that comes to mind when listing New York City tourist attractions.
And yet, when passers-by peer into the floor-to-ceiling windows of the soon-to-open restaurant they can easily imagine sitting at the two-story bar with natural light streaming in and think they could almost be … in California.