Flatiron BID Gunning for $21M for Plaza Project
---
---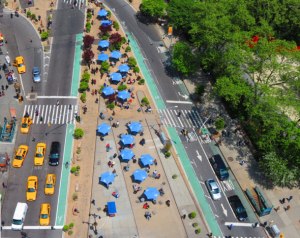 By the end of this month, the city's budget will be set for the next fiscal year and Jennifer Brown, the executive director of The Flatiron/23rd Street Partnership Business Improvement District, hopes that includes funds for an estimated $21 million neighborhood plaza project.
She told Commercial Observer the initiative, which will convert the temporary pedestrian plazas spanning Broadway from East 21st to East 25th Streets to permanent ones, will be "a big, big signature project for us."
The $21 million would allow for permanent surface treatment, sustainable horticulture and potentially utilities connections across the 37,000 square feet, said Ms. Brown, whose BID maintains the plazas. Madison Square Park Conservancy manages General Worth Square, home to the Worth Monument, at the north end.
The NYC Department of Transportation installed the plazas in 2008 where Broadway and Fifth Avenue cross in front of the Flatiron Building to improve quality of life and safety as part of a pilot project that included adding crosswalks, a bike lane and pedestrian plazas with furniture.
Ms. Brown said the initial project was "primarily a traffic reconfiguration" and was intended to provide "pedestrian safety improvements."
Now, seven years later, since they have proved successful, it's time to make these plazas permanent, Ms. Brown said. In last year's budget, Ms. Brown said DOT allocated $4 million "and that wasn't enough to start the design process." She suspects before DOT will launch the design process it will need one-third to one-half of the estimated $21 million price tag.
She said money has been tentatively included in the budget.
"The funds would be use to reconstruct and permanently build out the interim plaza and pedestrian safety treatments from 21st Street to 25th Street along Broadway and Fifth Avenue," according to a DOT spokesman. "Amenities will include new paving, accessibility enhancements, seating, planting, and lighting. The design and construction will be managed by the NYC Department of Transportation and the NYC Department of Design and Construction in coordination with NYC Department of Parks and Recreation, the Flatiron BID and the Madison Park Conservancy."
Assuming the money comes through and the design phase commences later this year, it will last 12 to 18 months, Ms. Brown said. Construction could take upwards of three to five years, she added.
As for the design, Ms. Brown would only say that it calls for "a line of trees… simple surface materials where spaces would blend with neighborhood and [the ability to] showcase architecture."
The DOT spokesman noted the agency will "host several public workshops to solicit feedback from the community prior to developing a final design."