Café Chain Stolle Signs First Brooklyn Deal
---
---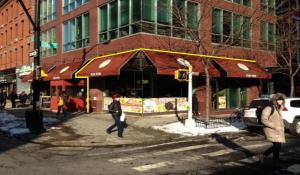 Nearly three months after announcing it would be opening its first U.S. location in Long Island City, Russian pie-maker Stolle reveals it's heading to Brooklyn, too.
Commercial Observer has learned that Stolle has signed a sublease for part of Tio Pio's space at 119 Court Street at the corner of State Street in Downtown Brooklyn. The pie company, which will open in September, took 500 square feet of ground-floor retail space in a 10-year deal. The asking rent was $250 per square foot, according to Winck Realty Group.
"We are excited to be able to bring Stolle to Downtown Brooklyn," Winick's Aaron S. Fishbein, Stolle's exclusive broker in New York City, said in prepared remarks. "This is a prime retail corner, surrounded by not only an incredibly strong co-tenancy—including Trader Joe's, Maison Kayser, Barnes & Noble, United Artists [movie] theater and LensCrafters—but also a dense office and residential population."
Tio Pio, which will operate at the location in a smaller space, was represented by Winick's Zach Diamond and Jordan Kaplan.
In March, Stolle leased a retail and commissary space at Jamestown's Falchi Building in Long Island City. That commissary will service the Court Street location, as well as four additional sites that Stole is actively negotiating for in Manhattan.
"Stolle prides itself on incredibly fresh products and thanks to 119 Court Street's proximity to our Long Island City commissary, we will be able to bring in fresh pies three to four times a day," said Irina Belska, Stolle's chief operating officer. "Being able to occupy a prime retail corner in an area with so many business drivers aligns with our business model and meets our many site requirements."