Almost Famous: CBRE's Brandon Famous Tells Us Which Retail Brands Are Hot Right Now
---
---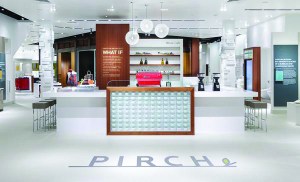 Retailers want great space, sure—but which retailers do landlords want?
& Other Stories? Pirch? Kit and Ace? Do those sound like random syllables to you? If so, you need our primer on the hottest new retailers.
At ICSC's RECon this year in Vegas, Commercial Observer caught up with Brandon Famous, senior managing director at CBRE—the world's largest real estate company. He was stunned by how many of the sellers landlords want most were folks we had never heard of (cough: all of them). Forgive our ignorance, Mr. Famous. Here's a list of the purveyors developers are targeting and why.
Primark. The U.K. import is like a Target/H&M hybrid and is replacing large anchor tenants like Sears in malls across America, Mr. Famous said. Think nothing can beat that $12 dress from H&M? Think again. At Primark, it's $8. Just what America's downtrodden middle class needs.
Pirch. The creatively misspelled home wares chain is a fantastic example of omni-channel retailing, Mr. Famous said. "There are, like, 80 kinds of shower heads," in the showroom-type space, he said. "And you can try all of them." The average customer stays 2.5 hours.
Kit and Ace. Do you think Lululemon is expensive? Well, you may want to take a Xanax. Kit and Ace is the founder's latest formulation, which hits a higher price point. At the moment, the retailer is pushing something called "technical cashmere."
& Other Stories. The new concept from H&M's parent company is sure to be a hit with the thrifty but trendy millennial crowd.
The White Company. Yet another U.K. transplant, this purveyor of home wares, women's clothing and linens actually started as a catalog-only business, so they get this whole omni-channel thing. Founder Chrissie Rucker founded the company when she couldn't find stylish and well-made white linens and decided to make them herself.