SL Green To Buy 11 Madison Avenue
---
---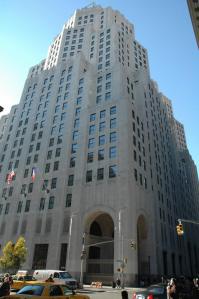 In one of the largest real estate transactions in New York City history, SL Green (SLG) Realty Corp. will acquire 11 Madison Avenue for $2.285 billion, according to a press release issued by the company.
First reported by Bloomberg Business, the company will buy the 29-story, 2.3 million square-foot trophy property from The Sapir Organization and CIM Group. The building sits between East 24th and East 25th Streets and serves as Credit Suisse Group's U.S. headquarters.
In addition to the $2.29 billion traded for the building, SL Green will also pay roughly $300 million in costs associated with lease-stipulated improvements to the property, according to the release. The deal will likely close in the third quarter of this year.
The Class A property, built in 1929, will be the new headquarters for Sony Corp. of America. Other tenants include Yelp, Young & Rubicam, William Morris Endeavor Entertainment and Fidelity Investments. Eleven Madison Avenue is also the home of Daniel Humm's Eleven Madison Park, one of the city's most celebrated fine dining establishments.
"Eleven Madison Avenue is one of the best assets in New York City's vibrant Midtown South submarket, with floor-plate sizes, amenities, and a robust infrastructure that are truly unique to the area," said SL Green's Isaac Zion, the co-chief investment officer of the company, in prepared remarks. "Occupying a full block across from Madison Square Park, the building has direct connectivity to One Madison Avenue, a 1.2 million-square-foot building that is leased to Credit Suisse and also owned by SL Green."
Alex Sapir, the president of the Sapir Organization, said in a statement he is pleased to complete this sale with SL Green.
"We trust that they will continue to own and operate this trophy asset in the same manner that we have over the past 12 years," he said.