Silicon Bowery: Does the Bowery Own the Future of Manhattan Creatives?
---
---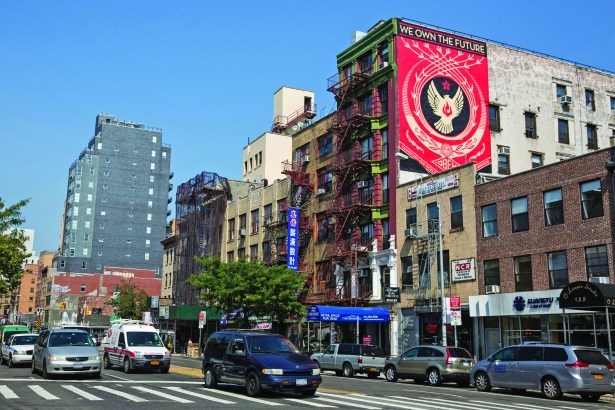 Adrian Hopkins likes the Bowery so much as a work neighborhood that he organizes area walks for new staff and colleagues at peer companies in the area. He likes to take people out and show them the spots that represent the spirit that, he believes, makes it the right part of Manhattan for a technology-oriented, entrepreneurial company to be based. Mr. Hopkins is the director of strategy for Bureau Blank, a creative agency that's focused on organizations and government more than media and industry.
Bureau Blank operates out of 273 Grand Street, a building between Forsyth and Eldridge, that's so old school it actually still has an elevator operator manually running people up and down the floors. The building is home to everything from a public relations firm to a Chinese men's club. 
That said, as much as most new-ish tech companies might like an interesting quirky building, what they are really looking for, more often than not, is the ability to move in quickly, Daniel Levine, a senior managing director at Newmark Grubb Knight Frank, told Commercial Observer. "It's certainly an area where a couple years back wasn't on most office tenants' radars, but now with Soho being so tight, there are opportunities in the Bowery district."
Because of that need for speed, though, those opportunities will go to proactive developers who are ready to take on commercial projects and turn them into turnkey spaces, where a company can show up, move in and start working. Companies in the TAMI—technology, advertising, media and information—sector often grow in lurches. Four or five people might work as a startup builds a proof-of-concept out of a co-working space, but suddenly it gets an influx of money from an investor and it needs a lot more room—yesterday.
Of course, the Bowery is not very far from its days when it was the home of kitchen supply stores and shelters. (In fact, the Bowery Mission and Bowery Restaurant Supply store are still standing fixtures of the neighborhood.) Mr. Levine pointed out that there are not that many commercial spaces available on the Bowery yet for tech, TAMI and creative companies, and not many properties in the midst of rehabilitation. A few people CO spoke to advised that deals will only exist for so long before the buildings are sold, rehabbed and prices go up.
One building that's mid-conversion is 161 Bowery, between Delancey and Broome Streets, which received a Wired Certified Silver rating from WiredScore for its fiber optic Internet connection, constructed by Stealth Communications. (Disclaimer: Jared Kushner, publisher of CO, is a co-founder of WiredScore.) Visitors to the street may have noticed the building when they saw the striking mural painted by Shepard Fairey on its side. Its image of a phoenix is capped off with: WE OWN THE FUTURE.
Caspi Development, the developer behind rehabbing the building for modern tenants, had to go out of its way to secure this kind of digital connection. Stealth Communications worked at the site to connect the building via fiber using microtrenching, where a very small cut is made in the concrete of the street and sidewalk, just enough to securely bury that last bit of fiber optic cable that makes it possible to connect the whole building with state-of-the-art speeds.
According to Timothy Shopa, a project manager at Caspi, the developer is also considering installing a fixed wireless Internet provider at the building. This would give the building further redundancy. In other words, if one network went out for some reason, people in the building would still have a pathway to the Internet.
Mr. Shopa explained that the building is being renovated in phases as existing tenants move out. Two floors have been completely done now, retrofitted with lots of data ports, outlets and kitchenettes that include amenities like wine refrigerators. Mr. Levine has been showing them to potential tenants. The first, fourth, fifth and seventh floors will be retrofitted with the new designs once the leases in those spaces have expired.
Another key property in the area is 190 Bowery, on the northwest corner at Spring Street. Mr. Levine believes that when 190 Bowery is occupied by its new tenant, a consortium of businesses both in the photo and fashion industry, including Trunk Archive, CLM and Management Artists, according to a release from RFR, the building's owner.
The building at 190 Bowery, the former Germania Bank, has been occupied for the last several decades as the home and office of photographer Jay Maisel.
Mr. Levine said that when 190 Bowery is open for business and its new tenants have moved in, the demand for space on the Bowery is going to shoot up as that property dramatically increases the street's profile, particularly among creatives.
That said, even though the Bowery only has a few buildings that have been updated to meet the complete needs of startups and creative companies, the creatives have already showed up. Approximately 20 startups have registered their information on the Digital. NYC map (the initiative of the city and NYCEDC).
Some of those who have come haven't even bothered waiting around for a building to be updated. "We'd like to think of ourselves as building the world's largest general contracting company," said Jean Browhill Lauer, founder and CEO of Sweeten, which connects homeowners with vetted interior designers and general contractors in order to arrange renovations of homes by trusted teams.
Ms. Lauer said that the company's offices at 195 Chrystie Street, between Stanton and Rivington Streets, have worked out especially well for it, because one of its key constituencies is contractors. It's important, she said, that the firm has a professional space in a neighborhood where the contractors that come to meet with them don't feel out of place, like they might in Midtown or the Flatiron District.
Midtown and the Flatiron District came up with each of the firms Commercial Observer spoke with.
AppFigures, a tech company that builds a reporting system for mobile apps and is used by companies like eBay, Evernote and PBS, left Midtown for its third office, which it leased on the Bowery in 2013.
"After being in Midtown for several years we wanted a break from the 'busy' side of the city. We were looking for a quieter area that's still easily accessible," Ariel Michaeli, the founder and chief executive officer of the company, said via email. AppFigures has been located at 133 Chrystie Street, between Broome and Delancey Streets, since 2013.
Mr. Michaeli described the space initially as "a warehouse space with lots of potential." He said it took a few months and a few dump trucks to get it ready for occupancy, but then they moved in. "I think the success of the area will depend on availability of spaces and the inclination of startups to renovate," he said. Saving companies from that kind of effort is the sort of value that developers like Caspi are looking to provide. Mr. Michaeli's company was willing to put in the effort but there's one problem it can't solve on its own: reliable, fast Internet. It uses a main provider, Time Warner, with a backup metro Ethernet/DSL-based service, which Mr. Michaeli described as less than ideal.
Meanwhile, Ms. Lauer said her Verizon FiOS service has been fine, and obviously companies that take space at 161 Bowery should also be happy with their Internet service. Though, broadly speaking, New York City falls far behind Internet speeds of major cities in other industrialized countries; however, the installation of fiber at 161 Bowery will have broader implications for buildings in the area.
Shrihari Pandit, the CEO of Stealth Communications, said that his company is in the process of connecting six more buildings nearby, including a co-working space called Projective NYC, at 72 Allen Street, between Broome and Grand Streets, which is home to buzzy startups like Stripe, Instacart and Buffer. Stealth can provide competitive commercial services at speeds of 100 Mbps or even 1 Gbps, for dedicated service. Mr. Pandit said that his company also has the capacity to offer even more competitive prices on high-speed fiber in buildings where multiple tenants share access.
Mr. Hopkins also spoke to the popularity of the Flatiron District and Midtown. In his experience, he said, those are the neighborhoods where a lot of companies like to go to once they have had a certain level of success, but Bureau Blank is happy where it is.
His most recent walking tour for new staff took place on April 30. They visited four spots, including a pharmacy/tea bar, a gift and home decor store, an art gallery and a houseplant design firm. It's the sort of local color that firms like Bureau Blank draw inspiration from and the kind that could mean a lot more companies like his will be looking to set up more offices on the upper floors of Bowery buildings, if someone does the work to get them ready and someone can wrangle fiber to the front door.