Equinox Is Katz's New Neighbor
---
---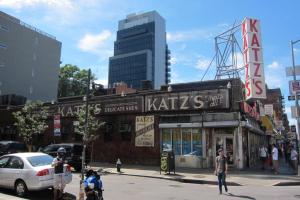 You can get a little extra pastrami on rye without too much guilt now.
Equinox, the high-end fitness center, is opening a 30,000-square-foot gym next door to Katz's Delicatessen on the Lower East Side. It will take up the entire second and third floors of the development at 196 Orchard Street between East Houston and Stanton Streets, according to The New York Post.
John Mears of Equinox represented the gym in-house, while Richard Skulnik of Ripco Real Estate represented the landlord, Ben Shaoul's Magnum Real Estate and partner Real Estate Equities.
A spokeswoman for Equinox did not return Commercial Observer's request for comment. Mr. Skulnik declined to comment.
The asking rent was $300 for the ground floor of the 83-unit building, but less on the floors above, according to the Post. The length of the lease was not immediately available.
Magnum Real Estate closed on a $97 million loan from SL Green Realty Corp. last month to acquire and start construction on the site, as Commercial Observer previously reported. Katz's sold some of its air rights to the developer for construction.
Equinox has been on an expansion blitz as of late. It announced in April it would open up its first hotel—opting to build at 35 Hudson Yards between West 30th and West 33rd Streets. Equinox plans on expanding its hotel brand to Los Angeles and London in the years following the Far West Side hotel's opening in 2018.