Bliss Moving Downtown With Brookfield Place Office Deal
---
---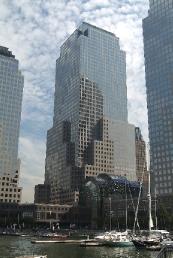 Bliss spa is moving its offices from 75 Varick Street to Brookfield (BN) Place in a 15,407-square-foot deal, Commercial Observer has learned.
The massage, facial and pedicure chain took part of the 25th floor at 200 Vesey Street in a 10-year deal, according to John V. Wheeler, a managing director at JLL. The asking rent, he said, was in the low-$60s per square foot, and Bliss should be relocating imminently.
"It's continuation of that trend of fashion and consumer products companies relocating to the Lower Manhattan marketplace," Mr. Wheeler said.
He represented the landlord, Brookfield Office Properties, along with JLL's Clayton Kline, Michael Berman and Paul Glickman as well as Brookfield's Dave Cheiken and Paul Massey, Jr. Savills Studley's Joe Genovesi and John Harte represented Bliss in the deal.
"They got caught in a sharply rising market in Hudson Square so we took a look at both Midtown and Downtown locations and the combination of the reinvented Brookfield Place, its amenities and the Class A office space overlooking the river complemented everything Bliss is about," Mr. Genovesi said.
The largest office tenants in the 8.5-million-square-foot complex (which includes 300,000 square feet of retail) are American Express, Royal Bank of Canada and the U.S. Securities and Exchange Commission. The office portion is 95 percent occupied, Mr. Wheeler said.
"I think it's a good combination of all of the convenience of the amenities there and the connectivity to the transit at a good value," Mr. Wheeler said.