The Plan: New York Marriott at the Brooklyn Bridge
---
---
As Brooklyn continues to become the destination of choice for New York's 56.4 million annual visitors, there has been unprecedented demand for hotel space in the borough. With 667 rooms, the 27-story New York Marriott at the Brooklyn Bridge is Kings County's largest hotel. The Downtown Brooklyn chain, which sits at 333 Adams Street, opened in 1998 and doubled its size in a 2006 expansion. However, in order to remain competitive, its owners, Muss Development, Marriott International and Homefed Corporation, felt that it needed to be reconfigured.
"We needed to reposition it as the leader in Brooklyn," said Jeff Kay, the chief operating officer of Muss Development, which built the property. "We consider ourselves at the center of Downtown Brooklyn."
Sam Ibrahim, the general manager of the Marriott who began working at the hotel in November 2000, said that Brooklyn has changed "tremendously" over his tenure—but the hotel has not caught up with the borough.
"Now, we're going to catch up with it," said Mr. Ibrahim.
To cater to the "new" Brooklyn, the hotel set out on a $43 million renovation that both stays true to Marriott's standards while also tipping its hat to its host borough.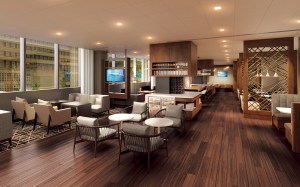 The hotel hired krause+sawyer, a design firm focused on the hospitality industry. The company has helped properties ranging from the W New York and Union Square to the DoubleTree Carmel Highlands in San Diego.
"How do you make this local without being gimmicky?" was the fundamental question principals Tracey Sawyer and Kasja Krause asked themselves when envisioning the spaces entrusted to them. Ms. Krause called the rooms "a really nice hybrid of local, industrial chic" that uses textured materials that evokes the industry native to the borough. The duo also used local craftsmen and vendors to outfit spaces when possible. The artwork in the rooms represent the notion that Brooklyn has transformed from black and white to technicolor.
The corridors, an extension of the other public spaces at the property, are "very New York and very urban," said Ms. Sawyer.
The renovation will be unveiled in three stages. This May, the great room, lobby and front desk, and the M Club lounge will open, followed by all of the ballroom and meeting room spaces this September. In January 2016, all of the renovated 667 rooms will be ready for occupancy.
The hotel is also brainstorming creative ways to incorporate the Brooklyn lifestyle into its fabric. Prior to the renovation, it featured Starbucks Coffee at its bar. Now, Brooklyn Roasting Company's brew is served. Wine from Williamsburg's Brooklyn Winery will be available at the concierge lounge and at the bar. And the concierge will encourage guests to explore the bounty of Brooklyn (a press release from the hotel noted that its team will be "fluent in Brooklyn culture and events.")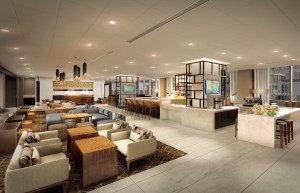 "We're going to attract everyone to the hotel now," said Mr. Ibrahim. "We want to be more trendy and hip so we get everybody in here."