Smorgasburg, Art Walls Comes to Coney Island
---
---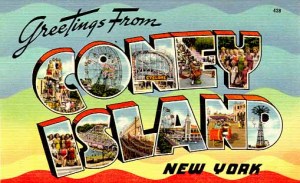 Thor Equities is bringing art walls from street artists of the last 40 years to its 1320 Bowery Street site, straddling the Coney Island Boardwalk, as well as bringing the popular Brooklyn food venue Smorgasburg to the area, the company announced today.
Joseph Sitt, the chief executive officer of Thor, and Jeffrey Deitch, an art adviser who used to run the Museum of Contemporary Art in Los Angeles, are arranging the 20-plus artists that include Crash, Futura and Lady Pink to paint installments at Coney Art Walls as summertime kicks off.
"Coney Art Walls is the next exciting step in our ongoing plans to help restore the vitality of Coney Island, and build on our successes in the neighborhood," Mr. Sitt said in prepared remarks.
The area around 1320 Bowery Street is currently being cleaned up in preparation for the artwork, according to a Thor spokesman, and the walls for the pieces will be installed next week.
But art lovers can also get a bite to eat while they're working on their culture and their tans. Smorgasburg, the four-year-old spin off of Brooklyn Flea, will have a 12-vendor food stand near the site, according to Thor. It currently has locations in Williamsburg and Brooklyn Bridge Park, according to its website.
"Smorgasburg is proud to add world-class food to what we know will be a world-class summer attraction at America's Playground," said Jonathan Butler, the co-founder of Smorgasburg and the Brooklyn-focused real estate blog Brownstoner. "Coney Art Walls will be a cool amenity in the hot sun for beachgoers and culture-seekers alike."
The vendors will be based out of shipping containers provided by SG Blocks, a company the designs retail and commercial structures out of the metal containers, which will be sending a dozen of them to the site, according to a spokeswoman.
Thor has recruited some big-name tenants for the Coney Island area. Mark and Donnie Wahlberg's restaurant Wahlburgers is opening a 6,800-square-foot restaurant right near the boardwalk, just around the corner from 1320 Bowery Street, as the Brooklyn Daily Eagle reported.