LES Boutique Hotel Hit with $2.5M Foreclosure Suit
---
---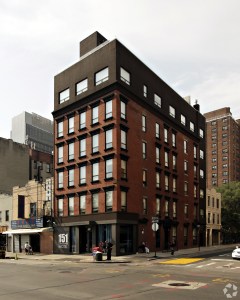 Greenwich, Conn.-based Knighthead SSRE REIT, Inc. is suing the owner of East Houston Hotel for defaulting on more than a couple of million dollars in loan payments on the Lower East Side property, according to court documents.
The proprietor of the 42-key hotel at 151 East Houston Street at East Houston and Eldridge Streets owes $2.5 million plus late charges, default interest and costs and expenses as of April 1, according to the April 6 complaint filed in New York Supreme Court.
Soho New York Lodging LLC bought the property for $4.5 million in January 2005, property records indicate. The 14,554-square-foot hotel was constructed in September 2007 with six floors of guest rooms and a roof terrace, according to its website. Nightly rates for this week range up to $249, according to its website.
Williston Park, N.Y.-located Soho New York Lodging LLC borrowed around $2.4 million from Knigthead SSRE REITT in January and "despite demand, defendants have failed and/or refused to pay indebtedness which they owe plaintiff," the suit claims. Among the payments Soho New York Lodging allegedly hasn't paid is $118,421.98 in property taxes.
The hotel was up for sale with Eastern Consolidated's Marion Jones, David Schechtman, Gary Meese and Philip Huang at the end of 2011 into 2012 with a $21 million price tag, Bowery Boogie and The Real Deal previously reported.
A person who answered the telephone at Knighthead SSRE REIT said the company had no comment. A man who answered the phone for Soho New York Lodging LLC could not comment on the situation. The attorneys for the plaintiffs didn't immediately respond to a request for comment. The name of Soho New York Lodging's attorney wasn't readily available.