Keystone, BIG Buy Four-Building Queens Portfolio [Updated]
---
---
Keystone Equities and BIG have purchased a four-building portfolio on Ridgewood's prime retail corridor from Hancock Myrtle Associates, owned by the Menninger Family Trust, for $6.75 million, the firms announced.
The 17,645-square-foot portfolio—which includes 56-48, 56-50, 56-52 and 56-54 Myrtle Avenue—consists of two retail stores, eight residential units and 8,800 square feet of development rights. The majority of the retail space is occupied by Joyce Leslie, a clothing, accessories and shoe store for juniors, which is paying far below market rents.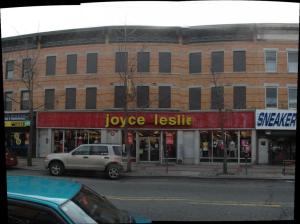 The partners plan to bring in new retail tenants and renovate the upper residential floors.
"Ridgewood is seeing a huge influx of residential tenants who are looking for alternatives to north Williamsburg and Bushwick," said Albert Behin, a managing partner of BIG, in prepared remarks. "It has beautiful and well-maintained brick and brownstone row houses along tree-lined streets, all within a 20-minute commute to Manhattan."
Josh Sabzevari, Keystone's director of acquisitions, added: "We are big believers in select retail areas throughout the Brooklyn and Queens boroughs. The Myrtle Avenue portfolio is in line with our increased focus to purchase mixed-use assets in these strengthening retail corridors that are underserving their surrounding market."
According to marketing materials from the seller's broker, Massey Knakal Realty Services, now Cushman & Wakefield, the buildings are all three stories with seven of the eight residential units vacant. Joyce Leslie has a lease until Jan. 31, 2016 with no renewal options. In addition, Joyce Leslie controls six of the apartments. Cushman brokers Thomas A. Donovan, Tommy Lin, Eugene Kim and Robert Rappa were listed as the exclusive brokers.
"These properties are ideally located in the heart of Ridgewood, currently one of the most in-demand neighborhoods in Queens," said Mr. Donovan in prepared comments. "We were able to utilize our proven marketing process and leverage the tremendous interest in Ridgewood to achieve the full asking price for our client."
"BIG and Keystone immediately recognized the significant upside in the portfolio which consisted of a perfect storm of favorable conditions," said Danny Millan of MNS, the buyers' broker. "The combination of rarely available prime retail with an expiring lease, unused & already built residential square footage, air rights, and a neighborhood that is in incipient stages of growth made this deal a no-brainer."
Update: This story was edited to include the name of buyers' broker and a comment from him as well as a comment from the seller's broker.