Japanese Company Buys Two Industrial Properties in Bushwick
---
---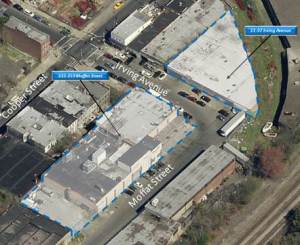 Japan-based Kobe Bussan has bought two commercial properties for $5.65 million.
Arctic Glacier, an ice manufacturer which is relocating to another facility, sold the properties at 333-359 Moffat Street and 11-33 Irving Avenue, which sit on the border of Bushwick and Ridgewood, Commercial Observer has learned. The two buildings have a combined total of 34,945 square feet, including 6,500 square feet of parking.
The two-story property at 333-359 Moffat Street is roughly 22,000 square feet The building, which is zoned for manufacturing, includes 5,800 square feet of air rights that were purchased as part of the deal.
The one-story commercial property at 11-33 Irving Avenue is roughly 13,000 square feet and includes 12,745 square feet of air rights.
Ofer Cohen, Melissa Warren, Dan Marks, Peter Matheos and Michael Hernandez of TerraCRG represented the seller.
Mr. Marks, the vice president of investment sales at TerraCRG, said that the buyer was enticed by the already built-in freezer space and other industrial features in the Moffat building. Mr. Marks said he believes Kobe Bussan will use the space for storage, unlike many developers that purchase industrial-zoned properties and reposition them for office use.
As Brooklyn continues to gentrify, it has become harder for buyers to find reasonably priced industrial properties; when a commercially-zoned property comes into today's market, it often sold to developers who are looking to reposition to appeal to creative offices and creative users.
"I think that's what made this property so attractive," said Mr. Marks. "This is one of the M-zoned industrial properties that, at least from the short-term perspective, the intent is to stay industrial."
Masa Ikeda at Taichi Realty represented Kobe Bussan.
"They have a restaurant in Manhattan [called Shabu Shabu Kobe] on Fifth Avenue and East 36th Street and they will use this space for storage and prep space," said Mr. Ikeda. "They are trying to expand all over the U.S. That's why they need manufacturing space."
Kobe Bussan is known for its supermarkets in Japan, but is angling to continue breaking into foreign markets. It recently made headlines when it announced plans to open a "Japanese-style property" used as a hotel in Midtown Manhattan in the summer of 2017, according to TTG Asia.