Is 57th Street the Most Overpriced Block in the U.S.?
---
---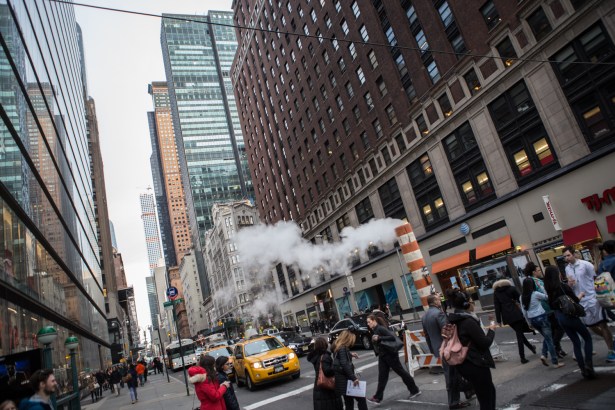 It all started innocently enough: a single building with a fancy design, a couple of apartments in the $90-plus million range, a few billionaires looking to park their money in New York luxury real estate…
But several buildings (and tens of millions of dollars worth of apartments) later, one has to wonder whether the strip of über-luxury condominium development on 57th Street—nicknamed "Billionaires' Row"—has finally run its course.
Fifty-seventh Street has been a hot topic since at least 2009, when Gary Barnett's Extell Development broke ground on One57 at 157 West 57th Street between Avenue of the Americas and Seventh Avenue. Sales were swift at the building initially, with half of the units selling in 2012 and a record-breaking $100.5 million sale paving the way for a sea of development on the surrounding streets.
But the pace slowed afterward, which Mr. Barnett said was in part due to competition from neighboring condos and the fact that "the building is not completely done." He said it will be 99 percent completed in the next few months.
"I think we're seeing tremendous demand," Mr. Barnett said. "Yes, there's a slowdown mainly because there's more to go around. … There will be an absorption issue." He clarified that the absorption issue will be a factor only for those buildings "that get it wrong." His buildings at 157 West 57th Street and the Nordstrom Tower at 225 West 57th Street (as well as Vornado Realty Trust and the Clarett Group's 220 Central Park South) will succeed, he noted, because of "the long views" of Central Park, "the great amenity packages [and the] significant size and scope" of the units.
Others are not so sure. As the developers compete in building height (or is it length?) and prices, industry-watchers have had a field day addressing whether the city can handle more super-high-end apartment buildings—or will there eventually be a glut of $10-plus million inventory on this stretch of Midtown?
"There are definitely parts of London that are more expensive," said Jeff T. Blau, the chief executive officer at Related Companies, which is developing a five-building mixed-use complex at Hudson Yards. "It's by far the most expensive New York street, which to me doesn't really make a lot of sense. I think the market is very, very strong in New York—I mean stronger than almost it's ever been, which gives us a lot of confidence for what we're doing. But I think there is a segment of the market that's too speculative right now. When [One57] was built… they never dreamt that they would get the selling prices they got. And they didn't need to in terms of their basis in the building. So it was a good profit because the market changed while they were under construction." He added: "We had some opportunities to do basically the buildings that are going up now. We passed."
Mr. Barnett countered: "If we didn't dream we'd get the pricing" Extell wouldn't have priced the units as it did. He added: "The returns are relative. It took seven years for my partners to get their money back. Look at the [internal rate of returns], it was by no means very high IRRs—somewhere in the teens, low-teens. It wasn't 20 percent-plus returns, which most opportunity funds and most investors like to get in real estate."
Pershing Square Capital's Bill Ackman and some friends bought a duplex in One57 for $90 million and former Michael Kors Corp. Chair Silas Chou bought a $56.1 million unit at One57, which held a building height record for a while at 1,004 feet. But only one apartment in the tower sold in the third quarter of 2014 and only three units sold at One57 all of last year, as of an early December Bloomberg Business article. Mr. Barnett declined to comment on the percentage of units sold.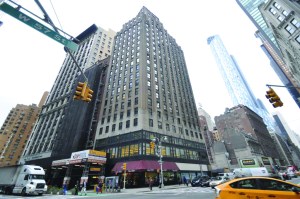 But developers haven't been scared off. There are at least five high-priced condos in some stage of construction along 57th Street and others on neighboring streets. (While Billionaire's Row may extend a bit south and north to developments like Baccarat Hotel and Residences at 20 West 53rd Street and 520 Park Avenue at East 60th Street and 220 Central Park South with its potential $175 million penthouse asking price, Commercial Observer focused exclusively on the skyscrapers on 57th Street, including one that is between East 56th and East 57th Streets.)
This includes the Steinway Building at 111 West 57th Street, a condo between Avenue of the Americas and Seventh Avenue by Property Markets Group and JDS Development. The building will rise 80 stories with 60 units and has a target completion date of 2017, according to data provided by Brown Harris Stevens. It is slated to be one of the most slender buildings in the world and the city's tallest residential tower at 1,428 feet. The building launched a teaser website last week, indicating that condos are priced from approximately $14 million.
A block west, there is Extell's 92-story 225 West 57th Street. It will be a condo with a full-line Nordstrom department store at the base, as well as a hotel and 199 residential units. Sales are expected to start in 2017, the same year when the project is expected to be complete, BHS data indicate. Excavation is already underway. Nordstrom Tower will be 1,500 feet tall without the spire.
Across town at 252 East 57th Street, there will be a new condo/rental by World-Wide Holdings and Rose Associates. The building will have 270 units over 65 stories, BHS indicated. Sales started in September 2014 with prices starting at $4.2 million and averaging $8.3 million. It has a target completion date of this year.
Also on the East Side, Macklowe Properties and CIM Group have a hotel and condo planned at 432 Park Avenue between East 56th and East 57th Streets, at the site of the former Drake Hotel. It will be 96 stories with 104 units. Sales started in March 2013. Prices start at $17.4 million and an average $30 million, BHS data indicate. The building is 70 percent sold. With a planned completion date of this year, it had been lauded as the tallest residential tower in the Western Hemisphere, but at 1,396 it is dwarfed by 111 West 57th Street. The penthouse is reportedly in contract for $95 million.
All this totals more than 500 units (some of which are already spoken for) where the cheapest available unit is currently $4.2 million.
"As in every mature real estate market, there are winners and losers," Mr. Barnett said. "I expect that to be the case on 57th Street… The market is not going to support every single project no matter where it is, how much it costs. Those days are over."
Foreigners have long been some of the city's biggest investors in trophy assets. David Mond, a managing partner of New York City CPA firm Adelman Katz & Mond, previously told CO: "Off-shore investors want to park their money for the stability of the U.S. economy. People rag on it, but that's why people want to invest here."
But as the U.S. dollar strengthens and the city becomes awash with properties seeking prices north of $10 million, what will happen to the inventory?
"My gut feeling is that there's only so much demand for this type of product," Ben Thypin, the director of market analysis at Real Capital Analytics, told Forbes last September. "One57 is seeing trickling demand."
According to Olshan Realty's luxury market report for the week running March 23 to 29, there were 27 contracts signed at $4 million, bringing the monthly total to 135 contracts. While that exceeds last March's total of 125, it is far below the month's record of 190 contracts in 2013.
Donna Olshan, the founder and president of Olshan Realty, asked, "How deep is the buyer's pool out there?"
Edward J. Minskoff, the founder and president of Edward J. Minskoff Equities, addressed the dreaded contraction along the 57th Street strip.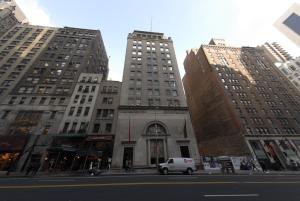 "There are certain areas that I love and certain areas that I think are borderline disasters, like the 57th Street corridor," Mr. Minskoff told The New York Times in February. "I see a bubble in that corridor. There are only so many people that are going to spend $4,000 to $10,000 a square foot."
Mr. Barnett said he is not fretting, that the desire by foreigners and other people to purchase "the highest-quality properties in New York" will not wane.
The average sales price in the first quarter of this year for a Manhattan home was $1.7 million, according to a recent Douglas Elliman report prepared by appraisal firm Miller Samuel. There were 330 sales with a 57th Street address from river to river in 2014, representing 2.6 percent of the 12,695 Manhattan sales, said Jonathan Miller, the president and CEO of Miller Samuel.
He doesn't seem to think the pattern with 57th Street sales is unique.
"Billionaire's Row, a.k.a. the 57th Street Corridor, has morphed into a residential submarket, embedded within Manhattan's central business district," Mr. Miller said via email noting that while there is no definition of Billionaire's Row, the core seems to be Eighth to Third Avenues. "We've seen this pattern before from 1976 through 1986 when residential towers such as Olympic Tower, Museum Tower, Trump Tower, Metropolitan Tower and City Spire were built. It is a transient market and has been dominated by their use as pied-à-terres. The new wave of super-luxury towers is no different, aside from prices with a lot more zeroes in them."
The average sales price of a newly developed unit that closed in 2014 (at One57 and The Sheffield) was $11.7 million, Mr. Miller's data indicate. That year there were 74 closings on East and West 57th Street, of which 21 were above $10 million.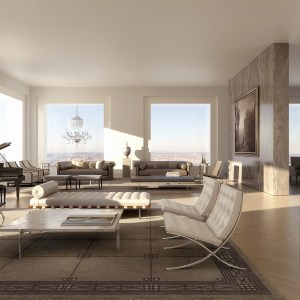 Ofer Yardeni, the chief executive officer at Stonehenge Partners, caused a stir at the New York City Real Estate Expo panel moderated by this reporter last November when he unloaded on 57th Street.
"If real estate was a publicly traded company and I could short its stock, I would very happily short 57th Street," Mr. Yardeni said. "The market there has stopped. It hasn't just declined 5 percent or 10 percent. It's just stopped."
Ms. Olshan said that while it isn't fair to say 57th Street is the most overpriced street in the city, she acknowledged, "It is the one area in the city in which we have concern about overbuilding luxury inventory."
Mr. Miller said that while there is apprehension that there will be a glut of inventory, "new development inventory is actually 40 percent below levels seen five years ago after Lehman collapsed. In this version of a building boom, the developers have a lot more skin in the game as leverage is far less than the prior boom and the buyers are paying cash and not using leverage."
In new development, active listing inventory was at 1,345 units in first-quarter 2015, the Elliman report says, down 6.6 percent from fourth-quarter 2014, but up 22.1 percent from first-quarter 2014. The number of days a unit sat on the market from the last list date climbed 43.1 percent in the first three months of the year to 146 units compared with fourth-quarter 2014 and jumped 28.1 percent year-over-year.
"The number of New Yorkers that are going to buy at $7,000 to $10,000, the market's way too small for us," Mr. Blau said. "And you're dependent on what's happening around the world. And now you're not just in the condo-selling business, you're in the global speculation business. What happened to all the Russians that were buying because oil prices were at $100? Well they're gone. What happened to all the Middle Easterners? They're gone. What happened to all the Chinese buyers? Well, they're not doing so great either. So, it kind of brings a whole new dynamic… well not new, a different dynamic to the table… Everyone says, 'well how deep is the market?' I don't know."
Additional reporting provided by Terence Cullen.