ICBC Lends on Nearly Vacant Tribeca Building
---
---
Industrial and Commercial Bank of China originated a $10.3 million bridge loan to refinance a nearly vacant commercial building being converted for residential use at 175 Franklin Street in Tribeca.
Eastern Consolidated's Jonathan Aghravi brokered the two-year debt on behalf of the building's owner Bahram Benaresh. The new mortgage replaces a $9.5 million financing provided by G4 Capital Partners in July 2013, city records show.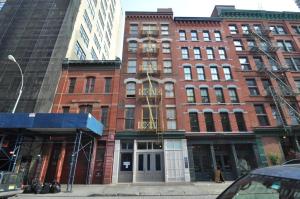 The ICBC loan carries an interest rate of "1 percent over prime, with a floor of 4.25 percent, with two years of interest-only payments," Mr. Aghravi told Commercial Observer.
The property has one Interim Multiple Dwelling unit that is rent stabilized and currently occupied. IMD properties must be converted to legal multiple dwellings in accordance with the New York City Loft Board.
"This building was formerly fully IMD and the owner got them out over the years," Mr. Aghravi said.
The property's ground-floor retail space is vacant and the loan from ICBC was closed without a temporary certificate of occupancy, he noted.
The building's owner is converting the building to the luxury residential units and is also working with Eastern Consolidated's retail leasing division to market the retail space. The sponsor will seek long-term financing once the property is stabilized, according to Mr. Aghravi.
Mr. Benaresh could not be reached for comment.