IBM Expands to Over 140K SF at 51 Astor Place
---
---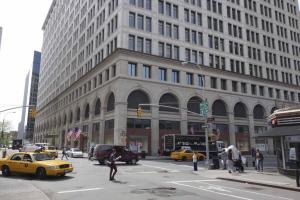 IBM has expanded its presence at 51 Astor Place between East Eighth and East Ninth Streets, bringing the property to 100 percent occupancy.
First reported by The New York Post, IBM signed a lease for 25,401 square feet;; the company will now occupy 143,836 square feet at the 12-story, 400,000-square-foot Edward J. Minskoff Equities building.
JLL's Paul Glickman, Cynthia Wasserberger, Peter Riguardi, Mitchell Konsker and Harley Dalton represented the landlord in negotiations. Jeffrey Sussman of Edward J. Minskoff Equities also worked on the deal.
"Edward J. Minskoff had a vision for an architecturally distinct, state-of-the-art building that would attract elite office tenants," Mr. Glickman said in prepared remarks. "The completion of this leasing effort and the quality of the tenants that have embraced the building validate Minskoff's vision for 51 Astor."
It was not immediately clear who represented IBM in the transaction. The company did not immediately respond to a request for comment.
The Post reported that asking rents were $90 to $120 per square foot.
Other tenants at the property include IBM Watson Group, 1stdibs, Claren Road Asset Management, Tudor Investment Corporation, Spark Capital, Mail Online, Maplelane Capital and St. John's University.