Hillary Clinton Inks Brooklyn Office Space for Campaign
---
---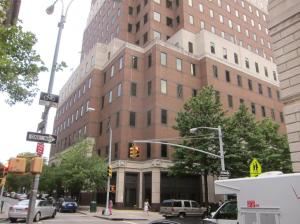 Hillary Clinton's campaign is leasing two floors of office space at 1 Pierrepont Plaza as she amps up for a potential presidential campaign, Politico reported this morning.
The former secretary of state and presumptive Democratic presidential candidate had been eyeing spots in Brooklyn and western Queens, according to various reports in the last few months, before settling on the Brooklyn Heights office building. Her neighbors in the Forest City building include Morgan Stanley and the U.S. Attorney for the Eastern District of New York.
Keith Caggiano and Roshan Shah of CBRE represented the Clinton team in the deal. The lease is for about 80,000 square feet between the two floors, and was signed on April 1, sources with knowledge of the deal told Commercial Observer.
The 726,071-square-foot office building is self-billed as "Modern Offices. Brooklyn Cool."
Ms. Clinton's chief of staff, Huma Abedin, had scouted the trendy neighborhood in the last few weeks, according to Politico, which is in walking distance from a slew of subway stations.
The office space doesn't seem to have been the first choice for Hillaryland. Her campaign team was eyeing a spot at another Forest City property MetroTech Center, less than a mile away from the new office, as CNN reported in March, ahead of an official campaign announcement expected later this month.
The former New York senator ran her 2008 campaign from Arlington, V.A.—across the river from Washington, D.C. Ms. Clinton and former President Bill Clinton own a 5,500-square-foot brick mansion—nicknamed Whitehaven—in the northwest sector of the capital.
Ms. Clinton's growing campaign staff has been working out of her Chappaqua home or her Midtown office, which can only hold about 25 people. She inked a two-year lease for that 4,000-square-foot space in August, the New York Daily News reported. The space on the 27th floor of 120 West 45th Street between Avenue of the Americas and Seventh Avenues was for personal use, a spokesman for Mrs. Clinton told the paper. The building is owned by SL Green Realty, according to property records.