Gregorys Coffee Inks Lease for First Brooklyn Spot
---
---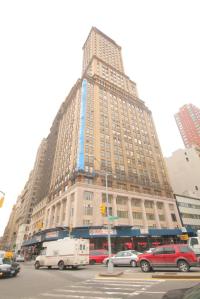 Gregorys Coffee, the bustling artisanal java shop with a dozen locations in Manhattan, has inked a 15-year deal for a lobby spot at 16 Court Street—its first Brooklyn location, Commercial Observer has learned.
Signing Gregorys was a strategic move to draw more technology and entrepreneurial tenants to Brooklyn's tallest office building, according to a broker in the deal. Typically, the 37-story building between Montague and Remsen Streets has been home to law firms and investment firms, such as Marcus & Millichap, as well as offices for the City University of New York.  
The lease is for roughly 1,000 square feet in the lobby of the building, which is currently undergoing redevelopment, said tenant representative Albert Manopla, an executive vice president at Kassin Sabbagh Realty. The coffee shop will build out its own space at the SL Green Realty Corp. tower, and move-in is expected some time this fall.
"There was no better way to introduce Gregorys into the market than installing them at the base of Brooklyn's tallest office tower," at 37 stories, Mr. Manopla told CO. "The fans are going to be very pleased."
Jeremy Bier represented SL Green in-house, along with Robert F. Hebron IV, a principal at Ingram & Hebron. The asking price per square foot was not immediately available. SL Green did not respond to requests for comment.
Gregorys has developed a strong foothold in Manhattan since brewing its first coffee in 2006. There are currently eight between the Flatiron District and Midtown, with another four in the Financial District. Crossing the river into Brooklyn, however, is special to founder Greg Zamfotis, who Mr. Manopla said used to live on Montague Street just down the block from his newest location.
"Gregorys Coffee is thrilled to join the roster of tenants at 16 Court Street this coming fall," Mr. Zamfotis said in prepared remarks. "We can't wait to serve Brooklyn Heights and Downtown Brooklyn their daily cup of coffee."
SL Green opted for the popular java joint to position the building as a home for startups, Mr. Hebron said. Its goal is to have Gregorys serve more "as an amenity to the building, as opposed to standard retail," he added.