French Pharma Company Moves Into Alexandria
---
---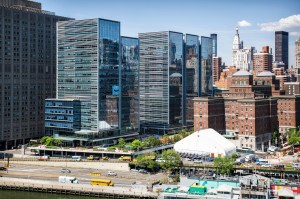 Cellectis, the Paris-based oncology therapy firm, has officially moved into the Alexandria Center for Life Science, adding to the pharmaceutical tenants coming to the city.
The French company settled into its 12,066-square-foot space, officially at 430 and 450 East 29th Street between First Avenue and the FDR Drive, earlier this month. With an official opening ceremony last night, it joins high-profile neighbors such as the NYU Langone Medical Center.
Andre Choulika, the founder, chairman and chief executive officer of Cellectis, was drawn to New York over the Cambridge-Boston area (where the Harvard/MIT crowd provides a steady stream of talent for the firm) by a more collaborative environment in New York, a slew of medical facilities and many amenities in the area, according to John Cunningham, a senior vice president for Alexandria overseeing the New York Region.
"New York has almost equivalent statistic drivers as Cambridge in many ways," Mr. Cunningham said. "From a research standpoint, it's really an untapped opportunity."
William Hartman of Cushman & Wakefield represented the landlord in the deal, while Cellectis did not have a representative. Asking rents were not available.
Cellectis will start out with 20 people in its lab and office space on half of the eighth floor, according to Mr. Cunningham, with room for expansion. Although the deal isn't that large, Mr. Cunningham said its impactful to bringing other pharmaceutical companies here and linking them with the city's medical schools.
"Here you have world-class leaders at some of the finest institutions in the world," he said. "[Choulika] recognized he could have a much better penetration of the market in New York" than he would in Cambridge.
Mr. Cunningham said New York is becoming a leading place for pharmaceutical and other life science firms to bring offices. The second building of the Alexandria, which opened in January 2014, is 92 percent occupied with Cellectis moving in. Other tenants include Roche, a Swiss pharmaceutical and diagnostics company, and Intra-Cellular Therapies which develops novel drugs to treat problems with the central nervous system.
The city has been focused for several years on expanding life science programs on Manhattan's East Side. Earlier this month, Deputy Mayor Alicia Glen and Economic Development Corporation President Kyle Kimble announced a life science initiative with a $150 million public-private partnership to invest in medical research development. Later the same week, Memorial Sloan Ketter Cancer Center and Hunter College closed on its $215 million purchase of 525 East 73rd Street between York Avenue and the FDR Drive. MSKCC will build an out-patient facility for leukemia and lymphoma patients, while Hunter will move its nursing school there from the Lower East Side.