Five Tenants Sign Leases at 370 Lexington in Grand Central Area
---
---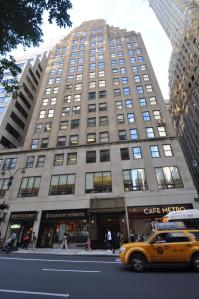 Five tenants have signed leases at Sherwood Equities' 370 Lexington Avenue between East 40th and East 41st Streets, steps from Grand Central Terminal, according to a press release issued by the landlord.
These leases include Freixenet USA, a sparkling wine producer, expanding to 3,400 square feet on the fourth floor of the property. The Sonoma, Calif.-based company, which had signed a lease in 2013 for 2,128 square feet, committed to five years.
Recruiting firm RJL Resources, which is relocating from 286 Madison Avenue, will take 3,600 square feet on the 19th floor of the property in a five-year deal. Currier McCable & Associates will take 2,200 square feet on the 14th floor, also in a five-year deal.
Douglas Elliman's William Carr represented both Currier McCabe & Associates and RJL in negotiations. Mr. Carr did not immediately respond to a request for comment.
Independent surety bond agency Arthur B. Levine has signed a lease for 1,700 square feet on the 11th floor in a 10-year deal. The company is relocating from 60 East 42nd Street. Savills Studley's Zach Levy, Evan Margolin and Lance Leighton represented Arthur B. Levine in lease negotiations.
Savills Studley did not immediately respond to a request for comment.
And boutique law firm Shom & Littman renewed its 2,170-square-foot lease in a five-year deal.
Asking rents were in the high-$50s per square foot.
Sherwood's Adam Weissleder and Jill Burrowes represented the landlord in all of the aforementioned transactions in-house.
"With the construction of 100,000 square feet of new pre-built space over the past five years, 370 Lexington can deliver new space to a variety of tenants who need small to mid-size space very quickly," said Mr. Weissleder in prepared remarks. "Featuring newly built light and airy interiors with exposed ceilings and loft-like appeal, this type of flexible office space continues to be in extremely high demand in the Grand Central Business District."
Built in 1930, 370 Lexington Avenue spans 27 floors with approximately 310,000 square feet. It has consistently been at a 3 percent vacancy rate over the past four years.