Taiwan-Based Bank Renews 14K-SF Lease at 685 Third Avenue
---
---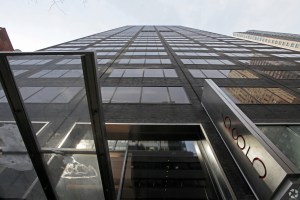 Chang Hwa Commercial Bank has renewed its 13,683-square-foot New York branch lease at 685 Third Avenue, owned by TIAA-CREF. The bank signed a 15-year deal at $75 per square foot, the broker representing the bank said.
The bank has occupied the entire 29th floor in the 667,069-square-foot, 31-story building between East 43rd and East 44th Streets since 2002.
Soon H. Rhee of First New York Realty Brokers represented CHB in the deal along with Norman Bobrow, the president of the firm. JLL's Dan Kollar represented TIAA-CREF.
Ms. Rhee originally placed CHB at 1 World Trade Center when the bank first came to the United States from Taiwan in 1988. The bank went through the WTC's bombing in 1993 and then eight years later it was misplaced due to the events of Sept. 11. In February 2002, the bank relocated to 685 Third Avenue and occupied offices there under three different building owners during the course of its lease. CHB refused to move out when pharmacy giant Pfizer purchased the building from Clarion Partners in 2004 and asked all of the tenants to relocate, Ms. Rhee said.
"Chang Hwa had just spent $3 million on renovations/build-outs and they did not want to move again after they had just settled in," said Ms. Rhee in prepared remarks. "They had been through so much."
TIAA-CREF acquired the 646,422-square-foot property from Pfizer for $190 million in 2010, as CO previously reported. By the time TIAA-CREF took over the building, Ms. Rhee said CHB was the only tenant left in the building.
In March 2011, TIAA-CREF announced that Australia's sovereign wealth fund, known as the Australian Government Future Fund, took a 49 percent stake in the building. Last year, TIAA-CREF completed a capital improvement plan, including renovations to the building's lobby and entryway and a new pocket park in place of a loading dock.
The building is now about 75 percent occupied with tenants including global professional services firm Navigant, tech company Salesforce.com and media company Crain Communications.
Mr. Kollar didn't immediately respond to a request for comment.