Brookfield to Up 245 Park Avenue Loan to $1B
---
---
Brookfield Property Partners is looking to increase the proceeds of a 2010 Bank of China loan on its block-long office tower at 245 Park Avenue, Commercial Observer has learned. The loan amount will grow to $1 billion from $800 million.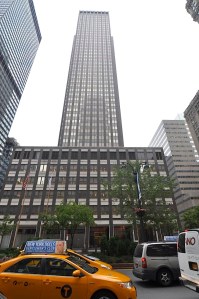 The upsize deal, which will provide the borrower with an "additional cash-out advance," is due to close later this month, according to one person privy to the negotiations. The source requested anonymity since the negotiations are ongoing.
The loan-to-value ratio on the 45-story property will remain below 50 percent after the deal is finalized, that person said.
Brookfield refinanced its Park Avenue tower with Bank of China in November 2010 in one of the biggest commercial mortgages against a single asset to close post-financial crisis. The deal also marked the largest loan ever made by the Chinese bank's New York City branch at the time.
Tenants in the more than 1.7-million-square-foot building between East 46th and East 47th Streets include Angelo Gordon & Co., Heineken USA and the central offices of Major League Baseball.
The Shreve, Lamb and Harmon-designed office tower opened in 1967.
Representatives for Brookfield and Bank of China declined to comment.