Banker Sued For Renting Out Tribeca Pad by the Night
---
---
United American Land is suing an investment banker for renting out his rent-stabilized Tribeca apartment by the night. The real estate development and management company alleges in a New York Supreme Court lawsuit that William Terry Krueger, the co-founder and senior managing partner at Nova Capital Partners, an investment bank focused on emerging markets, and the other tenant of record, Adrienne Kennedy, were renting out Unit 5SW at 118-120 Duane Street between Broadway and Church Street on a nightly basis. The recent suit also names the subtenants, John Doe and Jane Doe, as defendants.
Mr. Kreuger and Ms. Kennedy extended their lease on May 13, 2014 for a two-year period commencing Sept. 1, 2014 at a monthly rent of $1,093.21, according to court documents. A month later, the defendants "began renting the premises to various individuals unknown to plaintiff and without plaintiff's consent on a daily and/or short-term and transient basis," the suit alleges. Ms. Kennedy is a member of Airbnb and since last June has listed the apartment on the website for a four-night minimum-stay.
A 2010 state law bans multi-unit building tenants from subletting their space for fewer than 30 days.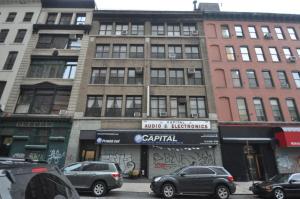 This case is not without precedent. In February, a Manhattan Housing Court judge ruled a couple was to be evicted from its rent-stabilized penthouse at Related Companies' 450 West 42nd Street after it advertised the unit on websites like Airbnb for triple the monthly rent of $6,670, The New York Post reported. This was the first ruling to evict a tenant under the city's rent control code, according to the Post.
United American's suit charges that "tourists and other transient visitors" are staying in the apartment for "stays of less than 30 days at a rate of $290 to $450 per night." If the defendants rented their apartment out every night of the year, they could make an annual profit of $92,731.48, the suit claims. Short-term term renters have submitted "at least nine reviews since August 2014 describing their experiences in the premises and with defendant-Kennedy as the host," court documents show.
Ms. Kennedy's Airbnb listing says that "the premises accommodates four people, contains three beds and three bedrooms," and that prospective renters must pay a $500 security deposit and a $125 cleaning fee, documents indicate.
United American served the defendants with a termination/cancellation notice to evict the premises by March 10, 2015. The defendants did not vacant the apartment and are continuing to advertise the unit for rent, the suit says.
United American is asking the court to "direct that the defendants pay the fair-market value of the continued use of the premises commencing March 11, 2015 until the date when possession of the premises is returned to plaintiff at a monthly rate to be determined at either trial or motion in the within action and for any and all rent and/or use and occupancy due and owing prior to March 11, 2015."
United American bought the five-story, 60-foot, 27,000-square-foot apartment building, containing nine residential units, in June 2013 for $11 million, property records indicate. The premises became subject to the New York City Rent Stabilization Law in April 2006.
The plaintiff's attorney, Joseph Goldsmith, a partner with Kossoff, PLLC, didn't immediately respond to a request for comment. Attorney Jeffrey Yick, a partner with Tuttle Yick, is representing Mr. Krueger and Ms. Kennedy. He wasn't in the office today. Mr. Krueger wasn't immediately reachable for comment at his office.